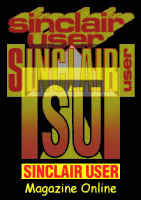 Welcome to SUMO, an unofficial archive of Sinclair User, which ran for longer than any other commercial Sinclair-related magazine; 133 issues from April 1982 through to April 1993.
The copyright on all content still exists with the original authors and publishers. Please send any requests for removal or alteration via e-mail - although obviously, I'd rather you didn't. All comments, suggestions and gratuitous abuse are also welcome on this address.
Any similarities between this site and Matthew Wilson's CRASH Online Edition are entirely deliberate. My thanks to Matthew, and also to a few other people.
Last update : September 7 2017
Richard Milne transcribed Andrew Hewson's "How the Hell" columns from issues #91 and #92.