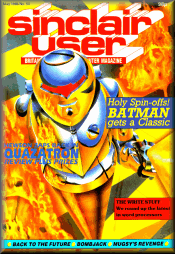 Issue 50
May 1986
Editor
Bill Scolding
Deputy editor
John Gilbert
Staff writers
Chris Bourne
Clare Edgeley
Designer
Gareth Jones
Editorial secretary
Norisah Fenn
Adventure writers
Richard Price
Gordo Greatbelly
Helpline
Andrew Hewson
Hardware Correspondent
John Lambert
Business Correspondent
Mike Wright
Contributors
Nicole Segre
Jerry Muir
Advertisement manager
Louise Fanthorpe
Advertisement sales executive
Kathy McLennan
Production assistant
Jim McClure
Advertisement secretary
Linda Everest
Subscriptions manager
Carl Dunne
Publisher
Terry Pratt
Sinclair User is published monthly by EMAP Business and Computer Publications
Cover illustration David Rowe
SOFTWARE
| | |
| --- | --- |
| 128 MUSIC BOX | Melbourne House |
| ADVENTURE GAME PACK | Central Solutions |
| ARC OF YESOD 128 | Thor |
| BACK TO THE FUTURE | Electric Dreams |
| BATMAN | Ocean |
| BOMBJACK | Elite |
| BOUNCES | Monolith |
| CRACK IT! TOWERS | Mirrorsoft |
| DUNGEON DARE | Central Solutions |
| FA CUP FOOTBALL | Virgin |
| FALKLANDS 82 | PSS |
| FATHER OF DARKNESS/MURDER | Central Solutions |
| FLYER FOX | Bug Byte |
| FOURMOST ADVENTURES | Global |
| MAX HEADROOM | Quicksilva |
| MUGSY'S REVENGE | Melbourne House |
| NODES OF YESOD 128 | Odin |
| QUAZATRON | Hewson |
| ROBIN OF THE WOOD 128 | Odin |
| SODOV THE SORCERER | Bug Byte |
| SAI COMBAT | Mirrorsoft |
| TURBO ESPRIT | Durell |
FEATURES
The Last Word
Saga's Classic word processing system is tailored to suit your every need
The Writer
Drop-down menus, a Help facility and Word Star compatability, this program from Softechnics has it all
Tasword Three
Tasman puts its established word processor on microdrive
HARDWARE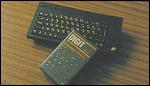 Software from Germany
EASE and Giga-Basic - two mouse-driven operating systems from Europe
Digit keyboard kit
Add extra spring to your keys with this upgrade kit from Frel
QLINK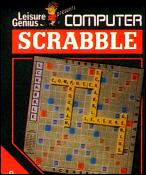 Blast from the past
John Gilbert blows away the cobwebs and reviews two excellent games with themes from the dark ages
Windows, Icons, Fonts
Create your own icons and windows with Eigen's upgraded screen dump routine
QL Super Astrologer
Digital Precision takes a look at the stars
Nemesis
Alchemist goes adventuring in a tale of the dark arts
QL Scrabble
Classic entertainment from Leisure Genius
LISTINGS
Fleapit
Dice with death down a deep pit as Freddie the Flea tries to jump his way out of trouble
Patterns
There's not a great deal to do but watch as this tiny program produces some beautifully complex programs
Escape from the Underworld
Blast your way out of the caves in this action-packed alien-blasting program. We have added notes to help you understand what each section does as you type it in
COMPETITION
Quazatron brain-teaser
100 copies of Hewson's superb Classic game are up for grabs if you can solve the mysteries of the wordsquare
REGULARS
News
Top 30
Letters
ZapChat
Adventure Helpline
Gordo solves some problems
Hewson's Helpline
Andrew Hewson reviews the history of Sinclair machines and describes the uses of Peek and Poke
Sinclair Surgery
Next Month
Gremlin
If you would like to contribute to Sinclair User please send programs or articles to:
Sinclair User
EMAP Business and Computer Publications
London.
Original programs should be on cassette and articles should be typed. Please write Program Printout on the envelopes of all cassettes submitted. We pay £20 for each program printed and £50 for star programs.
Typeset by
Saffron Graphics Ltd.
Printed by
Peterboro' Web
Distributed by
EMAP Publications Ltd.
© Copyright 1986
Sinclair User
ISSN No. 0262-5458