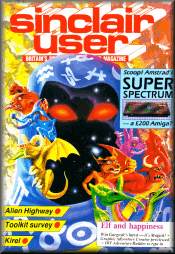 Issue 51
June 1986
Editor
David Kelly
Deputy editor
John Gilbert
Staff writer
Clare Edgeley
Designer
Gareth Jones
Editorial secretary
Norisah Fenn
Adventure writers
Richard Price
Gordo Greatbelly
Helpline
Andrew Hewson
Hardware Correspondent
John Lambert
Business Correspondent
Mike Wright
Contributors
Jerry Muir
Gary Rook
Skip Austin
Advertisement manager
Louise Fanthorpe
Senior sales executive
Rory Doyle
Production assistant
Alison Morton
Advertisement secretary
Linda Everest
Subscriptions manager
Carl Dunne
Publisher
Terry Pratt
Sinclair User is published monthly by EMAP Business and Computer Publications
Cover illustration Lee Sullivan
SOFTWARE
| | |
| --- | --- |
| 30 GAMES | Argus |
| ALIEN HIGHWAY | Vortex |
| BALLBLAZER | Activision |
| COMPUTER HITS 2 | Beau Jolly |
| CYBERUN | Ultimate |
| DELTA WING | Creative Sparks |
| GREEN BERET | Imagine |
| HEAVY ON THE MAGICK | Gargoyle |
| HOT SHOTS | The Force |
| KIREL | Addictive |
| LEGEND OF THE AMAZON WOMEN | US Gold |
| MARIE CELESTE | Atlantis |
| OFF THE HOOK | Off The Hook |
| POWER PRINT II | Buttercraft |
| QUESTPROBE 3 | US Gold |
| RASPUTIN | Firebird |
| RED HAWK | Melbourne House |
| SPACE HUNTER | Mastertronic |
| SPORT OF KINGS | Mastertronic |
| STARSTRIKE II | Realtime |
| THE COMET GAME | Firebird |
| THE TAROT | Psychic |
| THE YOUNG ONES | Orpheus |
| V | Ocean |
| WAY OF THE TIGER | Gremlin Graphics |
| WHICH? TAX GUIDE | Consumer's Association |
| WHO DARES WINS | Alligata |
PREVIEW!
All the dirt on all the latest software releases
With Adventure Creator, Nexus, World Cup Carnival, Laser Genius, Super Bowl, Price of Magik, Equinox, Advanced Art Studio, Tujad, Biggles, Dynamite Dan II, Dark Sceptre and Toad Runner!
NEWS SCOOP!

As well as the rights to the Spectrum Plus and 128K, Amstrad also bought the rights to Sinclair's secret project - the SuperSpectrum. Startling power in Amstrad's hands
FEATURES

Tools of the Trade
Four of the top programmers' toolkits and Basic extension packs taken apart
Sir Clive bows out
As Sinclair prepares to take a back seat John Gilbert assesses his achievements from the ZX80 in the earliest days of the micro world right up to the QL and the C5
HARDWARE
AGF Teletext adaptor
Multiface 1
Spectrum Doodler light pen
Sandy Super-Q QL expansion board
All you ever wanted for your QL, in the Sandy Super-Q board
Sunset Video digitiser
QLINK
What the future holds
In the wake of the Amstrad deal John Gilbert looks at how the QL shapes up - plus new programs and support
Reviews
3D Slime Datalink Systems
Dragon Hold Rubicon
TechniQL Talent
PRINTOUT
Adventure Builder System
Design and run your own adventures with this easy-to-use Basic adventure development program to type in
COMPETITIONS

Super Bowl
The fridge is cool! A hundred tapes of US Gold's hefty American Football sports simulation to be won
Heavy on the Magick to win
150 copies of Gargoyle's latest biggie we need to lose
REGULARS
News
Top 30
Letters
ZapChat
Adventure Helpline
Gordo grabs another bouquet of nettles
Hewson's Helpline
More advice from where you most expect it
Sinclair Surgery
Next Month
Gremlin
If you would like to contribute to Sinclair User please send programs or articles to:
Sinclair User
EMAP Business and Computer Publications
London.
Original programs should be on cassette and articles should be typed. Please write Program Printout on the envelopes of all cassettes submitted. We cannot undertake to return cassettes unless an SAE is enclosed. We pay £20 for each program printed and £50 for star programs.
Typeset by
Saffron Graphics Ltd.
Printed by
Peterboro' Web
Distributed by
EMAP Publications Ltd.
© Copyright 1986
Sinclair User
ISSN No. 0262-5458