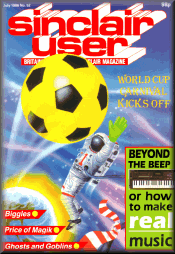 Issue 52
July 1986
Editor
David Kelly
Deputy editor
John Gilbert
Senior staff writer
Graham Taylor
Staff writer
Clare Edgeley
Designer
Gareth Jones
Editorial secretary
Norisah Fenn
Adventure writers
Richard Price
Gordo Greatbelly
Helpline
Andrew Hewson
Hardware Correspondent
John Lambert
Business Correspondent
Mike Wright
Contributors
Jerry Muir
Gary Rook
Chris Bourne
Gary Cooper
Advertisement manager
Louise Fanthorpe
Senior sales executive
Rory Doyle
Production assistant
Alison Morton
Advertisement secretary
Linda Everest
Subscriptions manager
Carl Dunne
Publisher
Terry Pratt
Sinclair User is published monthly by EMAP Business and Computer Publications
Cover illustration Stuart Hughes
SOFTWARE
| | |
| --- | --- |
| BIGGLES | Mirrorsoft |
| BOUNDER | Gremlin |
| BULLS EYE | Macsen |
| EQUINOX | Mikro-Gen |
| GHOSTS'N'GOBLINS | Elite |
| GRAPHIC ADVENTURE CREATOR | Incentive |
| LABYRINTHION | Budgie |
| LASER GENIUS | Ocean IQ |
| OFFICE MASTER | Gemini |
| PENTAGRAM | Ultimate |
| ROCK'N'WRESTLE | Melbourne House |
| SEABASE DELTA | Firebird |
| SECRET OF LEVITATION | Americana |
| SNOW QUEEN | Mosaic |
| SPIKY HAROLD | Firebird |
| SPINDIZZY | Electric Dreams |
| SPLITTING IMAGES | Domark |
| TERRORS OF TRANTOSS | Ariolasoft |
| THE FORCE | Mind Games |
| THE PLANETS | Martech |
| THE PLANTER'S GUIDE | Phoenix |
| TIME OF THE END | Mandarin |
| PRICE OF MAGIK | Level 9 |
| RETURN TO ITHACA | Atlantis |
| TRICK OF THE TALE | Central Solutions |
| WORLD CUP CARNIVAL | US Gold |
PREVIEW!
And you know where you saw it first ...
With Molecule Man, Pub Games, Cauldron II, Mandragore, Heartland, Live and Let Die, Knight Rider, Qualitas, Conquest and The Very Big Cave Adventure.
FEATURES

Football Fever!
With the second round of the World Cup now under way it's a perfect time to look at US Gold's World Cup Carnival and it's main competitors, Match Day, FA Cup and Football Manager
'Loki' Super Spectrum
Now the spec for Sinclair's 'secret' micro is out in the open, five top programmers take it apart and say why they'd kill for the chance to program it
BEYOND THE BEEP
Making music on the Spectrum. Crazy? No - it's easy
The first complete guide to all the low-cost music hardware and software - mainly MIDI - to make your Spectrum sound like P-P-P-Paul Hardcastle
HARDWARE
Interpack 1
Sensored again! Adding robots and turtles to your Spectrum
QL Mouse
Eidersoft adds a mouse and icon control software to the QL
QJump QEP III
The ultimate Eprom programmer on your QL from the ubiquitous Tony Tebby
QLINK
SuperToolkit II
QDOS author Tony Tebby unveils his latest utility SuperToolkit - its a goody
QL Karate
At last! Martial Arts on the QL - a knock-out
Vroom
The QL gets its first Pole Position clone
Cad Pack
The first serious contender to challenge Talent's GraphiQL - Cad Pack from Datalink
PRINTOUT
Adventure Builder System
Part 2 of the easy-to-type-in system to design and build your own adventures
COMPETITIONS

Splitting Images
Ten video digitisers to win, worth over £650 plus an incredible 500 runners-up prizes of a full-size colour Splitting Images poster featuring ... yup ... Maggie, Ron, Mick, Michael, Neil and Clive
Rock'n'Wrestle
Giant Haystacks! We'll be counting out a hundred copies of Melbourne House's pile-driving Rock'n'Wrestle
REGULARS
News
Top 30
Letters
ZapChat
Bomb Jack and The Planets
Adventure Helpline
Lord of the Rings and Swords and Sorcery
Hewson's Helpline
Why interfaces are needed
Sinclair Surgery
Next Month
Gremlin
If you would like to contribute to Sinclair User please send programs or articles to:
Sinclair User
EMAP Business and Computer Publications
London.
Original programs should be on cassette and articles should be typed. Please write Program Printout on the envelopes of all cassettes submitted. We cannot undertake to return cassettes unless an SAE is enclosed. We pay £20 for each program printed and £50 for star programs.
Typeset by
Saffron Graphics Ltd.
Printed by
Peterboro' Web
Distributed by
EMAP Publications Ltd.
© Copyright 1986
Sinclair User
ISSN No. 0262-5458