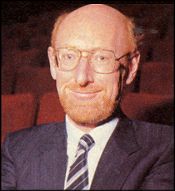 Sinclair bows out
John Gilbert assesses the achievements of the man who created the home computer boom
NO-ONE would question that Sir Clive Sinclair single-handedly created the British home computer market.
Without his sub-£100 micros the Commodore 64 might still be £350 and Amstrad certainly wouldn't ever have become involved in home computers.
Yet, following the announcement of the take-over of Sinclair Research's home computing interests by Amstrad, Sir Clive now looks certain to bow out of the market he was instrumental in creating.
The brilliant technical career of Sir Clive Sinclair started when he was still at school but Sinclair Research, the computer company - his third attempt at a high-tech firm - was not founded until July 1979.
The ZX80 was the company's first computer launched in January 1980 with a for then unheard of one kilobyte of memory. The machine had a flat membrane keypad and the now famous single keyword entry method for its Sinclair Basic programming language.
Clive Marles Sinclair born 30 July 1940
1958 Leaves school Editor Practical Wireless
1961 Formed Sinclair Radionics
1962 Microamplifier - smaller than a half-crown. Joins MENSA
1964 Sinclair logo appears for the first time
1966 Microvision TV (£99.95). Chris Curry joins
1968 System 2000 complete hi-fi system
1972 First calculator - Sinclair Executive (£79.95)
1973 Cambridge calculator (£29.95) Nigel Searle joins
1974 Scientific calculator (£29.95)
1976 First problems. Black Watch launched. Company loses £335,000. NEB buys a 43% stake for £650,000
1977 Collapse of calculator market. NEB injects further £1.9m. Black Watch scrapped
1978 £2m loss. First microcomputer designed and sold to Newbury Labs. Emerges two years later as the New Brain.
1979 Sinclair splits from NEB. Sets up Science of Cambridge with Chris Curry. Mk 14 kit micro. Curry splits off and sets up Acorn. Sinclair sets up Sinclair Research.
1980 ZX80 (£99.95)
1981 ZX81(£69.95)
1982 Spectrum launched 16K (£125) 48K (£175). 300,000 ZX81s sold. Turn-over up to £30m
1983 Spectrums sell at 12,000 week. Microdrives (£49.95). Sinclair is Guardian Young Businessman and is knighted in the Queen's Birthday Honours. Flat Screen TV (£79.95)
1984 QL (£399). Turn-over up to £77m. Flotation of 10% values Sinclair Research at £134m. Spectrum Plus (£179)
1985 C5 launched by Sinclair Vehicles. Cash crisis at Sinclair Research. Maxwell steps in, and out. £10m raised by sale Spectrum to Dixons
1986 Spectrum 128 (£179).Amstrad takes over computer business. Sinclair moves on.
The computer was an instant success. ln kit form it cost £99.95, while an assembled version was £75.95.
The second leap was the ZX81, launched in March 1981. It had a membrane keyboard like the ZX80 but with a more complex version of Sinclair Basic and cost £69.95.
The Spectrum, launched in April 1982, was an incredible coup for Sir Clive. For the first time, here was a powerful computer with enough Ram for serious applications and the ability to produce colour graphics, all for under £200.
Sinclair Research initially sold the Spectrum by mail-order only. As became the pattern, it was a disastrous operation which left early purchasers waiting two months for delivery. The early machines were operationally quirky and many of them were returned by customers. The pattern of late deliveries and unreliability had begun to emerge.
Notwithstanding, the machine was outstanding value and quickly became the top-selling home micro.
Clive Sinclair was knighted in the 1983 Birthday honours list. Prime Minister Margaret Thatcher saw in Sir Clive a technological innovator and almost overnight Sinclair Research became a flagship for British high-tech electronics and innovation. By Easter of the same year Sinclair Research was selling an incredible 12,000 Spectrums a week. In July the ZX lnterfaces One and Two were announced together with the ill-fated microdrives.
Microdrives - one of Sir Clive's pet projects - were badly savaged by the press. They initially took longer to load software than cassette tapes, the tape loops stretched corrupting information stored on them and the drives were unreliable. Interface Two, with its Rom software capability and dual joystick ports was similarly ill-fated. It was withdrawn from the market within two years and only a handful of Rom-based games were ever produced.
In January 1984 Sinclair announced the QL, which should have been his biggest triumph. Instead, in a desperate hurry to beat the launch of Apple's Macintosh micro the QL was rushed out in an only partly finished form. The machine shown to journalists at the launch was hardly a QL at all; certainly the operating system on view written by GST was quickly replaced by a Sinclair commissioned OS called QDOS, widely held to be inferior.
When machines finally arrived four months after the launch they were bug-ridden and, incredibly, half the operating system was left hanging out of the back on a hastily constructed Eprom board.
By May Sinclair Research had accumulated £5 million for 13,000 QL orders of which only a few hundred had been delivered. Sinclair offered incentives to customers, such as a free RS-232 lead, but his reputation had been seriously damaged.
A reliable working QL did not appear until late summer of 1984 by which time Sinclair had been criticised by the Advertising Standards Authority and hounded by customers.
Eager to please his critics the next machine - the Spectrum Plus - was only announced 24 hours before it appeared on WH Smith's shelves.
In October 1984 Sinclair Research unwittingly signed its own death warrant. Distributors had wildly overstocked with the Spectrum Plus at Christmas and, when the market nose-dived in January, Sinclair Research became desperate for money, just when nobody wanted to re-order.
The planned stock market flotation was cancelled and Sinclair looked for partners to help him weather the storm.
The launch of the C5 in January 1985 did nothing to bolster Sir Clive's reputation. Generally reckoned to be a cranky idea it branded him in the media as a kind of 'mad boffin'. Sure enough, Sinclair Vehicles was soon in trouble, production was quickly scaled down and stopped.
The storm clouds were gathering but a saviour seemed to be about to step aboard the by now pretty unseaworthy Sinclair ship. Robert Maxwell boldly announced a takeover of Sinclair Research during the summer - by the autumn, though, the Maxwell board had rejected the move and Sir Clive was once more on his own. These were difficult months. In October 1985 he was able to put a financial rescue package together which satisfied his creditors, which by now included Thorn EMI, Timex, Barclays Bank and AIB Electronics. Sinclair repaid the larger part of his debts over the Christmas period through a £10m bulk purchase of Spectrum Pluses by Dixons and by February at the launch of the new 128K Spectrum, Sir Clive was predicting his company would again be the jewel in the British Computing crown. Sadly, that was not to be.
Less than eight weeks later, on April 7, at a hastily called press conference, an understandably subdued Sir Clive handed overall marketing, production and distribution rights to his computer products to his arch rival Alan Sugar at Amstrad.
The whole business he had built up over seven years, turned over lock stock and barrel for a mere £5 million.
In one sense it should have happened sooner -- Sir Clive would be the first to admit he is not a marketeer. His enthusiasm is bred by the initial development stages of a new product. Once the design is finalised he loses interest.
Although he will be greatly missed by the home computer world, in a sense, he had already long since left it. After all he'd done it all. The Spectrum had already proved to be the top selling machine even now it commands over 40 per cent of machines sold. And he had begun to devote his attention to wafer scale chip construction, TV technology and communications.
Yes, sometimes his products are ill conceived. Often they have tripped up through being launched too soon. But his great strength is always to approach any problem with an open mind. To constantly stand each challenge on its head, turning it until a new solution is found.
---
Sinclair User
June 1986