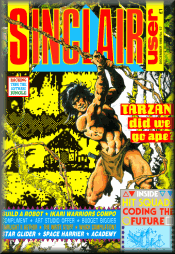 Issue 57
December 1986
Editor
David Kelly
Deputy editor
John Gilbert
Senior staff writer
Graham Taylor
Staff writer
Jim Douglas
Designer
Gareth Jones
Adventure help
Gordo Greatbelly
ZapChat
Jon Riglar
Helpline
Andrew Hewson
Contributors
Jeff Naylor
Richard Price
Rupert Goodwins
Andy Moss
Gary Rook
Advertisement manager
Louise Fanthorpe
Senior sales executive
Jacqui Pope
Production assistant
Alison Morton
Advertisement secretary
Linda Everest
Subscriptions manager
Carl Dunne
Publisher
Terry Pratt
Sinclair User is published monthly by EMAP Business and Computer Publications
Cover illustration Gerry Paris
SOFTWARE
| | |
| --- | --- |
| 180 | Mastertronic |
| AVENGER | Gremlin Graphics |
| BEST OF BEYOND | Beyond |
| BIG 4 | Durell |
| BLOCKLANDS (QL) | Digital Precision |
| BORING OLD FONT | 5th Dimension |
| BUGSY | CRL |
| CAMELOT WARRIORS | Ariolasoft |
| COLOUR OF MAGIC | Piranha |
| DRAGON'S LAIR | Software Projects |
| DROID ZONE (QL) | Digital Precision |
| EYE-Q (QL) | Digital Precision |
| FAIRLIGHT II | The Edge |
| FUTURE KNIGHT | Gremlin Graphics |
| GRID, FRAME, TRUSS | Okoloku |
| HAPPIEST DAYS OF YOUR LIFE | Firebird |
| ICE TEMPLE | Bubble Bus |
| INFILTRATOR | US Gold |
| KNIGHT RIDER | Ocean |
| MIAMI DICE | Bug Byte |
| MORONS | Atlantis |
| NAPOLEON | CCS |
| NOW GAMES 3 | Virgin |
| SET | Alpha Plus |
| SACRED ARMOUR OF ANTIRIAD | Palace |
| SPACE HARRIER | Elite |
| STARGLIDER | Rainbird |
| TARZAN | Martech |
| TERMINUS | Mastertronic |
| THANATOS | Durell |
| THE GREAT ESCAPE | Ocean |
| THE PRESS | Gilsoft |
| THEY SOLD A MILLION 3 | Ocean |
| THRUST | Firebird |
| TRAILBLAZER | Gremlin Graphics |
| TWICE SHY | Mosaic |
| STREET HAWK | Ocean |
| W.A.R. | Martech |
| WINTER GAMES 128 | US Gold |
| XENO | A'n'F |
COVER SMASH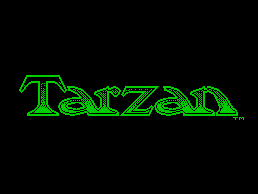 PREVIEWS
All the hits of the future. Sooner. Better
In the best previews section anywhere, we look at Sky Runner, Ikari Warriors, Aliens, Goonies, Dracula, Xevious, Double Take, Hyperball, PAW and more ...
FEATURES
Fantasies revealed!
Micros are taking over your fantasies! And crawling around at the 11th British Fantasy Society's Convention
Control yourself, do
Well, everything else anyway. All you need to know to hook up your Spectrum and to control your life
MICRO MERCENARIES
Ever wondered who writes the hits?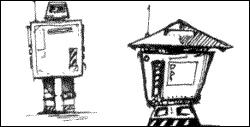 Infamous. Respected. Resented. Revered. Who are we talking about? Programmers - that's who. Where would the huge licensing deals that you've read so much about be without these people? Jim Douglas met some of the backroom boys
DIY ROBOT
Build your own robot for two tenners
As promised, here's the SU Buggy - a mechanical robot you can control from your Spectrum. It can turn in 360 degrees, learn mazes, know when it's hit things, and what's more, it isn't that difficult to build.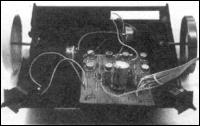 We've even arranged a special all-inclusive kit giving you everything you need to make it ... all for not a penny more than £20
NEW FEATURE
The Write Stuff
Ever reckon we got it wrong? We slag the best game ever, or rave over a monster flop. Now you can tell us ...
HARDWARE

Compliment
It's a disc, a printer, a keyboard and software and it converts your Spectrum into a well heavy piece of kit
Red Boxes
Red Boxes are taking over. Between them and your Spectrum you could lose control of your home!
PRINTOUT
SOS Distress
Back to Font
Tree Builder
Word Pro Ace
COMPETITIONS
Ikari Warriors
When you see this comp you'll say TANX! We've got 50 copies of Elite's Commando follow-up to win
Compliment
This is the ultimate Spectrum upgrade? And we've got a complete system of disc drive, printer, keyboard and software to win
ZX Microfair
After the huge success of the last ZX Fair we've got 200 tickets to give away for the next on December 13
SPECIAL OFFER
Rainbird Art Studio
Art Studio is one of the very finest graphics packages. Rainbird and SU are now bringing Art to the people by lopping over 40 per cent off the price
REGULARS
News
Charts
Letters
Background Noise
Code Talk - Bo Jangeborg
ZapChat
Competition Winners
Gordo's Adventure tips
Hewson's Helpline
Sinclair Surgery
Gremlin
Next Month
If you would like to contribute to Sinclair User please send programs or articles to:
Sinclair User
EMAP Business and Computer Publications
London.
Original programs should be on cassette and articles should be typed. Please write Program Printout on the envelopes of all cassettes submitted. We cannot undertake to return cassettes unless an SAE is enclosed. We pay £20 for each program printed and £50 for star programs.
Typeset by
Saffron Graphics Ltd.
Printed by
Nene River Press
Distributed by
EMAP Publications Ltd.
© Copyright 1986
Sinclair User
ISSN No. 0262-5458