SOFTWARE
| | |
| --- | --- |
| ADVENTURE | Adventure |
| ALIENS | Electric Dreams |
| ALIEN | Bug Byte |
| BETTER BASIC (QL) | Digital Precision |
| BLACK HAWK | Creative Sparks |
| BREAK THRU | US Gold |
| CITY SLICKER | Hewson |
| COBRA | Ocean |
| CONTACT SAM CRUISE | Microsphere |
| DEFCOM | Quicksilva |
| DEMON FROM THE DARKSIDE | Compass |
| DOME TROOPER | Matand |
| DONKEY KONG | Ocean |
| DON'T PANIC, PANIC NOW | Dented Designs |
| DOUBLE TAKE | Ocean |
| DRACULA | CRL |
| DR WHAT | CRL |
| FAT WORM BLOWS A SPARKY | Durell |
| FROSTBITE | Mikro-Gen |
| GRAPHICS TOOLKIT (QL) | Pyramide |
| HERCULES | Alpha Omega |
| HIGHLANDER | Ocean |
| INVESTMENT MONITOR | Michael Slatford |
| KINGS KEEP | Firebird |
| NOSFERATU | Piranha |
| OBLIVION | Alpha Omega |
| PARADISE CONNECTION | Birdseed |
| PHANTOMAS | Code Masters |
| PREHISTORIC ADVENTURE | Crusader |
| QLIBERATION (QL) | Liberation |
| QUEST FOR THE GOLDEN ORANGE PEEL | Dual Dimension |
| ROGUE TROOPER | Piranha |
| SAMURAI | CRL |
| SHAO-LIN'S ROAD | The Edge |
| SHARES | Cottage Computing |
| TERRA COGNITA | Code Masters |
| THE ARCHERS | Mosaic |
| THE PAWN | Rainbird |
| THEY STOLE A MILLION | Ariolasoft |
| VALTRAK 4 | Morely Davis |
| ZUB | Mastertronic |
COVER SMASH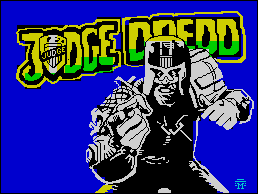 PREVIEWS
The programs of tomorrow, today! What's HAPPENING in the wonderful world of software. With Scalextric, Jail Break, Tempest, SAS Strikeforce, Kayleth, Super Soccer, Deep Strike, Legend of Kage ...
FEATURES
Independent Adventures
Some of the best Quilled amateur efforts revealed
2000AD heroes
Judge Dredd - the law in Megacity One - and Rogue Trooper have both been tempted away from their cult comic and on to the little screen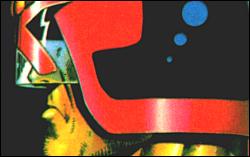 Big Bang
Did you go for British Gas, BT or TSB shares? If so your micro can help you unravel the intricacies of the stock market
NEW FEATURE
MapChat
Maps of the hottest games - in incredible 3D colour
SURVEY
Simulations
We pick the all-time top six
THE YEAR 1986
1986 SU Readers Poll
Your chance to vote for your picks of the year - and to enter our real mega-compo
The hack's eye view
Find out what we thought of the year!
HARDWARE
Pistols at dawn
Mastertronic's Magnum and Britannia's Phasor 1 joysticks shoot it out face to face
Cheetah's MK5
Is this professional music on a budget?
RamPrint
Ram's printer interface has hidden depths
DIAGNOSTICS
Fault Finder
Hardware on the blink? Follow our easy-to-follow guide and find out what's up with your Spectrum
SEASONAL STUFF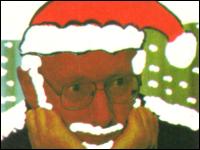 Could you make it in the software world?
PRINTOUT
Crisis at Christmas
Ron and Nancy have a problem this Christmas with our festive machine code text adventure
COMPETITIONS
Top Guns - go for it
We've got copies of Ocean's new high-flyer plus copies of the film soundtrack, posters, and a chance for one special winner to see a real flight simulator in operation
Murder off Miami
Who dun it? Delta 4 and CRL that's who. And we've got an exclusive chance to go on a special murder-mystery weekend. It's just Cluedo comes to life
REGULARS
News
Charts
Letters
Code Talk - Anita Sinclair
The Write Stuff
Competition Winners
ZapChat
Hewson's Helpline
Gordo's Adventure tips
Sinclair Surgery
Next Month
Gremlin