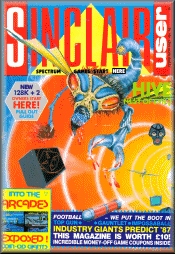 Issue 58
February 1987
Editor
David Kelly
Deputy editor
John Gilbert
Senior staff writer
Graham Taylor
Staff writer
Jim Douglas
Designer
Gareth Jones
Adventure help
Gordo Greatbelly
ZapChat
Jon Riglar
Helpline
Andrew Hewson
Contributors
Richard Price
Andy Moss
Gary Rook
Hardware correspondent
Rupert Goodwins
Advertisement manager
Louise Fanthorpe
Deputy advertisement manager
Jacqui Pope
Production assistant
Alison Morton
Advertisement secretary
Linda Everest
Subscriptions manager
Carl Dunne
Publisher
Terry Pratt
Sinclair User is published monthly by EMAP Business and Computer Publications
Cover illustration Stuart Hughes
SOFTWARE
| | |
| --- | --- |
| 128K ART STUDIO | Rainbird |
| 5 STAR GAMES | Beau Jolly |
| ACROJET | US Gold |
| DEEP STRIKE | Durell |
| DODGY GEEZERS | Melbourne House |
| DOOMSDAY PAPERS | US Gold |
| ELEVATOR ACTION | Quicksilva |
| EXPLORER | Electric Dreams |
| FOOTBALLER OF THE YEAR | Gremlin |
| GALLIPOLI | CCS |
| GAUNTLET | US Gold |
| GOLF | Imagine |
| HACKER II | Activision |
| HANDBALL MARADONA | Argus |
| HARVEY HEADBANGER | Firebird |
| HIVE | Firebird |
| IMPOSSABALL | Hewson |
| KAYLETH | US Gold |
| KWAH! | Melbourne House |
| MARBLE MADNESS CONSTRUCTION SET | Melbourne House |
| MASTERS OF THE UNIVERSE | US Gold |
| ORBIX THE TERRORBALL | Streetwise |
| SAS: OPERATION THUNDERFLASH | Adventure |
| SCALEXTRIC | Leisure Genius |
| SILICON DREAMS | Rainbird |
| STORMBRINGER | Mastertronic |
| SUPER CYCLE | Epyx |
| SUPER SOCCER | Imagine |
| SWORD AND SHIELD | Black Knight |
| TEMPEST | Electric Dreams |
| TERRA CRESTA | Ocean |
| TOP GUN | Ocean |
| UNBELIEVABLE ULTIMATE I | US Gold |
| UNBELIEVABLE ULTIMATE II | US Gold |
| WINTER WONDERLAND | Incentive |
| XCEL | Mastertronic |
| XEVIOUS | US Gold |
| YOUNG PLAYERS' TRIVIAL PURSUIT | Domark |
COVER SMASH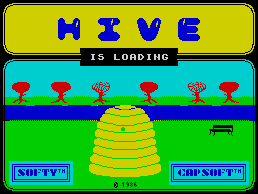 PREVIEWS
Everything you always wanted to know ...
About the future of software but no one else could tell you. Including Shadow Skimmer, Mercenary, Feud, Ranarama and more ...
FEATURES
Footie Spectacular
SU puts the boot in (but strictly only where absolutely necessary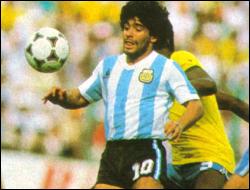 New Year predictions
SU puts up its phone bill considerably by getting on the blower to the head honchos of the software world asking them what 1987 will bring
COIN-OP CRAZINESS
Inside the Arcades
From the land of a thousand LEDs SU takes apart the coin-ops. We check out the gimmick that will keep you going back - hydraulics. The games tipped for the top in '87. And the low-down on all the games tipped soon for a small screen appearance
NEW OWNERS START HERE!
Mega indispensable pull-out intro guide to using the 128K+2

With most of the things the manual explained very badly explained very brilliantly, some really simple programs to type in plus an easy-to-follow guide to software
SPECIAL OFFER
Microdrive cartridges
Yes! SU has negotiated some pretty nifty deals on Microdrive cartridges - either in tens or twenties - and either way you get them in a really neat flip-top storage case
COMPETITION
The complete Magic Knight
Now Stormbringer's been released by Mastertronic, SU's got rather a lot of complete sets of Magic Knight games to win - that's the whole trilogy with Spellbound and Knight Tyme as well!
PRINTOUT
Crazy Patterns
REGULARS
The Write Stuff
ZapChat
MapChat
News
Background Noise
Competition winners
Charts
Letters
Code Talk
Hewson's Helpline
Gordo's Adventure tips
Sinclair Surgery
Next Month
Gremlin
If you would like to contribute to Sinclair User please send programs or articles to:
Sinclair User
EMAP Business and Computer Publications
London.
Original programs should be on cassette and articles should be typed. Please write Program Printout on the envelopes of all cassettes submitted. We cannot undertake to return cassettes unless an SAE is enclosed. We pay £20 for each program printed and £50 for star programs.
Typeset by
PRS Ltd
Printed by
Nene River Press
Distributed by
EMAP Publications Ltd.
© Copyright 1986
Sinclair User
ISSN No. 0262-5458