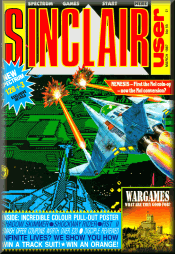 Issue 59
March 1987
Editor
David Kelly
Deputy editor
John Gilbert
Senior staff writer
Graham Taylor
Staff writer
Jim Douglas
Designer
Gareth Jones
Adventure help
Gordo Greatbelly
ZapChat
Jon Riglar
Helpline
Andrew Hewson
Contributors
Chris Jenkins
Clare Edgeley
Hardware correspondent
Rupert Goodwins
Deputy advertisement manager
Mike Corr
Production assistant
Alison Morton
Advertisement secretary
Linda Everest
Subscriptions manager
Carl Dunne
Publisher
Terry Pratt
Sinclair User is published monthly by EMAP Business and Computer Publications
Cover illustration Lee Sullivan
SOFTWARE
| | |
| --- | --- |
| ACE OF ACES | US Gold |
| ADVENTURE BUILDER SYSTEM | CRL |
| AGENT ORANGE | A'n'F |
| APACHE GOLD | Incentive |
| BATTLE OF BRITAIN | PSS |
| BAZOOKA BILL | Melbourne House |
| BMX SIMULATOR | Code Masters |
| BRIAN CLOUGH'S FOOTBALL FORTUNES | CDS |
| CHARACTERS | Gilsoft |
| EAST ENDERS | Macsen |
| ENDURO RACER | Electric Dreams |
| FALCON PATROL II | Bug Byte |
| FIST II | Melbourne House |
| GREYFELL | Starlight |
| HOWZAT | Alternative |
| HYPERBOWL | Mastertronic |
| INHERITANCE | Infogrames |
| INTO THE EAGLE'S NEST | Interceptor |
| JAIL BREAK | Konami |
| JUDGE DREDD | Melbourne House |
| LEGEND OF KAGE | Imagine |
| LITTLE COMPUTER PEOPLE 128 | Activision |
| MEGABUCKS | Firebird |
| NEMESIS | Konami |
| NUCLEAR COUNTDOWN | Atlantis |
| OPERATION STALLION | Writechoice |
| PHEENIX | Alternative |
| PROFESSIONAL SNOOKER | Code Masters |
| RANARAMA | Hewson |
| SHADOW SKIMMER | The Edge |
| SHOCKWAY RIDER | Faster than Light |
| THE GROWING PAINS OF ADRIAN MOLE | Virgin |
| THEY CALL ME TROOPER | CRL |
| WIBSTARS | A'n'F |
COVER SMASH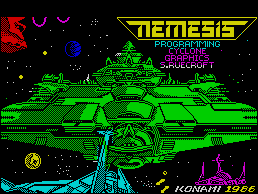 PREVIEWS
With the best of the best of the future ...
More opportunities to discover now what others don't see 'til later. Including Aliens II, Arkanoid, Knucklebusters, Throne of Fire, Grange Hill and Amaurote
FEATURES
DIY pokes explained
Infinite lives at your fingertips. The key (and keys) to infinite lives
SU full-colour pull-out poster
Poster No. 1/March: Nemesis
NEWS SCOOP!
Unveiled - the new 128K+3 Spectrum

Amstrad's done it again! The new machine and we've got the details!
NEW FEATURE
Outlands
All the outlandish things that influence those software houses - with news of coin-ops, war games, comix, vids, fantasy, role-playing games, cheap tech and films ...
WARGAMES SPECIAL
Getting started with wargaming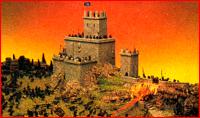 Cover wargames scene: The Magnamund Companion
(Joe Dever and Gary Chalk/Beaver Books)
A guide to the whole shooting match - on your micro, on a board, on a tabletop, even D&D fantasy and role-playing games
HARDWARE
Disciple's progress followed
Rockfort's Disciple is out now. Everything you need to hook up to a disc, printer, joystick, even to networking
COMPETITIONS
Knucklebusters
Copies of Melbourne House's new prog plus a Nike tracksuit to win
Scalextric
Chance to win lots of Virgin's game plus a real Scalextric racing set on offer
Agent Orange
And with A'n'F's game we've gone orange. Very orange
REGULARS
The Write Stuff
ZapChat
MapChat
News
Whodunwot
Compo Winners
Code Talk
Letters
Top Twenty
Background Noise
Hewson's Helpline
Print Out
Gordo Greatbelly
Sinclair Surgery
Next Month
Gremlin
If you would like to contribute to Sinclair User please send programs or articles to:
Sinclair User
EMAP Business and Computer Publications
London.
Original programs should be on cassette and articles should be typed. Please write Program Printout on the envelopes of all cassettes submitted. We cannot undertake to return cassettes unless an SAE is enclosed. We pay £20 for each program printed and £50 for star programs.
Typeset by
PRS Ltd
Printed by
Nene River Press
Distributed by
EMAP Publications Ltd.
© Copyright 1987
Sinclair User
ISSN No. 0262-5458