SOFTWARE
| | |
| --- | --- |
| AFTERSHOCK | Interceptor |
| ARTIST II | Softechnics |
| ASTERIX | Melbourne House |
| BASIC COMPILER | Hisoft |
| BOMB SCARE | Firebird |
| BUMP SET SPIKE | Mastertronic |
| CAPTAIN KELLY | Quicksilva |
| CAPTAIN SLOG | CRL |
| CONQUESTADORE | Melbourne House |
| DRUID | Firebird |
| DANDY | Electric Dreams |
| FIRELORD | Hewson |
| FRONT PAGE (QL) | Gap |
| GALVAN | Imagine |
| HARDBALL | Advance |
| H.R.H. | Eighth Day |
| IT'S A KNOCKOUT | Ocean |
| KAI TEMPLE | Firebird |
| NIGHTMARE RALLY | Ocean |
| OLLI AND LISSA | Firebird |
| OLYMPIAD 86 | Atlantis |
| OUTWORLD | Durome |
| PRODIGY | Electric Dreams |
| PUB GAMES | Alligata |
| QATS (QL) | Cope |
| ROOM 10 | CRL |
| SBUGETTI JUNCTION | Bug Byte |
| SCOOBY DOO | Elite |
| SHREWSBURY KEY | Players |
| STRIKE FORCE COBRA | Piranha |
| TT RACER | Digital Integration |
| URIDIUM | Hewson |
| VIDEO OLYMPICS | Mastertronic |
| VIDEO POKER | Mastertronic |
| ZACARON MYSTERY | Players |
COVER SMASH
Dandy vs Druid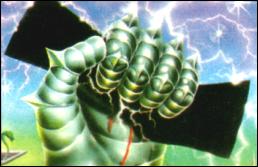 PREVIEWS
Digging up the hottest software news first
Including Terra Cresta, Twice Shy, Cobra, Dante's Inferno, Tempest, Fairlight II, Academy, Tarzan, Terminus, Explorer ...
FEATURES
The complete mouse survey
We take the meeces to pieces - both for the Spectrum and the QL - and trap the best ones
128K+2 programming
What's so good about the 128K+2's sound and Basic? All your important questions about the new machine answered
MICROS IN THE MOVIES

The Making of Aliens
Aliens the movie will soon be Aliens the game from Electric Dreams. Designer Mark Eyles gives away a few secrets
The movies whirled
If you're a software house and you haven't licenced a blockbuster movie for this Xmas then you're going nowhere. We've been grovelling around on the cutting room floor - and just look what we've found!
NEW FEATURE
Code Talk
Smart chaps from the world of hex addresses talk candidly about something else. This month: Dan Dare authors Dave Chapman and Martin Wheeler
HARDWARE
Cheetah sound sampler
Take a look at Cheetah's latest music aadd-add-o-o-n-n-n-n-n
DIY PROJECT
128K+2 interface
All you need to know to build your own interface to connect a 'normal' non-Amstradified joystick to the new 128K+2
SURVEY
Joystick Top Ten (well, eleven)
Try the waggle test! We did. The cheapest. The strongest. The coolest. The fastest
PRINTOUT
Axe Hero
Boggle
Mouse Al
Tree Builder
COMPETITIONS
Howard the Duck
Now I know ducks tend to be dependable and dowdy not dynamic and dangerous - but Howard's different. He's from another planet.
He's also in a big bucks movie - and we've got cinema tickets to win!
He's an Activision game - and we've got tapes to win!
And he's a poster - and we've got them too!
SPECIAL OFFER
Joysticks a go-go
We smash 25 per cent off the cost of joysticks - YOU could have a Gunshot 1 at the end of YOUR arm
REGULARS
News
Charts
Letters
ZapChat
Competition Winners
Hewson's Helpline
Gordo's Adventure tips
Sinclair Surgery
Background Noise - Paperboy
Next Month
Gremlin