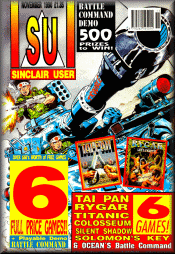 Issue 105
November 1990
Editor
Garth Sumpter
Acting deputy editor
Gary "Wide Boy" Liddon
Designers
Jenny Abrook
Gareth "Boyo" Jones
Advertisement manager
Jim "Brummie Git" Owens
Ad production
Emma "Cor Blimey" Ward
Marketing manager
Dean Barrett
Marketing assistants
Sarah "JR" Ewing
Sarah "No Vices" Hilliard
Publisher
Graham "Interesting" Taylor
Managing director
Terry "... er ..." Pratt
SOFTWARE
| | |
| --- | --- |
| ATOM ANT | Hi-Tec |
| BACK TO THE FUTURE II | Image Works |
| BARBARIAN 2 | Kixx |
| EMLYN HUGHES ARCADE QUIZ | Audiogenic |
| GUARDIAN ANGEL | Code Masters |
| HAVOC | Players Premier |
| IVAN "IRONMAN" STEWART'S SUPER OFF ROAD RACER | Virgin |
| NEW YORK WARRIORS | Virgin |
| OUTLAW | Players Premier |
| OUTRUN | Kixx |
| PRISON RIOT | Players Premier |
| PROFESSIONAL GO-KART SIMULATOR | Zeppelin |
| RICK DANGEROUS 2 | Microstyle |
| RUN THE GAUNTLET | Hit Squad |
| SOLAR EMPIRE | Players Premier |
| STAR WARS | Hit Squad |
| THE SPY WHO LOVED ME | Domark |
| TIGER ROAD | Kixx |
SIX OF THE BEST
Yes - six (count 'em) full games on one loverly tape. Nowhere can you get this level of value. There's a playable mission of Battle Command, Ocean's latest super sim, and Rygar, Solomon's Key, Titanic, Colosseum, Tai Pan and Silent Shadow. A frolicsome fun-feast!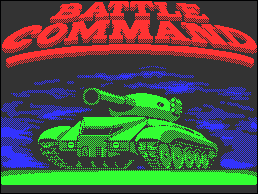 Battle Command, the exclusive demo from Ocean, has you in the driving seat of a Mauler Battle Tank. Set in the future, you have a plethora of futuristic missiles and weapons at your command. In our demo version, you can still win by scoring 10,000 points or more by destroying the enemy tanks, houses - in fact anything that moves is a target!
FEATURES
Hacking Squad
Rick Dangerous II tips plus a guest visit from Sgt. Toestamper. He's hard but fair - he's horrible to EVERYONE! He's got a stack of tips though!
Connect
There's so much in it!
Designer Jim Comp
The Write Stuff
Penpals/Sell It
Sorceress
Smash Coupons
Tell It To Jim
SU Crew - A Cartoon
Are You A Smoothie
Coin Ops
John Cook's monthly hunt of the pleasure domes. This month, Pig Out, Air Inferno, Out Zone and Hammerin' Harry. The hot slots.
Checkout
Books, videos and what's happenin' maaan!
Big Comp
So, you never win anything eh? Try entering our post CES Show competition.
Blueprint
The Garthmobile phutters off to see The Sales Curve and he tilts his lance this week at St Dragon. And is it hot stuff!
Typesetting by
G'n'G Type, output to a 2060 Liddontype
Colour work by
Pro Print
Printed by
Kingfisher Web
Distribution :
Frontline
© Copyright 1990
Emap Images
If any part of this magazine is reproduced without permission you're in BIG trubs sonny!