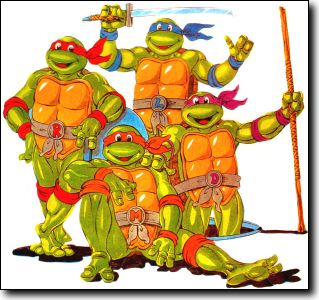 Turtle Comp
Copies of the Turtles 'How It All Began' vid, T-shirts, Turtle Glugger drinks, posters and all manner of Turtle-y fab prizes to be won, testing your Turtle knowledge to the full.
Hacking Squad
It's the pages with the razes. If you need help then look no further than the Hacking Squad. While you're there, why not see if you've had anything published and become a member of the Hacking Squad?
Posters
It's your pull out Turtles poster and won't it look great on your wall at home. It's double sided too with a Hacking Squad KEEP OUT! poster to keep everyone away when you're busy hacking into some game!
Connect
Your very own pull out section. Just carefully undo the staples and voila! A magazine within a magazine packed with interactive fun.
The Write Stuff
Smash Coupons
Penpals/Sell It
Tell It To Garth
SU Crew Cartoon
Sorceress
Questionnaire
Coin Ops
Our monthly look at what's hot and what's not, down the slots. John Cook is your tour guide through the latest arcade games.
Checkout
Books, videos and what's happenin' maaaan!
Charts
Do you know your Top 20? We do.
Previews
This month we look at Line of Fire and Ninja Remix.