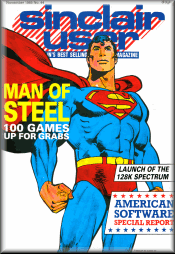 Issue 44
November 1985
EDITORIAL
Editor
Bill Scolding
Deputy editor
John Gilbert
Staff writers
Chris Bourne
Clare Edgeley
Editorial secretary
Norisah Fenn
Publisher
Neil Wood
ADVERTISING
Advertising manager
Louise Fanthorpe
Deputy advertisement manager
Shahid Nizam
Advertisement sales executive
Kathy McLennan
Production assistant
Jim McClure
Advertisement secretary
Linda Everest
MAGAZINE SERVICES
Subscriptions Manager
Carl Dunne
Sinclair User is published monthly by EMAP Business and Computer Publications
Superman illustration Superman is a trademark of DC Comics Inc.
SOFTWARE
TOP 30
Melbourne's Fist explodes at the top
SPECTRUM SOFTWARE
Elite finally arrives, with classic impact, while the Seiddabs return in Hewson Consultant's Astroclone. [two parts]
| | |
| --- | --- |
| | |
| Man of Steel | Hewson pulls his digit out |
QL SOFTWARE
Sinclair blows the cobwebs off the ZX-81 favourites Reversi and Meteor Storm
BUSINESS SOFTWARE
Word processing made easy with OCP's impressive Word Manager
ADVENTURE
Richard Price on ice previews The Snow Queen. Gilsoft patches The Quill with The Illustrator
HIT SQUAD
Chris Bourne beards the Gargoyle in its lair, and follows the walking man into the realms of space
FEATURES
MUD
John Gilbert reports on the Spectrum MUD launch, and Duncan Howard explores the world of Multi-User Dungeons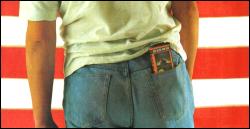 Bought in the USA
AMERICAN SELLOUT
British software houses are fighting for a slice of the American pie, but what if it's junk food? Chris Bourne crosses the herring pond
HARDWARE
HARDWARE WORLD
Kempston revamps the SPDOS interface, Star launches a budget printer range
QL HARDWARE WORLD
Ill-fated Medic at last releases the Expansion system. John Lambert puts it through its paces
PROGRAMMING
MACHINE CODE
Marcus Jeffery shifts large screen areas for a Scramble display
HELPLINE
Changing binary to decimal and back can lead to rounding errors. Andrew Hewson gets converted in the process
COMPETITIONS
SUPERMAN COMPETITION
Is it a bird? Is it a plane? Is it the best game to be released this year? 100 copies to be won for comic aficionados
MAGIC COMPETITION
Your chance to become the Paul Daniels of the Spectrum
LISTINGS
PROGRAM PRINTOUT
Hunt the Hurkel, find Jennifer's Dolly, put a spanner in the works of Manic Mechanic, Connect 4 on the QL
REGULARS
NEWS
ZX WORD
LETTERS
ZAP CHAT
BOOKS
SINCLAIR SURGERY
ADVENTURE HELPLINE
SOFTWARE DIRECTORY
SOFTWARE PUBLISHERS
NEXT MONTH
GREMLIN
If you would like to contribute to Sinclair User please send programs or articles to:
Sinclair User
EMAP Business and Computer Publications
London.
Original programs should be on cassette and articles should be typed. We cannot undertake to return them unless a stamped-addressed envelope is included.
We pay £20 for each program printed and £50 for star programs.
Typeset by
Saffron Graphics Ltd.
Printed by
Peterboro' Web
Distributed by
EMAP Publications Ltd.
© Copyright 1985
Sinclair User
ISSN No. 0262-5458