---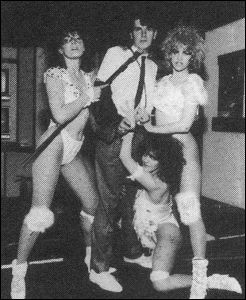 ORGANISERS of the PCW show attempt to prevent Mark Cale of System 3 from removing all his clothes in a desperate attempt to publicise Twister, Mother of Harlots. The game has nothing to do with sex, but that's showbiz ...
All the fun of the fair
GREMLIN prefers dark corners for the accumulation of hot gossip, but you have to put up with what you can get. Lurching through the sweltering PCW show Gremlin turned up the odd nugget, nevertheless.
Son of Banderbotch
Didn't the Sinclair stand look rough next to all those gleaming Atari STs? Gremlin was particularly amused to note the presence of Meteor Storm as the latest dynamic software for the QL. Slugger was presumably less amused to note the presence of Dave Lawson and Ian Hetherington on the Atari stand. Those two Mersey slickers were showing off a game called Brataccas - none other than the ill-fated Bandersnatch.
Slugger's mob always thought the game was theirs. So what happened? Sinclair spokesmen claim ignorance of the whole business. Mind you, we only saw four screens of the megagame. "It's more than my life's worth to leave the disc in the machine," says young Eugene 'deprived' Evans of Psygnosis. Well, that's his story ...
Tit for tat
Some companies didn't even manage an unfinished version of their games. Mark Cale of System 3 still hadn't got International Karate ready after the supposed break-in at his offices. Instead, he mounted a tacky dance show which was deemed so vulgar the organisers pulled the plug.
The emotional and distressed Cale was even more upset to discover Andy 'Cartier' Shafte walking out on him in the middle of the crisis to join some distributing outfit. Andy's already been on the phone to Gremlin with the 'truth' about System 3. Our lawyers are sifting through the transcripts to see what, if anything, can be published.
Assuming anyone really wants to know ...
Godfather Part VII
There's bigger fish to fry, though. Gremlin bumped into David Ward practising his golf swing on the edge of the US Gold stand. The Brian Epstein of British software claims Rambo, Ocean's latest spin-off, does exist even if we couldn't see a single screen shot on the stand. Gremlin understands there is indeed a basement somewhere at Ocean with a title-screen of the C64 version, or some such.
Ward also breaks silence on the muddled question of who owns Ocean. "We are in fact owned by the Mafia," says Ward, "but run by nominees for tax purposes. Now I've got to dash for a plane - I'm playing golf in Florida in a few hours ..."
Mental arithmetic
Meanwhile Ward is also bringing out a compilation tape called They Sold a Million. Gremlin isn't aware of any game which has ever sold a million - the record for outrageous sales figures so far stands at Activision's 300,000 for Ghostbusters.
Unabashed, the Jack Nicklaus of Manchester explains that it's the four games together which sold a million. Well, maybe not quite a million. Certainly closer to a million than to half a million.
"The figure," says Ward, confidently, "is no more than 250,000 out."
Would you buy an Afghan Coat off this man ...?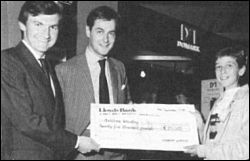 MARK STRACHAN and Dominic Wheatley of Domark manage a sickly grin as they hand over a fat cheque to the winner of Eureka! Dominic fell off his chair when he heard someone had one, which is probably why his signature looks so faint.
Grounds for divorce
Brazen Backslappers of the Month Award goes to Century/Hutchinson for a tremendous piece of hype about The Fourth Protocol.
"Christmas presents for the man in your life," rants the sexist copywriter, "of any age, be he husband, lover, brother or son." It then goes on to talk about ignoring socks and cigars and demanding The Fourth Protocol instead.
With tales of computer widows rife throughout the land, Gremlin would have thought any man getting a computer game from his nearest and dearest this Christmas might have cause to be worried. What personal habits of his are so obnoxious that his family prefers to have him locked away in the bedroom fiddling with his icons all day long ...?
Beanz meanz ...
Sharp-eyed telly users may have spotted a recent ad for Heinz beans, in which a youthful bean-eater was observed reading - or more likely trying to find his way around - a copy of Your Computer.
Gremlin was wondering what Your Computer did to get such favoured status. All is revealed with the October issue of the half-baked rag, which has a vast stack of baked bean tins on the cover. Is this a subtle example of back-scratching, or does it confirm what you already knew - that Your Computer is full of wind ...?
Calling Cambridge
If you're absolutely bored sick of stories and speculation about the Derby, Sinclair's main runner in the 128K Barcelona Stakes, try this for size - the £99.95 Cellular Telephone.
Gremlin, true to what few ethics he has left, refuses to reveal the source for this piece of speculation. On the other hand, it did come from the character who tipped off Incorruptible Scolding about the Spanish Derby, so you never know ...
---
Sinclair User
November 1985