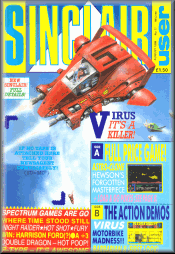 Issue 77
August 1988
Editor
Graham "El Presidente" Taylor
Deputy Editor
Jim "Pacino" Douglas
Production editor
Tamara "Don't you point that thing at me" Howard
Art editor
Gareth "Get rhythms" Jones
Designer
Andrea Walker
Adventure
The Sorceress
ZapChat
Jon Riglar
Technical
Andrew Hewson, Rupert Goodwins
Contributors
Tony "Metalll!" Dillon
Chris "I'll have that one" Jenkins
Advertisement manager
Katherine Lee
Deputy advertisement manager
Margaret "Oh come on" Caddick-Adams
Advertisement executive
Alison Morton
Ad production
Emma Ward
Publisher's assistant
Debbie Pearson
Publisher
Terry Pratt
Marketing
Clive "I'm on that one" Pembridge
This month's cover Jim McMorrow
SOFTWARE
| | |
| --- | --- |
| 3D STOCK CAR CHAMPIONSHIP | Firebird |
| ALTERNATIVE WORLD GAMES | Gremlin |
| EUROPEAN 5-A-SIDE | Silverbird |
| EVERY SECOND COUNTS | TV Games |
| HOT SHOT | Alternative |
| KUNG FU KNIGHTS | Top Ten |
| MIND FIGHTER | Activision |
| NIGHT RAIDER | Gremlin |
| ON THE BENCH | Cult |
| ROCKFALL | Top Ten |
| TERRORPODS | Psygnosis |
| THE BARD'S TALE | Electronic Arts |
| THE EMPIRE STRIKES BACK | Domark |
| THE FURY | Martech |
| T-WRECKS | Gremlin |
| VIRUS | Telecomsoft |
| WHERE TIME STOOD STILL | Ocean |
COVER GAME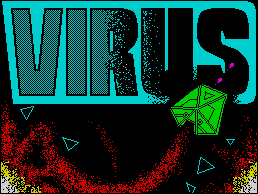 When the world saw Zarch on the Archimedes, it was said it could never be converted. But, it could, it was and it's been renamed Virus. We got our little paws on it and lo, we were amazed! Read all about it and check out the demo on tape
MEGATAPE 6
More and more! When other people aren't doing any tapes at all here we are at Sinclair User giving you more different things than ever before! Side A has Hewson's 3D masterwork Astro Clone and the usual Pokes. Side B is a bumper Demos Special! A playable demo of Motorbike Madness from Mastertronic - loads of action, then you get two scrolling, moving, totally wonderful additional demos of, first of all the totally wonderful Virus and then last, but not least, the equally wonderful Barbarian II - see it in action for the first time! Generous to a fault I call it
PREVIEWS
We got lots and lots, despite it being the middle of summer and nobody's releasing anything. Best of all we got a great big R-Type preview with lots of pictures! Other great stuff; Typhoon, Carrier Command and loads more ...
FEATURES
Spectrums Through The Ages
Ever wondered what people did with their Spectrums before Margaret Thatcher came to power? We tell you - the results may astound you - or not
Joystick Review
OOer what's this weird transparent thing? We check out some very serious looking joysticks indeed ...
COMPETITIONS
Win Harrison Ford!
What's the best way of celebrating Where Time Stood Still - a game (a bit) like the Indiana films? Simple, you win the chance to look (a bit) like ole' Harrison himself. Fab gear worth loadsadosh!
Win a +3
... and lots of Dark Side loot, including a keyring!
Empire Strikes Back Compo
Win lots of videos and posters
REGULARS
Zapchat
Tell It To The Bear
True Stories
Charts
Smash Coupons
Write Stuff
How The Hell
Blueprint
The Sorceress
Play By Mail
Outlands
Code Talk
Compo Winners
Coin-Ops
Next Month