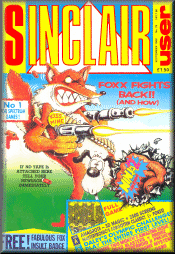 Issue 78
September 1988
Editor
Graham "El Presidente" Taylor
Deputy Editor
Jim "Rourke" Douglas
Production editor
Tamara "What do they call that then?" Howard
Art editor
Gareth Jones
Designer
Andrea Walker
Adventure
The Sorceress
ZapChat
Jon Riglar
Technical
Andrew Hewson, Rupert Goodwins
Contributors
Tony "Metalll!" Dillon
Chris "Mr Blag" Jenkins
Advertisement manager
Katherine Lee
Deputy advertisement manager
Margaret "Oh come on" Caddick-Adams
Advertisement executive
Alison Morton
Ad production
Emma Ward
Publisher's assistant
Debbie Pearson
Publisher
Terry Pratt
Marketing
Clive "Where have you taken my office?" Pembridge
This month's cover Loads of people, actually
SOFTWARE
| | |
| --- | --- |
| BARBARIAN | Melbourne House |
| DIAMOND | Destiny |
| DROIDZ | Silverbird |
| FOXX FIGHTS BACK | Mirrorsoft |
| FRANK BRUNO'S BOXING | Encore |
| GREAT GIANA SISTERS | Go! |
| HADES NEBULA | Gamebusters |
| HOPPING MAD | Elite |
| IMPOSSIBLE MISSION 2 | US Gold |
| LAST NINJA 2 | System 3 |
| MR WINO | Silverbird |
| OCTAN | Silverbird |
| OVERLANDER | Elite |
| PSYCHO PIGS UXB | US Gold |
| ROAD BLASTERS | US Gold |
| STALINGRAD | CCS |
| STOP BALL | Mastertronic |
| TRACKSUIT MANAGER | Goliath Games |
| VAMPIRES'S EMPIRE | Gremlin |
| VECTOR BALL | Mastertronic |
COVER GAME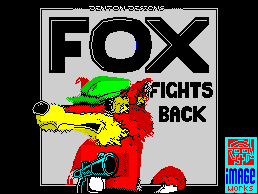 Never heard of it? You will. It's one of the meanest, most action-packed, most exciting arcade games ever. We got the exclusive review to go with the exclusive badge of this month's cover
MEGATAPE 7
We didn't think we'd manage it. But somehow we did persuade Mastertronic to give us the brilliant Amaurote for our Megatape! It's got OVER 2500 screens! It was always underrated - judge for yourself! PLUS two levels of the latest Daley Thompson game from Ocean - some the best giant sprites we've ever seen and (genuinely) armbreaking action. Plus the usual Pokes and bizarre scrolling message from the mysterious Adrian Singh (well he's not that mysterious really ... GT)
PREVIEWS
Some very hot stuff this month including an unnamed (at the time of writing) game so astounding you won't believe your eyes and Cybernoid 2 pics! Also mega this month, Netherworld, Gary Lineker and loads and loads more ...
FEATURES
Megahot Review! Last Ninja II!!!!
We pulled out all the stops. We went crazy. We nagged and pleaded to bring you Last Ninja II - the game everyone's been talking about! Check our special TRIPLE PAGE COLOUR SPREAD REVIEW now! LOTS AND LOTS OF PICTURES!
Spectrums Around The World
Now we've all heard of Spanish Spectrums but what exactly are they? What about the legendary Norwegian and Russian versions? How do the Japanese get their Speccy rocks off? We haven't a clue, but made up this stuff anyway
PC Show Games Locator
If you're going to the PC Show - you need this! We got the only guide
COMPETITIONS
Win a Speedboat!
To celebrate the forthcoming release of the latest Bond game from Domark we've got an honest to goodness radio controlled speedboat to give away! Brmmmmmmmmmmmmm!
Win several Porsches!
We've got five remote control, steerable, headlightable Porsches to be won with lots of runners up prizes of bags of gummie sweets!
Win a Tank
Loads of prizes in this fantastic model miniatures compo care of Games Workshop - including futuristic battle tanks!
Worst Game in the World!
The most bizarre compo ever! We want you to write a game which is terrible! Check out the examples! Be sick! Be confused! Examine the worst screen shots you've ever seen!
REGULARS
Zapchat
Tell It To The Bear
True Stories
Smash Coupons
Charts
Poster
Write Stuff
Outlands
Code Talk
How The Hell
I've Got This Problem
Coin-Ops
Blueprint
Gremlin
Next Month