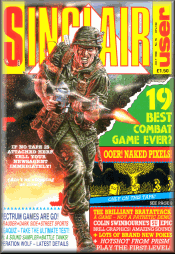 Issue 76
July 1988
Editor
Graham "El Presidente" Taylor
Staff writer
Jim Douglas
Production editor
Tamara Howard
Art editor
Gareth Jones
Designer
Andrea Walker
Adventure
The Sorceress
ZapChat
Jon Riglar
Technical
Andrew Hewson, Rupert Goodwins
Contributors
Tony "I'm a headbanger" Dillon
Chris "Leave off my jelly babies" Jenkins
Advertisement manager
Katherine Lee
Deputy advertisement manager
Margaret "I'll spell that for you" Caddick-Adams
Advertisement executive
Alison Morton
Ad production
Emma Ward
Publisher's assistant
Debbie Pearson
Publisher
Terry Pratt
Marketing
Clive Pembridge
This month's cover Bryan Talbot
SOFTWARE
| | |
| --- | --- |
| 19 | Cascade |
| ARCTIC FOX | Electronic Arts |
| CERIUS | Atlantis |
| DARK SIDE | Incentive |
| DR JEKYLL AND MR HYDE | Essential Myth |
| DROIDS | MAD |
| FA CUP FOOTBALL | Ricochet |
| FOOTBALL MANAGER II | Addictive |
| GUTZ | Special FX |
| HERCULES | Gremlin |
| IMPOSSIBLE MISSION | Ricochet |
| MARAUDER | Hewson |
| METAL ARMY | Players |
| MICKEY MOUSE | Gremlin |
| MICROMATE | Lerm |
| ON CUE | MAD |
| POWERAMA | Power House |
| SHADOW SKIMMER | The Edge |
| SKATE CRAZY | Gremlin |
| SKELVULLYN TWINE | Eighth Day |
| STREET SPORTS BASKETBALL | US Gold |
| THE EIDOLON | Ricochet |
| THE RACE AGAINST TIME | Code Masters |
| WIZARD WARZ | Go! |
| XECUTOR | Micro Selection |
COVER GAME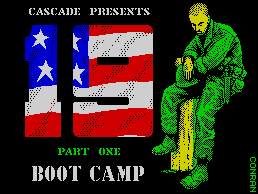 N-n-n-eed we say more? The game of the Paul Hardcastle record (and what a wacky idea that was) has arrived, and we think it's jolly good, in actual fact
MEGATAPE FIVE
How much more can you take? How much can one small, humble (I'm not very humble at all in fact - GT) magazine give to its beloved readers? Well loads actually, 'cos we've got Megatapes coming out of our ears, and this is number 5! Including the Colin Swinberilliant fame, Brat Attack and, well just go take a look, I'm not writing all that lot out again.
PREVIEWS
If you're a wide eyed loner at the gates of dawn and you take no prisoners, you'll probably be thoroughly interested in what's happening in the software industry at this moment in time. Well, we can't tell you that, but we've got pictures of Green Beret II, Time Scanner, a mega preview of The Empire Strikes Back and quite a few other things besides. All in glorious technicolour courtesy of the Welsh Wizard himself ...
NEW FEATURE!
Blueprint
We found out new, exciting information on Operation Wolf, where it is, where it's going and what we can expect from it. And in true SU style we bring it to you first, best, and looking weally nice against a tasteful blue background ...
FEATURES
The Elite SU Mega Quiz
The most difficult quizzy whizzy in the Galaxy. Who knows the most about software and the industry? Your chance to test your brains against those of Grand Quizmaster Dillonschkopff, and to win some rather swizzy prizes from those generous chaps at Elite ...
How To Be A Computer Journalist
Have you got what it takes to make it in the hack and slash world of computer journalism? Check out your suitability
COMPETITIONS
More competitions than you can shake a stick at, with prizes that'll make your eyes go all squiffy and your nose run, including: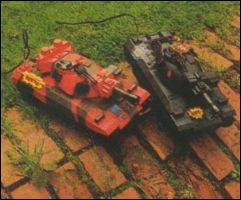 The Blow Up Your Best Friend Compo
US Gold gives us two tanks which blow each other up to celebrate Road Blasters
N-N-N-nineteeeeeeeen
OK, so we know it's a cliche, but what better prize than a sound sampler from Cascade, so you can make strange noises in whatever key you choose
Ooouff, I've Just Been Squashed By A Zoid
Yup, the clockwork monsters are here, for no better reason than we thought you'd appreciate being stomped on
Now That's What We Call Rather Generous
Music, music, vids an' records, music, vids, LOADSAMUSIC GIVEAWAYS!!! (Right, where's the pig game, I've warned you, I'm really going to put it on the cover if you say 'loadsa' anymore - GT) (Cries of 'No, no, don't do it El Presidente' from the rabble)
REGULARS
Zapchat
Tell It To The Bear
True Stories
Smash Coupons
Charts
Code Talk
Poster
Dr Rupe
Play By Mail
Outlands
Compo Winners
The Sorceress
Write Stuff
How The Hell
Arcades
Gremlin
Cartoon
Next Month