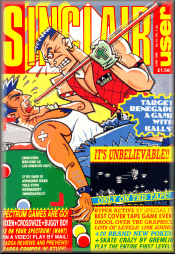 Issue 75
June 1988
Editor
Graham Taylor
Staff writer
Jim Douglas
Production editor
Tamara Howard
Art editor
Gareth Jones
Designer
Andrea Walker
Adventure
The Sorceress
ZapChat
Jon Riglar
Technical
Andrew Hewson, Rupert Goodwins
Contributors
Tony "I'm a headbanger" Dillon
Chris "10 o'clock isn't late" Jenkins
Advertisement manager
Katherine Lee
Deputy advertisement manager
Margaret Caddick-Adams
Advertisement executive
Alison Morton
Ad production
Emma Ward
Publisher's assistant
Debbie Pearson
Publisher
Terry "Great idea! I'll put it on the backburner immediately" Pratt
Marketing
Clive Pembridge
This month's cover Clive Goodyear
SOFTWARE
| | |
| --- | --- |
| 6 PACK VOL 3 | Elite |
| ALL STARS | The Edge |
| BEYOND THE ICE PALACE | Elite |
| BIONIC COMMANDO | Go! |
| BLOOD BROTHERS | Gremlin |
| BUGGY BOY | Elite |
| CHARLIE CHAPLIN | US Gold |
| CROSSWIZE | Firebird |
| CYBERKNIGHTS | CRL |
| DAMBUSTERS | Power House |
| DATA EAST'S ARCADE ALLEY | US Gold |
| DESOLATOR | US Gold |
| FREEDOM FIGHTER | Power House |
| FRONTLINE | Zeppelin Games |
| GEE BEE AIR RALLY | Activision |
| GOTHIK | Firebird |
| LASER TAG | Go! |
| MASTERFILE +3 | Campbell Systems |
| PROWLER | Mastertronic |
| SABOTAGE | Zeppelin Games |
| SHANGHAI KARATE | Players |
| SOLDIER OF LIGHT | ACE |
| SPY VS SPY TRILOGY | Databyte |
| TARGET RENEGADE | Ocean |
| TIME & MAGIK | Mandarin |
| VENOM STRIKES BACK | Gremlin |
| VIXEN | Martech |
| WEREWOLF SIMULATOR | Top Ten |
COVER GAME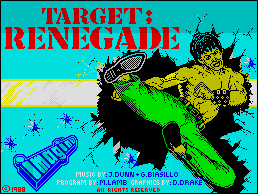 Target Renegade is a sequel to the amazingly successful Renegade and with better graphics and 'team up' option we think this is even better!
MEGATAPE 4
Listen, we're not stupid. We know that absolutely every mag out there is telling you their tape is best but HONESTLY when we saw what Special FX had done for Tape we were stunned. You won't believe a game which effectively costs 50p (and that's forgetting the playable demo and the Pokes) could be this good. Come to think of it, what are you reading this for? Read the instructions and get it loaded now!
PREVIEWS
As ever we've got pages devoted to more stuff which we've got more quickly than anyone else. Among the tasty morsels this month: Skate Crazy, Blood Brothers and Last Ninja II
FEATURES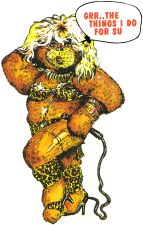 Sex On Your Micro
Bet you were expecting smut. Hah! You're wrong. It's just that something inspired us (guess what?) to do this definitive survey into what, if anything, connects Page 3 of the Sun with the software industry.
Joystick Offer
Special treat! Money off a limited edition Euromax joystick!
Play By Mail
Whatashock! It seems surprisingly large numbers of you are storming ancient citadels, blasting trolls and generally making mayhem through the post. Tarquin Lobotomy signed up - this is what he found ...
Maps Special
As a special bonus for adventure fans we've got complete maps for two major adventures!
COMPETITIONS
Win a video
Yep, win a Video player and a coupla hot videos to watch on it!
Special gremlin compo
Not just a great compo but a cartoon and some ultra sneaky playing tips for the demo on side B of the tape as well!
Elite 6-Pak Vol 3
Win a berrilianntt pocket TV and lots of runners up prizes as well!
Vixen
Your chance to win a fabby stereo with detachable speakers and lots of real dinosaurs!!!
REGULARS
Zapchat
Smash Coupons
True Stories
Code Talk
Tell It To The Bear
Charts
Poster
Compo Winners
Outlands
Background Noise
How The Hell
I've Got This Problem
The Sorceress
Gremlin
Cartoon
Next Month