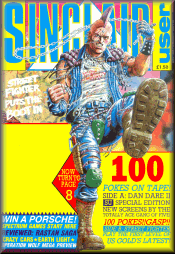 Issue 74
May 1988
Editor
Graham Taylor
Staff writer
Jim Douglas
Staff writer
Tamara Howard
Art editor
Gareth Jones
Designer
Andrea Walker
Adventure
The Sorceress
ZapChat
Jon "Mr Blagger" Riglar
Technical
Andrew Hewson, Rupert Goodwins
Contributors
Tony "a fiver if my name goes first on the list" Dillon
Chris "Can't you trust me for the dosh?" Jenkins
Advertisement manager
Katherine Lee
Advertisement executive
Alison Morton
Ad production
Emma Ward
Publisher's assistant
Debbie Pearson
Publisher
Terry Pratt
Marketing
Clive "If anybody asks I'm at lunch" Pembridge
This month's cover Brian Talbot
SOFTWARE
| | |
| --- | --- |
| 10 GREAT GAMES | Gremlin |
| ACTION FORCE II | Virgin |
| BALLBREAKER 2 | CRL |
| BRAINSTORM | Firebird |
| CAGE MATCH | Mastertronic |
| COUNTDOWN TO DOOM | Topologika |
| CRAZY CARS | Entertainment International |
| DAN DARE | Ricochet |
| DEMON'S REVENGE | Probe |
| DENIZEN | Players |
| DERVISH | Power House |
| DISPOSABLE HEROES | Power House |
| EARTHLIGHT | Firebird |
| FIFTH QUADRANT | Ricochet |
| FLINTSTONES | Grand Slam |
| GUNSMOKE | Go! |
| JINXTER | Rainbird |
| KARNOV | Electric Dreams |
| LEE ENFIELD - SPACE ACE | Infogrames |
| OVERLORD | CCS |
| PHILOSOPHER'S QUEST | Topologika |
| RASTAN | Imagine |
| SOPHISTRY | CRL |
| STARQUAKE | Ricochet |
| STREET FIGHTER | Go! |
| ZOLYX | Firebird |
COVER GAME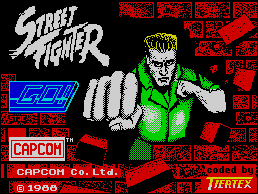 The best kicky kicky game ever? Quite possibly. Street Fighter has the meanest adversaries and the biggest sprites you ever did see. Check out our rating
MEGATAPE THREE
Unbelievably this tape has got 100 pokes, a totally exclusive version of Dan Dare II and the first level of the totally awesome Street Fighter for you to play. Get all the details and discover why we fell about laughing when we saw what those other mags had put on their tapes.
PREVIEWS
What a lotta we gotta! Including lots of first peek screens from Operation Wolf which is certain to be the next thing on your micro. Also featured: Mickey Mouse, Green Beret II, Hercules, and more!
FEATURES
Readers Poll Result
You voted for 'em. Now (at long last) find out who won in this Gala Entertainment presented by your hosts Jim 'n' Tammy (but not necessarily in that order)
Are You A Drongo?
Are you a twonk? Do you look like Jimmy D? (much the same thing really). Now find out, using our handy recognition guide, whether you or anyone you know is a complete and utter Drongo. The results may surprise you. On the other hand they may not.
COMPOS
Win a Porsche
And 20 Ferraris! First prize though is a radio controlled Porsche that hurtles around at forty miles an hour
Wilmaaaaaar!
Lots of Flintstone type prizes in our Flintstones competition. Just as well really
REGULARS
True Stories
Tell It To The Bear
Charts
Smash Coupons
Background Noise
Poster
Compo Winners
Code Talk
Outlands
Hardware
How The Hell
I've Got This Problem
The Sorceress
Gremlin
Cartoon
Next Month