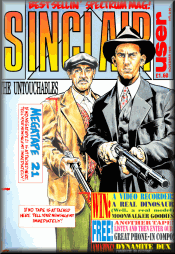 Issue 92
November 1989
Meet the SU Pop "Personalities"
Jim "Glamrock" Douglas

"Yeh. I like to think that these clothes and the whole, like Glamrock scene helps me through the rigours of a tough month on the mag," says Jim. "It's like, when you've got a section going to bed and a problem with the colour pagination of a on-off thirty-two litho, there really is just one thing that'll make you feel alright - Do You Wanna Be In My Gang? by the Glitter Band. You see?"
Alison "Rap" Skeat

"Don't touch me now/I'm too cold to hold/Gonna pass these pages 'fore the deadline gets old/Get those Drop Caps outta my face/Cos I'm gonna s.s.s.s.sSUB on through this place - man./Printing men just ain't my scene/They don't help me with my magazine/So if you want to get me to my joint/Just let me check your pica-point.
Tim "Screwdriver" Noonan

"AAAAAaaaa aaaaa aaAAAAaa aaaaaaaa aaaaaaAAA aaaaaaaA dadada nananana nananaAAAAAA NAAAA DAAAAAA dadadNNNAAAAA BANGBANGAAA AAaaaaa AAAdadad NNNAAAAAA NBAN GBANG"
Garth "Music Hall" Sumpter

"I'm leaning on a Spectrum at the corner of the office/In case an exclusive preview of an exciting Christmas blockbuster comes by/Now I've been reviewing all about town/I can even review a game/When I'm cleanin' Windows"
Adventure
The Sorceress
Dirty Tricks
Garth Sumpter
How The Hell
Andrew Hewson
I've Got This Problem
Rupert Goodwins
Coin-Ops
John Cook
Wayne etc.
Chris "Charity" Jenkins
Advertisement manager
Nigel "Presentation" Taylor
Advertising executive
Martha "Tell me now" Moloughney
Ad production
Emma Ward
Marketing manager
Dean "Knuckle of lamb" Barrett
Marketing assistant
Sarah "Well roughly ..." Ewing
Publisher
Terry "The Head Roller" Pratt
This month's cover: Untouchables from Ocean
Cover Artist: Jerry Paris
SOFTWARE
| | |
| --- | --- |
| ALTERED BEAST | Activision |
| CONTINENTAL CIRCUS | Virgin |
| DIE ALIEN SLIME | Mastertronic |
| GHOSTS'N'GOBLINS | Encore |
| PAPERBOY | Encore |
| PLANET 10 | Mastertronic |
| SHINOBI | Virgin |
| SIGMA 7 | Encore |
| SPOOKED | Player Premier |
| THE UNTOUCHABLES | Ocean |
| THUNDERCATS | Encore |
| TUSKER | System 3 |
COVER GAME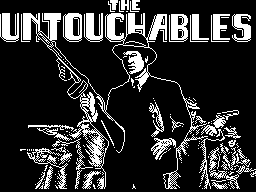 The Untouchables. Well, what can we say. Well, frankly we've run out of things to say. The big box full of "Good words meaning "Great"" has been completely emptied this month during the various articles about The Untouchables. Look, just take our word for it; this is simply the best conversion of any movie you've ever seen in your life. It's mega. Check it out, and read all about the movie too.
MEGATAPE 21
THE POKES ARE BACK! If you're stuck on virtually any game in the galaxy (large exaggeration) simply turn to the Megatape page and find out how to use the Poke section on the cassette. Also you've find a playable demo of The Untouchables on side B. In case you hadn't realised (what are you, stupid?) there's a second tape this month. To find out exactly how to sample the delights from this one, you need to turn to the same page.
PREVIEWS
Heavens! A truly ridiculous amount of preview excitement this issue. On the movie front, Ghostbusters II looks really promising. And we've got EXCLUSIVE pictures from Moonwalker. Those of you with a fetish for screaming around a 3D racetrack may well find your needs catered for in our scoop on Hard Driving, one of the contenders for the title of Fabbest Race Game Ever which will surely be fought over Xmas. We've also got pics from Operation Thunderbolt.
FEATURES
Dirty Tricks Dept
A super spectacular of saucy EXCLUSIVES! There are playguides for Dynamite Dux, a super map from Indiana Jones, another, equally super map from Treasure Island Dizzy. We've got access codes for the first 40 levels of Titan. Tips on Human Killing Machine, Strider and Gryzor. There are tips on Batman - help the caped crusader, er, crusade capily.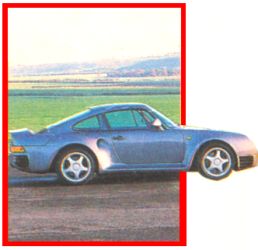 Blueprint 1
Myth is probably one of the smartest pieces of programming around at the moment. Believe me, we're talking high-res multi colour graphics, ultra smooth animation and a great storyline. It's exploration on the grandest scale. Take a gander at these pages and you'll see how the programmers found ways round tricky problems and you'll get to see how that made the game look so damned good.
Wayne Goes On His Hols
Wayne Smedley, raconteur, brain surgeon and swot sends you his postcards and love (yuk) from all over the world. Find out where Wayne has been, where he is now and what he thought of it all. As if you cared.
Poster
Test Drive II Oooo! Porsche 959 eh? Very stylish. Here's a chance for you to own one of these rather exclusive vehicles. Of course, you'll have to park it on your bedroom wall, but our poster has all the elements and qualities of the real thing; it's exceedingly cool, very aerodynamic, the right colour. The right shape. Everything. And are we charging you£300,000 for it? No. we ain't charging you nowt.
Blueprint 2
Ghouls and Ghosts is the long awaited sequel to Ghosts and Goblins and it's simply spectacular. How on Earth did the US Gold team go about converting such an epic on to the Spec? Read it and find out. Loads of pics and lots of secrets. What more do you want?
Outlands
A fine event this month. Indeed, possibly the most exotic blend of herbs and spices and features ever to come together in two pages. Possibly not. This month, we've got a sneaky look at a couple of videos that are lurking just at the back of your local rental shop as well as the essential breakdown of the hep school gear. We'll also let you in on a set of items which will make you the biggest smart alec your class has ever seen.
COMPETITIONS
Win A Fab Vid Camera!
You've seen The Untouchables on video. You've read the review and you've looked at the cover and you've worn the T-shirt and you've drank the drink and now you can have a go at making a sequel, thanks to this amazing compo we're running with Ocean Software. We've got a fantastic Amstrad Fidelity VIDEO CAMERA which we'll give away, COMPLETELY FREE to the first person who is drawn out of the tommy gun (or something). A stack of runners up prizes too!
Win A Chart!
We've had quite enough Pop Picking for one month. We thought it would be a good idea if we found out which of the "big" games about to be released will make an impression on the charts. Will the predictable ones win again? Enter this compo, and you could win a whole Chartful of software from the SU Xmas Charts. And you could also prove how brainy you are.
Win A Relic
The old ones are the old ones, as someone used to say. And you don't get any more old than a dinosaur! Ha ha! Yes, our Tusker competition will have you picking the old funny cells. We want you to come up with a side splitting caption for a picture drawn by the fair hand of those at System 3. If you turn out out be the Funniest "Person", we'll give you a big wopping model of a dinosaur. Coo.
Win A Video Recorder!
A completely mega Michael Jackson Moonwalker compo brought to you by the people at US Gold. A gorgeous, pouting video recorder; tape for the playing of - could be YOURS and YOURS ALONE. Why not team up with a mate and enter this one and The Untouchables and set up a film studio?
REGULARS
Megatape 21
Dirty Tricks
SU News
Tell It To Wayne
Write Stuff
Charts
Poster
Compo Winners
I've Got This Problem
Blueprint 1
Blueprint 2
Sorceress
Precinct 19
Coin-Ops
Supercoupons
How the Hell?
Outlands
Next Month