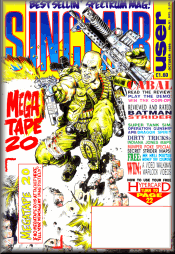 Issue 91
October 1989
Meet the super hard-working SU team!
Jim "Editor" Douglas

As Sinclair User's pioneer of New Technology, Jim is completely at home with thousands of pounds worth of high quality laser equipment. On top of deciding what goes in the mag, Jim can explain to the simplest of simpletons the pica/point conversion system on a Mac hard drive DTP 123 system. And not once has he sat and stared and sworn at a blank screen for a whole afternoon. Not many.
Alison "Production Editor" Skeat
Alison loves her PC to PIECES (arf). With its special ergonomic vertical keyboard and - rather expensive - blank-o-screen Alison's Cray XMP Wysiwig can spell check, delete lines, write extra copy and even sample the current text and suggest a witty headline. Never again will you find a typographical error in Sinclair User. For example, the Cray has written the next piece.
Xyndfi31 "f hthecat" I:LK
SJ:Jmnr23jouo >54t,6> . 6tgvz nonsystemdiskretryerror.....
Tim "Art Editor" Noonan

"Nah. Vis new tech's a load of dinkey's bums" muses Mr Philosophy. Tim has always preferred the traditional way of doing things. Descended from 11th century monks, Tim continues to keep some of their practices alive in his design work. Every letter that appears in all of the 120,000 issues printed each month is carefully printed on to each page by Tim using an Ivory stencil. Here Tim can be seen working on his 53,000th "E". As you can see, it's fascinating work.
Garth "Staff Writer" Sumpter

A hard man to track down, new staffer Garth managed to elude the camera's eye once more. You see, if he's not writing something at his desk, he's looking at a new game, and if he's not looking at a new game, he's trying to get hold of a new game, and if he's not trying to get hold of a new game, then he's driving thousands of miles to research some information on a new game that may be coming out. And of he's not doing any of that, he's probably completing his work for the CIA. Alright for some eh?
Adventure
The Sorceress
Dirty Tricks
Jon Riglar
How The Hell
Andrew Hewson
I've Got This Problem
Rupert Goodwins
Extra stuff
John "Payments overdue" Cook
Chris "Payments very overdue" Jenkins
Advertisement manager
Nigel "Two jobs" Taylor
Advertising executive
Martha "Is he not?" Moloughney
Ad production
Emma Ward
Marketing manager
Dean "Jiggy jiggy" Barrett
Marketing assistant
Sarah "Where's my film?" Ewing
Publisher
Terry "The big man" Pratt
This month's cover: Cabal from Ocean
Cover Artist: Jerry Paris
SOFTWARE
| | |
| --- | --- |
| APB | Domark |
| BATMAN | Ocean |
| CABAL | Ocean |
| COBRA FORCE | Players Plus |
| DRAGON SPIRIT | Domark |
| IRONLORD | UBISoft |
| MAZE MANIA | Hewson |
| OPERATION GUNSHIP | Code Masters |
| PANTHER | Mastertronic Plus |
| PROTECTOR | Mastertronic Plus |
| STRIDER | US Gold |
| SUPER TANK SIMULATOR | Code Masters |
| THE SOCCER SQUAD | Gremlin Graphics |
COVER GAME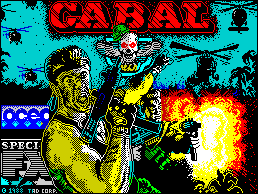 Cabal is a seriously tough piece of code. There are villages to destroy, governments to overthrow, peasants to liberate and grenades to eat. We reckon Cabal could well take the throne from Operation Wolf as the most realistic and hair raising combat coin-op conversion. Were we right? Check out the review.
PREVIEWS
Once again the nation holds its breath and crosses its legs as everyone waits to discover what's in Previews. Some of it we can tell you now; Ghouls and Ghosts is a spooky thing from US Gold. Another thing we know; Galaxy Force is a zappy, 3-D-ish spacey thing from Activision. But to preserve the mystery that is Previews we're going to make you turn to the feature to find out the rest! (Did that sound as if we know how we're going to fill up the space? - JD. Yes I think so - AS.
FEATURES
Dirty Tricks Dept
We were going to have a photostrip of Fuzzbox gradually losing all their clothes in a series of madcap adventures, like in every other magazine published in the last eight months, but then we thought no, you'd prefer some overwhelming tips 'n' tricks for Indiana Jones and Strider, and more pokes than you can shake a stick at, so that's what you've got.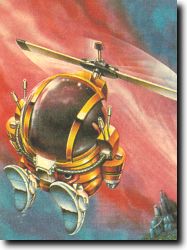 PC Show Special
This year's PC Show is going to be really different. No it isn't, we're lying. It's going to be the same madhouse of weebling games and blathering businessmen as ever before, but this year we have the SU/US Gold Hypercard to make it even more crazy! Find out just how to use it, and you could win mountains of software, or a Plus 3, or an Indiana Jones leather jacket, and you can get dosh off the entry fee too!!
Poster
Skyborne adventure in the year 2099 as Mr Hell does battle with the evil Muddy and his vicious followers! Pull your poster out, stick it on your wall, marvel at the airbrushing skill of Firebird's pet artist. Then run around your bedroom shouting WHIRR WHIRR WHIRR until you're blue in the face.
Blueprint
Just how hot can you expect a Blueprint to be? How about Powerdrift, the arcade road-racing game which Nigel Mansell wet himself with fear? We've got all the facts and figures - how they did the graphics, how they did the sound, and how they crammed it all into a Spectrum without bursting.
Outlands
Get FAT with SU! This month we've got the hot poop on the latest food fad to hit Britain - Jelly Beans. No ordinary jelly beans, these. You can mix and match and eat them in combination with each other to produce amazing oral delights. We also give you a run down on those fluorescent wallets that Tim and other Hep Cats are so keen on.
COMPETITIONS
Win Win Win! A Sony Video Walkman!
Is this the best competition prize in the history of the universe? It's a Sony Video Walkman - yes, a portable video machine with a built-in monitor screen worth almost £1,000! And you can win it courtesy of US Gold, who have gone so potty over the launch of Strider that they're giving away the whole world!
Win A Cabal Coin-Op
This month's cover game makes Operation Wolf look like Pro-Celebrity Bowling from Bournemouth, and you can win the astonishingly noisy, violent and wonderful coin-op from Ocean. Yes! An actual arcade machine to block up your bedroom!
Scoop The Lot
Ever wanted to take a trolley round a computer show shovelling it full of goodies for FREE? Now you can! If you want the Computer Shopper Show to be the best event of your entire life, enter the compo and keep all your fingers crossed.
Win! Warlock Goodies!
Oh crikey! In this shock exclusive competition not only do you get to win an exclusive Warlock jacket, modelled by the poutaceous Natalie (42-23-53), but you can also cop for a video of the supernatural shocker too!
REGULARS
Megatape 20
Dirty Tricks
Tell It To Wayne
Write Stuff
Charts
Poster
Compo Winners
I've Got This Problem
Blueprint
Sorceress
Precinct 19
Coin-Ops
Supercoupons
How the Hell?
Outlands
Next Month