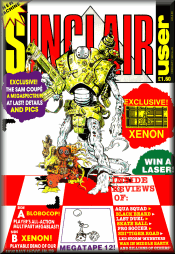 Issue 83
February 1989
Editor
Graham "Phew" Taylor
Deputy Editor
Jim "Shiny Shoes" Douglas
Production editor
Alison "Get Funky" Skeat
Art editor
Tim "Sliced Carrots"Noonan
Adventure
The Sorceress
ZapChat
Jon Riglar
Technical
Andrew Hewson, Rupert Goodwins
Contributors
Tony "Ratty" Dillon
Chris "Snivel" Jenkins
Advertisement manager
Katherine Lee
Advertising executive
Martha "Eejit" Moloughney
Ad production
Emma Ward
Publisher's assistant
Debbie Pearson
Publisher
Terry "Serene" Pratt
Marketing
Clive "It's alright I'm here now" Pembridge
This month's cover Jerry 'Fluffy Bunny' Paris
SOFTWARE
| | |
| --- | --- |
| AQUA SQUAD | Atlantis |
| BLACK BEARD | Kixx |
| CIRCUS GAMES | Tynesoft |
| DEADENDERS | Top Ten |
| DEATH STALKER | Code Masters |
| FLIGHT ACE | Star Games |
| GI HERO | Firebird |
| HEROES OF THE LANCE | US Gold/SSI |
| LEADERBOARD | Kixx |
| LED STORM | Capcom |
| MUNSTERS | Again Again |
| PROFESSIONAL SOCCER | CRL |
| RAID ON HORMUZ | Again Again |
| REBEL | Mastertronic |
| SDI | Activision |
| SKATEBALL | Ubisoft |
| TIGER ROAD | Capcom |
| WAR IN MIDDLE EARTH | Melbourne House |
| WEC LE MANS | Ocean |
| XENON | Melbourne House |
COVER GAME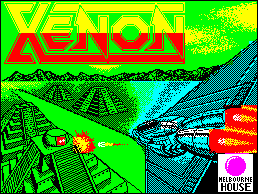 Xenon is utterly, amazingly fab! GT thinks it's the best shoot 'em up on the Spectrum ever! (The most restrained among us think it's just utterly brilliant). It's just about the smoothest, most challenging, most addictive game you've seen in ages! We've got the exclusive review, the Blueprint, and the awesome playable demo! Check it out now!
MEGATAPE 12
This month we've got a total original from Andy Severn from Players. Blobocop is a multilevel, horizontal scroller with loads of action and a brilliant bonus subgame. We've also got a marvellous playable demo of Xenon, a game to get 1989 off to a cracking start. Notorious maybe. Fantastically generous certainly.
PREVIEWS
We've got a couple of really hot new games for you this month. In particular check out Stormlord which is the latest from Hewson's ace programmer Raffaele Cecco and looks like a cross between Exolon and Cybernoid. Take a look too at Obliterator, a major new shoot 'em up from Psygnosis ...
FEATURES
The Super-Spectrum
Yes it's Spectrum compatible. Yes it's got great sound. Yes it's got great graphics. Yes it's pretty cheap. Wanna read all about it?
New Readers
Have you just bought a Spectrum? Maybe you've had one for years and still not been able to get it out of the box. Either way this is for you ...
Poster
You should recognise it this month. It's the January cover in all its unadorned glory. We wouldn't normally do anything so self indulgent but you told us in your hundreds you wanted it ... who are we to disappoint?
COMPETITIONS
Win A Laser
No we are not kidding. Though this one is not all that dangerous since it comes from Gremlin and does cosmic things to your bedroom.
Win A Footballing Career
We'll send you for a weeks training at a major soccer school run by Bobby Charlton!
REGULARS
ZapChat
Tell It To The Bear
Smash Coupons
True Stories
Charts
Write Stuff
Outlands
Code Talk
Sorceress
Play By Mail
I've Got This Problem
How the Hell?
Coin-Ops
Gremlin
Next Month