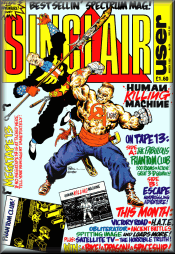 Issue 84
March 1989
Editor
Graham "Logic" Taylor
Deputy Editor
Jim "Native Wit" Douglas
Production editor
Alison "Thorough" Skeat
Art editor
Tim "Brute Force"Noonan
Adventure
The Sorceress
ZapChat
Jon Riglar
Technical
Andrew Hewson, Rupert Goodwins
Contributors
Tony "Saucy" Dillon
Chris "Whingey" Jenkins
Advertisement manager
Katherine "Top Girlie" Lee
Advertising executive
Martha Moloughney
Ad production
Emma "Choccy Face" Ward
Publisher's assistant
Debbie Pearson
Publisher
Terry "Location Unknown" Pratt
Marketing
Clive "Starless and Bible Black" Pembridge
This month's cover Jerry 'Mr Amiable' Paris
SOFTWARE
| | |
| --- | --- |
| 4X4 OFF ROAD RACING | US Gold |
| ANCIENT BATTLES | CCS |
| DYNAMIC DUO | Firebird |
| FIRE AND FORGET | Titus |
| FISH | Magnetic Scrolls |
| HATE | Gremlin |
| HUMAN KILLING MACHINE | US Gold |
| INCREDIBLE SHRINKING SPHERE | Activision |
| INTERNATIONAL SOCCER | Audiogenic |
| INTERNATIONAL SPEEDWAY | Firebird |
| JOCKY WILSON'S DARTS CHALLENGE | Zeppelin |
| MOTOR MASSACRE | Gremlin |
| OBLITERATOR | Melbourne House |
| SPITTING IMAGE | Domark |
| STREET GANG | Players |
| TOMCAT | Players |
| TREASURE ISLAND DIZZY | Code Masters |
| VICTORY ROAD | Ocean |
| ZONE TROOPER | Gamebusters |
COVER GAME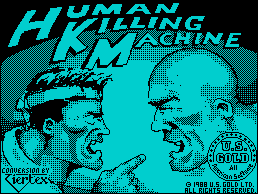 This month's cover game is US Gold's brilliant Streetfighter follow up, Human Killing Machine. We've got the exclusive review of the game with loads of pictures, some gorgeous playing tips (Sorry did you say gorgeous? - GT). Yes absolutely fluffy marvelously dainty playing tips (Excuse me readers I'll just have this journalist removed to the Stephen Fry home for writers who use effeminate adjectives. Next). Rite its a grate game and we like it lots and so does our mates and yoo shoud read all about it right now or I'll give you a duffin' and break your ... (Next - GT).
MEGATAPE 13
We were a bit worried about this unlucky 13 business but we thought that you might notice if we called it 13b or just went straight on to 14. So we braved it out and are we glad we did. Megatape 13 has got something for everyone. With Phantom Club we've got one of the best 3D games ever released, there's 500 different rooms to explore and loads of puzzling and zapping to be done! Check it out now! Wonder how we can be so generous! But that's not all!
We've also got oooweeeeeoooooooo Escape, an astoundingly bizarre adventure c/o Tartan Software. It's so difficult we expect to get lots of phone calls from people stuck claiming that it can't be done. It can and it also means we can say Yah Boo Sucks to all those people who write in and say "How come it's always arcade games on the Megatapes?" Phah! How come you didn't have more faith we'll say.
PREVIEWS
Loads and loads this month including the amazing Chicago 30's, Gemini Wing, Gray Lineker's Hot Shot, and zillions of others including this month's special guest - the mystery hamster game. (Oooweeeeeoooooooo). Who says that nobody is releasing any new stuff for the Speccy. (Who says Speccy and lives ... - GT)
FEATURES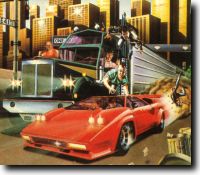 Extra Extra Extra Extra
Terrible news - right after writing this month's replies to reader's letters Kamikaze Bear suffered a nervous breakdown. He may never return! Turn to True Stories immediately for the latest horrifying news! Find out how you can help get him back or have him put away for ever!
Satellite TV
At last the truth is revealed! How exactly do you install a Satellite TV aerial? What exactly will the sort of programs you can see on it be like? Is this really the truth? Well, no not really. The reality may be a lot worse ...
Poster
Techno Cop this month and it's totally wonderful. I think that about covers it really. Do you really think they'll shoot Den in Eastenders?
COMPETITIONS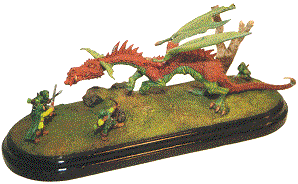 Win A Dragon!
It's like this - our man Tim Noonan has got a thing about Dragons (and who can blame him some of them are very attractive) and so we had a word with those marvellous Games Workshop people and they supplied Tim with a fantastic Dragon model and he, using his formidable artistic skills, has lovingly painted it. You. can win it and loads of runners up prizes in this charmingly personalised competition.
Win A Bike!
What a prize! You get to choose the sort of bike you'd like in this fantastic Fire and Forget competition. Has anyone ever been this generous in the history of the entire world ever? (Well there was Wayne Smedley's offer of a Porsche each if we'd only be nice to him - GT).
Win A Spaceship!
You loved the playable demo, you loved the review, you loved the Blueprint. Now in celebration of the sheer wonderfulness of Xenon we're giving you a chance to love the competition to win a host of space toys.
REGULARS
ZapChat
Tell It To The Bear
Charts
True Stories
Smash Coupons
Poster
Write Stuff
Outlands
Sorceress
Play By Mail
Blueprint
I've Got This Problem
Hewson's Helpline
Hardware Review
Arcades
Gremlin
Next Month