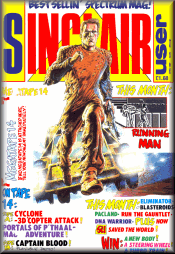 Issue 85
April 1989
Meet the groovy April guys (and girlie)
GRAHAM TAYLOR

HISTORY Graduated from the Vienna Conservatorium at the age of six, studied under Berlioz and then joined the Southend Philharmonic
PLAYS Steinway grand piano and kazoo
INFLUENCES Karlheinz Stockhausen, James Joyce, Timothy Leary and George Formby
HOBBIES Erecting satellite dishes, wrestling with cats and cleaning weeds from the goldfish pond
MESSAGE "In an indeterminate universe, only the subjectivity of the observer maintains the dualism of the animus. Right?"
JIM DOUGLAS
HISTORY "Elvis Costello came up and spoke to me once in the Wimpy. He said, 'Push off ya git, I was in front of you'."
PLAYS Saxophone (actually he jigs about in the background holding a sax and looks moody
INFLUENCES Mickey Rourke in 9½ Weeks ("Now there's a guy I can identify with")
HOBBIES Ignoring Sam Fox in Stringfellows ("I hate fat bimbos")
MESSAGE "Never trust women"
ALISON SKEAT

HISTORY Auditioned for Buck's Fizz' new girlie - was laughed off the stage
PLAYS Triangle and with certain other members of the band
INFLUENCES Sheena (serious) Easton, Bananarama (they're so talented) and her mate Kelly who was in the Stu Stu Studio Line advert
HOBBIES Picking up Greek/Spanish/Italian male tourists outside the Hippodrome ("I'm very cosmopolitan me")
MESSAGE "Always keep your dancing knickers ironed"
TIM NOONAN

HISTORY Lead chair chucker at Millwall v Luton
PLAYS Drums and the silly fellow
INFLUENCES Lager and vindaloo
HOBBIES Getting thrown out of pubs/clubs/salvation army hostels
MESSAGE "I'll 'ave you John, you're well aat of order"
CHRIS JENKINS

HISTORY Born on the planet Zob, came to Earth in 1960 and has been trying to absorb our strange culture ever since
PLAYS Synths that make widdly widdly noises, Japanese woodflute and zither
INFLUENCES Klaus Schultz, Tangerine Dream, Kraftwerk and various other German hippies
HOBBIES Trying to get Sabrina to notice him in Stringfellows
MESSAGE "Phasers on stun, sequencers armed and pump up the volume"
Adventure
The Sorceress
ZapChat
Jon Riglar
Technical
Andrew Hewson, Rupert Goodwins
Contributors
Tony "Saucy" Dillon
Chris "Whingey" Jenkins
Advertisement manager
Katherine "Top Girlie" Lee
Advertising executive
Martha Moloughney
Ad production
Emma "Choccy Face" Ward
Publisher's assistant
Debbie Pearson
Publisher
Terry "Location Unknown" Pratt
Marketing
Clive "Starless and Bible Black" Pembridge
This month's cover Brian Talbot
SOFTWARE
| | |
| --- | --- |
| ADVANCED SOCCER SIMULATOR | MAD |
| BLASTEROIDS | Image Works |
| CAPTAIN BLOOD | Infogrames |
| CHICAGO 30'S | US Gold |
| COLOSSEUM | Kixx |
| DNA WARRIOR | Artronic |
| ELIMINATOR | Hewson |
| FAST FOOD | Code Masters |
| HIT SQUAD | Code Masters |
| PACLAND | Grandslam |
| REPTON MANIA | Superior/Alligata |
| ROCK STAR ATE MY HAMSTER | Code Masters |
| RUN THE GAUNTLET | Ocean |
| RUNNING MAN | Grandslam |
| SAS COMBAT SIMULATOR | Code Masters |
| STREET GANG FOOTBALL | Code Masters |
| TITANIC | Kixx |
| WANDERER | Elite |
COVER GAME
The Running Man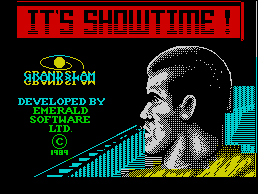 They seek him here, they seek him there, they seek that chappie with the big machine-gun everywhere. But where has he ended up? In SU, of course. It's the Running Man, it's Big Arnie Schwarzenegger, it's Grandslam Software and it's here now. We rather like it, which is good news because we don't like being horribly crushed and mangled by weightlifters. Read the review if you don't want to suffer the same fate.
MEGATAPE 14
Worralorra luverly tape we've got for you this month! After the overwhelming success of Escape we've decided to give you another adventure as well as one of the best arcade games of all time and a berilliant playable demo!
Cyclone is a fabulous 3D helicopter attack game. It's even more fun than ooh, let's say another helicopter game we could mention ... and we're confident you'll love it.
Portals of P'Thall is a follow up to the success of Escape - last month's adventure. It seems there are a lot of people out there who would like things other than arcade games and we'll try to cater them from time to time. Portals is a sort of magic, strategy, adventurey sort of thing and it's loads of fun and will last for ages.
Finally we've got a fab playable demo of Captain Blood, one of the most sophisticated programs we've seen for ages.
PREVIEWS
What EXACTLY have you done to deserve all these goodies? There's the third Renegade game,; there's pectoral bulging action in Arnie Schwarzenegger's Red Heat; and for the weeds there's the cutesy Puffy's Saga and goodie-goodie Thunderbirds. And that's just a sniff, a little nibble, a teensy bitette of the excitement in store for GOOD people
FEATURES
Sinclair User Saves The World - Again!
Only now can it be told! The true* story of how we fought off an alien invasion. Shudder with fear at the Attack of the Dildoids in pin-sharp focus.
*NB: The word "true" must be very loosely interpreted in this case
Big Pinball Special Feature
If your idea of a good time is flicking silver balls around glass cases while lights flash in your eyes, you'll rather enjoy this. It's Our Man in the Dark Glasses reporting on the latest in PBT (Pin Ball Technology, dope).
Poster
What can we say about this month's Timescanner poster except that it nestles with almost innocent ease slap bang in the middle of the mag?
COMPETITIONS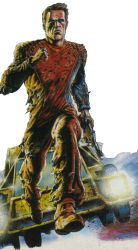 Win Some Muscles!
Not strictly true, we aren't going to send you a cardboard box of severed limbs. Mummy wouldn't like that would she? In fact you can win berilliant Weider weight-training gear and make yourself look just like muscular Arnie Schwarzenegger in our Running Man compo.
Win A Space Chuff-Chuff!
If the greatest ambition in your life is to be a train driver, firstly it's not as much fun as it used to be in the good old days of steam, and secondly you can win an entire train layout in our fabulous H.A.T.E. competition. It's no ordinary train either, it's a super spiffing futuristic Turbo Train. Lotsa games 'n' posters to win too!
Win A Flying Joystick
It looks like something from the cockpit of an F-16, but it plugs into your Spectrum to control any joystick-compatible game! More to the point, you can get one for NOWT in our Entertainments International contest. Many games are up for grabs also.
REGULARS
ZapChat
Tell It To The Bear
Smash Coupons
True Stories
Charts
Poster
Outlands
Write Stuff
Sorceress
Play By Mail
Blueprint
I've Got This Problem
How the Hell
Compo Winners
Coin-Ops
Previews
Gremlin
Next Month