Issue 86
May 1989
Meet the SUings

Graham "nasty weazley type" SUing
The story so far: After being dropped by Alison SUing for a younger lurver Graham decides to wreak his revenge by being generally dastardly to his whole family. He sets traps for them but unfortunately they ALL backfire and he is drowned in the indoor pool, sizzled in the back yard barbecue, shot on his way to the office and strangled by the chicken wire in the hay loft. 'Amazingly' he survives the lot and boy is he angry? Who will he direct his beastly horribleness next?????

Alison "pouting foxtress" SUing
The story so far: Alison has at least escaped the evil clutches of Graham. The divorce is settled and she has half his fortune so she gets stuck into every male in the house, cousins, uncles, great-grandfathers, no one is safe from this wanton hussy. But Alison has a secret sordid past of illegitimate children, bike sheds and baths full of spaghetti bolognaise. Will she be found out?

Jim "hopeless boozer" SUing
The story so far: Jim wakes up in a puddle of gin on the carpet of a motel room somewhere in Detroit. He cannot remember how he got there and decides that 13 bottles of vodka should bring back his memory. He wanders back to the SUing ranch to find the place deserted. Has his 'loving' family moved away without telling him, or are they just down the local liquor store stocking up ready for Jim's return?????

Tim "flash back" SUing
The story so far: Tim is pictured here in black and white as he appeared when the series started many moons ago. He is Graham's step-brother from his mother's fourth marriage and disappeared in a dream sequence in the indoor hot tub last Christmas. Has he really gone for good or is he maybe hiding in the septic tank waiting to make his comeback?????
Adventure
The Sorceress
ZapChat
Jon Riglar
Technical
Andrew Hewson, Rupert Goodwins
Contributors
Tony "Chubs" Dillon
Chris "Alien Gonk" Jenkins
Advertisement manager
Katherine Lee
Advertising executive
Martha Moloughney
Ad production
Emma Ward
Publisher's assistant
Debbie Pearson
Publisher
Terry "Mr Laid-Back" Pratt
Marketing
Clive "Shy and Reserved" Pembridge
This month's cover Brian Talbot
SOFTWARE
| | |
| --- | --- |
| ANTIRIAD | Mastertronic |
| AZIMUTH HEAD ALIGNMENT KIT | Interceptor |
| BIGFOOT | Code Masters |
| BUTCHER HILL | Gremlin |
| CHAMPIONSHIP SOCCER | STD Software |
| FORGOTTEN WORLDS | Capcom |
| HEARTBROKEN | Atlantis |
| NAVY MOVES | Electronic Arts |
| PI R SQUARED | Bug Byte |
| PLASMA BALL | Atlantis |
| PREMIER II SUPERLEAGUE | E&J Software |
| RENEGADE III | Imagine |
| SANXION - THE SPECTRUM REMIX | Thalamus |
| SPY HUNTER | Kixx |
| STORMLORD | Hewson |
| SUPERTRUX | Elite |
| TANK ATTACK | CDS |
| THE REAL GHOSTBUSTERS | Activision |
| TRANTOR | Kixx |
| TREBLE CHANCE | E&J Software |
| TURBO ESPRIT | Elite |
| VIGILANTE | US Gold |
| VINDICATORS | Tengen |
COVER GAME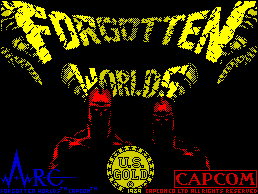 Phwooar! Not arf! The indubitable honour of being awarded prime position on this month's cover goes to the lovely lads and lasses at US Gold for the completely blinding Forgotten Worlds. Artwork, as ever, was designed and assembled by the Paris Marsh Design Partnership. We reckon it's one of their best.
MEGATAPE 15
We're getting that Megatape feeling again. We're now up to number 15; doesn't time fly when you're having a good time (hem, hem). All rolled up and squished into this month's tape are Premier League footy game, a mini adventure called Behind Closed Doors and 10 super wibbly pokes. We're all getting out of breath just thinking about it, phew!
FEATURES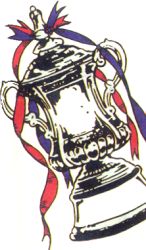 Sinclair User Is Back Back Back
Gosh we just lurve our readers sooooo much! in this ish we're offering Cup Final tickets, puffed up toys, CD players and the Electro extravaganza. You'd think that would be enough jolly freebie things for one month, but you'd be wrong. On top of that lot you can now get hold of 20 back issues going back to the first Megatape, just because we love you, we love you all!
Heeeeere's Timbo
Welcome to Professor Tim's special 'learn all about Speccy games' class. If you know very little about Speccy games don't be fooled into thinking that you'll learn anything here. There's more chance of you being knighted - read on anyway.
Football Kerazee Special
SU's very own Maradonna, Tim Noonan, has put us all into footy training this month. He's taught us how to punch a ref, throw a chair and eat oranges at half time. So to celebrate FA Cup Final day this month we're giving you squillions of footbally things to keep you busy.
There's the Emlyn Hughes International Soccer compo where you can win a ticket to the big day at Wembley. Then you've got three brillo football sims in the shape of Treble Chance, Premier II Superleague and Championship Soccer - we've reviewed all of them (gosh we're good to you - GT).
And just when you thought it was safe to go back on the terraces we hit you with our bumper fax extravaganza - 20 Boring things you didn't know about the FA Cup (which are exciting really).
Poster
It's amazing! In previous months we've given you an amazing free Poster ... this month we give you another one! Lordy! It's Renegade III and it's great. This one comes courtesy Of US Gold's top in-house artist Bob "I used to do lots of martial arts but my hands got all screwed up so I had to jack it in" Wakelin! Heavens! So for goodness sake turn to the middle page and tear it out and pin it on the wall and not only will you be able to cover up the horrid cracks, you'll be able to practice your high kicks as well.
COMPETITIONS
Win A Ruddy Marvellous CD Player
If you thought that SU couldn't possibly improve on the quality of last month's compo prizes then look at this ... Not only are US Gold giving you a chance to win a jolly nice Sony portable CD player they're chucking in 10 (yes 10!) Top Ten CDs into the bargain with the Forgotten Worlds competition.
Blow Up Ya Banana?? (not really)
Emlyn Hughes popped in the other day and invited us to the FA Cup Final. Being such generous souls we're gonna let you go too. Enter our Emlyn Hughes International Soccer compo and it could be you hurtling down Wembley way hollering "'ere we go, 'ere we go, 'ere we go!"
Blow Up Ya Banana (really truly)
Wanna have some inflatable playthings of your own? A skeleton maybe, or even a frog if you like ... you would? Well we've got some to give away! When we say to give away we really mean you have to earn them by entering our great Dominator compo.
Electro
Now this is a word you've never seen in SU before have you? Well let me tell you something readers, you'll be seeing a lot more of it in the future. Get the low down (maaaan) on Electro.
REGULARS
ZapChat
Tell It To The Bear
True Stories
Blueprint
Write Stuff
Charts
Smash Coupons
Poster
Twilight Zone
Play By Mail
Compo Winners
Sorceress
Outlands
How the Hell
I've Got This Problem
Coin-Ops
Previews
Gremlin
Next Month