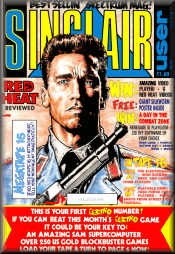 Issue 87
June 1989
It's the SU All Stars! Yaaaaay!
Jim "The Natural" Douglas

A born superstar. Playing for the Boston Redsox team in the 1947 world series, Jim received a near-fatal injury at the hands of a jealous female fan. While details are a little fuzzy, it's known that Jim spent twelve years in traction and psychotherapy after the incident. Now a coach with many youth teams across the States, he makes regular appearances in game shows and sports quiz programmes in the US. He has been paralleled with Emlyn Hughes. Once.
Alison "Tin-legs" Skeat

In shock developments this month, motorcycle stunt racer Skeat was both involved in a horrific accident during a display and a ghastly mix-up in the resulting hospital visit. After weeks of plastic surgery, it became clear that something was wrong with the very nature of Alison's appearance. Is there any hope left? Er, no.
Tim "Slugger" Noonan

From the wrong side of the tracks, the boy with the Golden Gloves came to prominence in the late 50s. Noonan made a name for himself throughout the boxing world as one of the worst fighters ever to be allowed in the ring. While finding much public support, Noonan unfortunately received such a pasting in his much publicised fight with Clubber Paris, he was forced to retire from boxing for good and took up a position running an occupational therapy daytime care centre for the slightly bewildered. His first book of poetry is due to be reprinted next month.
Chris "Black Avenger" Wilkins

Jenkins was trained by Shaolin monks after being discovered in a pile of noodles at the back of a Chinese takeaway in Gerrard St. Now he runs his own martial arts centre in the mountains of South Wales. Described by himself as "the most dangerous man alive", he can break a plank of wood with a sledgehammer, can withstand hours of slight chilliness and can runs as fast as someone else who can't run very fast. Truly, a force not to meddle with.
Special thanks this month:
Tony "Oh yes ..." Dillon
Jerry Paris
Graham "What?" Taylor
Adventure
The Sorceress
ZapChat
Jon Riglar
Technical
Andrew Hewson, Rupert Goodwins
Advertisement manager
Katherine Lee
Advertising executive
Martha Moloughney
Ad production
Emma Ward
Promotions
Debbie Pearson
Publisher
Terry "Power Haircut" Pratt
Marketing
Clive "Lovely" Pembridge
This month's cover Jerry Paris
SOFTWARE
| | |
| --- | --- |
| 3D POOL | Telecomsoft |
| ARCADE FLIGHT SIMULATOR | Code Masters |
| CARRIER COMMAND | Rainbird |
| GRAND PRIX SIMULATOR 2 | Code Masters |
| MICROPROSE SOCCER | Microprose |
| MIKE READ'S POP QUIZ | Elite |
| MOTO CROSS SIMULATOR | Code Masters |
| PARANOIA COMPLEX | Gremlin |
| PASTEMAN PAT | Silverbird |
| RED HEAT | Ocean |
| TASK FORCE | Players Premier |
| THE GAMES - SUMMER EDITION | Epyx |
| TWIN TURBO V8 | Code Masters |
| ZYBEX | Zeppelin |
COVER GAME
Is good, yes? Well, you'll have to read the review to find out, 'cos we're not telling you here. But let's face it, a game featuring the hardest man in the galaxy, rivalled only by Dribbling Mad Gnasher Norman the Art Ed. with huge sprites (fyak) and more punching than a queue for the fag counter at Tesco's can't be all bad.
MEGATAPE 16
ELECTROBINGO IS HERE! Turn to the feature now in order to learn how you can use the mystical number you've found nestling just beneath Arnie's nose. It could well be your passport to a glorious life on a tropical island, well, alright, it could well be your passport to a life of astounding gamesplaying with Miles Gordon's amazing SAM supercomputer.
There's also information about the rest of this month's all-star tape line-up. There are two demos - an all-action combat space game and a rough and tough footy extravaganza. And there's a fantastic complete game written specially for us by Players that'll blow your socks off.
PREVIEWS
Probably the best previews in the world. This month we've got hot news on Licence to Kill, Continental Circus, Altered Beast, Gemini Wing and more. Colour pics. Release dates. Prices. What more do you want?
FEATURES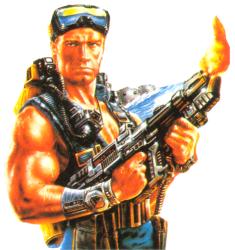 Blueprint
An amazing three page special this month with background info on the amazing Silkworm from The Sales Curve through Virginmastertroniclimitedplc.
Ask The Imbeciles
Hello, good evening and welcome to our most surreal feature yet. We long for those heady days of yesteryear when the Gorgeous Robert Robinson polished his pate and presented quizzes of skull-fracturing dullness. In a tribute to such bygone days we ask you ... what do you think this object is?
Poster
Pheeeew! Here's a saucy one for the girls (wot girls? - Ed). It's our glorious technicolour Navy Moves poster, celebrating the release of Navy Moves from Spanish software geniuses Dinamic. It's brilliant, and we don't care who knows it.
Outlands
It's back back BACK! The pages that haven't been seen since the last issue ride into town, get off their horses, stride through the swing doors of the saloon and order a glass of milk. This month we've got everything from a new line in rubber toys (ferr-yak!) through Compact Disc Video, Comedy Vids and, of course, sunglasses.
Back Issues
Not, as you may think, the dullest page in the whole magazine. No! It's actually a chance for you to get a copy of Sinclair User that you may have missed out on in previous months. And most importantly, you can complete your set of Megatapes.
Subscribe!
Not, as you may think, the dullest page in the whole magazine. No! It's actually a chance for you to get a copy of Sinclair User every month before most people and a completely free US Gold Software Stonker into the bargain. If you don't subscribe, you're stupid.
COMPETITIONS
Win A SAM Supercomputer
Get yourself to the Electromegatapebingofestival page NOW to see if you have already won! Virtually no effort required! Fab prizes on offer!
Win A Fantastic Video Player!
If you enjoyed last month's compo where you stood the chance of winning a gorgeous compact disc player - if you didn't buy last month's issue, you missed out - this month's will be even better! We've got a fantastic video player/recorder to give away in honour of Ocean's Red Heat release. And just in case that isn't enough, there are SIX copies of the video to be won too.
Win Some Sex Appeal
Summer's nearly here and the time is right for getting yourself down on the beach, kitted out in the finest fashion available and getting eaten by a shark. Aaargh! It's Jaws from newcomers Seven Star, and to herald their appearance onto the Spectrum scene, we've got a super compo where you can win a fab pair of Arena (v.hip) swimming trunks - or a complete cozzy for the girls - and a snorkel set-up too. Can't be bad.
Win Some Plastic People
Widdly wires! It's Thunderbirds, the forthcoming release from Grandslam and just so you can swot up on the characters you'll be playing in the game, there are stacks of videos of Thunderbirds - The Movie that have just got to be won.
REGULARS
Megatape 16
Tell It To The Bear
SU News
Charts
Write Stuff
ZapChat
Smash Coupons
Poster
Compo Winners
Blueprint
Sorceress
Play By Mail
Coin-Ops
How the Hell
I've Got This Problem
Outlands
True Stories
Previews
Gremlin
Next Month