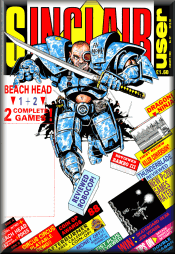 Issue 82
January 1989
Editor
Graham "Oh God?" Taylor
Deputy Editor
Jim "Unsound" Douglas
Production editor
Alison "Where's my red pen?" Skeat
Art editor
Tim "Woops"Noonan
Adventure
The Sorceress
ZapChat
Jon Riglar
Technical
Andrew Hewson, Rupert Goodwins
Contributors
Tony "Leather" Dillon
Chris "Snivel" Jenkins
Advertisement manager
Katherine Lee
Senior sales
Shane Hussien
Ad production
Emma Ward
Publisher's assistant
Debbie Pearson
Publisher
Terry "Oops there goes another one" Pratt
Marketing
Clive "Cheery" Pembridge
This month's cover Jerry 'Yee ha!' Paris
SOFTWARE
| | |
| --- | --- |
| 10 GREAT GAMES | Gremlin |
| 4 SOCCER SIMULATORS | Code Masters |
| BATTLE TANK SIMULATOR | Zeppelin |
| BMX FREESTYLE | Code Masters |
| COMPUTER MANIACS DIARY | Domark |
| DOUBLE DRAGON | Melbourne House |
| DRAGON NINJA | Imagine |
| FINAL ASSAULT | US Gold |
| FIST + | Firebird |
| HELLFIRE ATTACK | Martech |
| HISTORY IN THE MAKING | US Gold |
| HOW TO BE A COMPLETE BASTARD | Richochet |
| KNIGHTMARE | Ricochet |
| KRAKOUT | Kixx |
| RAMBO III | Ocean |
| RETURN OF THE JEDI | Domark |
| ROBOCOP | Ocean |
| ROY OF THE ROVERS | Gremlin |
| STAR FARCE | Mastertronic |
| TECHNO COP | Gremlin |
| THUNDERBLADE | US Gold |
| TOTAL ECLIPSE | Incentive |
| TRAZ | Gamebusters |
COVER GAME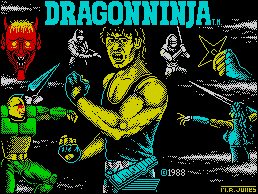 Yo Ho Ho Season's Greetings (etc). A Merry Christmas from us all with this jovial jolly Dragon Ninja game. Very Christmassy. Merry Christmas Martial Arts Destruction! (I think that's enough cheerfulness now - GT)
MEGATAPE 11
What a special Christmassy treat we've got for you! Two of the most addictive games ever created on one tape - Beach Heads One and Two! Two fabulous, award winning, arcadey strategical wonders of coding just for you. (That's enough twee sentimentality - GT). Plus Pokes, special Wooweee loader and berilliant playable demo. As a special SU Christmas present it's even better than socks.
PREVIEWS
There aren't any. Well alright there are a couple. We bring you ultra hot information about Blasteroids, Skate-ball, Sanction and loads more. Well a bit more anyway.
FEATURES
PC200 Software
Well there may not be many machines out there but we thought you might like to take a look at what's available. (DEAR AMSTRAD, don't you think it might be a nice idea to get us a proper loan machine, I mean it's not as though we think we're important or anything, but we would like one ...)
Stars And Their Specs Part 2
What do Stars do with their Spectrums? We interviewed a host of the most famous people in the world, most of whom had Spectrums, and asked them about their leisure activities. Then we asked them about their Spectrums. Ha!
Afterburner Calendar
Not only do we give you a fabulous Coin-Op, we give you 1989 as well. Check out our fabulous poster with 1989 FREE!
COMPETITIONS
Win A Skateboard
Skeewoooooooshhhhsplat. Do you want to risk hurting yourself quite badly? Then enter our fabulous competition to win a Transmission - skulls and bones ultra slick board.
Afterburner Pt2
OK then, part two of our fabulous competition. Count up all the special logos in this issue, add them to the logos you counted in the last issue and wamoo blam, an Afterburner machine could be winging its way to you.
Return Of The Jedi
Send us a piccy of yourself and the reader who looks most like an Ewok wins a prize. Naaah, not really - answer our questions and you could win RETURN OF THE JEDI on video. Check it out NOW!
Airborne Ranger
If you're the whooshing around in a fighter plane type then you'd probably also like to have a mega military tent of your very own (can't see the connection myself - GT). Enter this compo and that tent could be dropped out of a plane and parachuted to your front door.
REGULARS
ZapChat
Tell It To The Bear
True Stories
Smash Coupons
Charts
Poster
Twilight Zone
Outlands
Code Talk
Write Stuff
Sorceress
Play By Mail
Blueprint
How The Hell
I've Got This Problem
Coin-Ops
Previews
Gremlin
Next Month
SPECIAL IMPORTANT NOTICE PLEASE READ THIS. THIS IS SERIOUS UNLIKE MUCH OF THIS MAGAZINE
SU has received two letters from concerned parents complaining about the Motorbike Madness competition in last month's issue. Their objections referred to a 'throwaway' aside in the copy about inhaling glue fumes. It was a jokey remark, in keeping with the style of this magazine and we believe we know our readers well enough to feel sure they would treat it as a joke. However, lest there be any doubt about our attitude, GLUE SNIFFING IS NOT A JOKE. IT IS DANGEROUS AND FOOLISH. SU COMPLETELY REGRETS ANY POSSIBLE IMPLICATION IN THE TEXT THAT IS ANYTHING ELSE.
DRUGS ARE DANGEROUS. DON'T SNIFF GLUE.
WE UNRESERVEDLY APOLOGISE FOR ANY OFFENCE CAUSED.