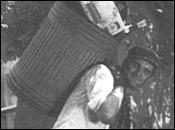 Waste Disposal Operative
Building with the Spectrum
SINCLAIR SIMON The next instalment in the life of our hacking hero.
HARDWARE WORLD Our reviewers once again explore the hardware jungle.
ZX-81 SOFTWARE SCENE We review four new games.
SPECTRUM SOFTWARE SCENE The latest releases.
HIT SQUAD Trashman author Malcolm Evans talks rubbish to Chris Bourne.
SINCLAIR BUSINESS USER Mike Wright explores specialist computer uses on the Spectrum.
USER OF THE MONTH Joe Palca talks to a psychiatrist who is crazy about Manic Miner.
MIND GAMES The Hulk is on the rampage. Quentin Heath picks up the pieces.
HELPLINE Andrew Hewson provides easy ways to store graphics on the Spectrum.