---
The humble dustman is the hero of a new game. Chris Bourne tells how Malcolm Evans found brass in muck
THE NEW GENERATION was born shortly before D-Day in 1944, a few hundred yards downwind of Romford Brewery in Essex. In fact, there were two of them - twin brothers Malcolm and Rod Evans. "We moved to Portsmouth when we were about 18 inches old", says Rod, "and lived there for the next 20 years."
Rod joined the world of finance with the listening bank. Brother Malcolm took a sandwich course in electronics and joined Marconi, where he worked on high-powered projects such as satellite technology. In the mid-70s he moved to Smiths Aviation, where he became involved more closely with computers, designing hardware to implement computer control systems for jet engines.
In 1979 he moved again, to Sperry Gyroscope in Bristol, joining its micro-processor applications group. There he found himself using Z-80 and 8088 machine code language for small applications of a classified nature for the Ministry of Defence.
The Bristol factory was closed in 1981 but by then Malcolm had his own ZX-81, bought for his birthday by his wife Linda. He still retains strong feelings about the quality of the machine. "It is more flexible than the Spectrum, because you can do much more on the screen, using relocation techniques. Everyone complained about the screen when it first appeared but in fact it was an advantage."
By the time he left Sperry Gyroscope, Malcolm had already written 3D Monster Maze, motivated solely by a desire to explore the capabilities of the machine. "Games were not big business then," he says. "I wrote a game because a game can stretch a computer to its limit - your imagination is the limit. Computers solve problems; writing a game creates the problem."
At that time Malcolm was a keen classical guitarist and played occasionally in folk clubs locally. At a Club meeting in Bristol he met John Greye, who was also writing games for the ZX-81, and the two of them decided to form J K Greye Software Ltd. Malcolm took 3D Monster Maze to a ZX Microfair and the game sold well. "I was pleasantly surprised," he says, "probably because I had not seen many other games."
A lucky coincidence won the new company an order from W H Smith. "Smiths had already trashed the game we sent them," says Malcolm, "but product manager John Rowland overheard a small boy praising it at the fair and came to see us."
Two weeks after Malcolm had left his job Smiths ordered the game, along with 1K Breakout and 3D Defender. In the spring of 1982 Greye and Malcolm decided to go their separate ways and Malcolm founded New Generation Software. The company obtained one of the first Spectrums in June of that year and continued the 3-D theme with Escape, Knot in 3D and 3D Tunnel.
The concept of perspective graphics was a central feature of New Generation games. "I define 3-D as moving forwards and seeing objects pass you. It gives the player an extra dimension," Malcolm says.
In April, 1983 Malcolm found the scale of the operation becoming too much for one man to handle and invited Rod to join the business, bringing his financial and business expertise to bear on the administrative side of the outfit. Rod was then working as retail manager of the Scotch House, an up-market clothing store in London, having left banking some years earlier. He had grown to dislike London and gave up the big city for the relative peace of Bath, where New Generation is based.
Trashman, the latest and certainly the greatest success New Generation has had, represents a new departure for the company. "We had been producing games we thought the public wanted," says Rod,"but they appealed mainly to the 15-plus age group. Trashman was a deliberate attempt to increase our market coverage. We wanted to appeal to the whole family."
He says the company used to have a cult following. "John Menzies, the retailer, told us 'People are buying games by Malcolm Evans and New Generation, probably in that order'. We did not think the cult was what we wanted."
They decided to work out exactly what made a good game. "If I told you what we decided you could go and write games yourself," says Rod, "but originality - and the feeling you must go on further to reach the next level - were high on the list."
Since the game was to have a family appeal, the subject had to be domestic - no space wars or fantasy monsters. The idea for basing a game on rubbish and a dustman was one of those flashes of inspiration people have in unlikely places - such as the bath. Unfortunately we cannot reveal what Malcolm was doing when he thought of Trashman.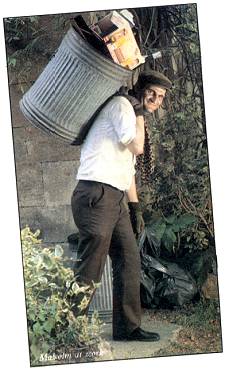 Instead of using 3-D graphics, Malcolm decided to have what he calls an 'isometric view', a plan view of the streets with the houses in a quasi-3D perspective. That permits the player to see such things as the dog running after the dustman or the cyclists careering along pavements. The game was worked out to the last detail before any of the programming began.

"I did not find it too difficult," says Malcolm. "The first screen with just one house took a week and then we added shadows and other details."

A great deal of attention was paid to details. "The whole game has to entertain," says Rod. "Quotes were put in for non-players to read and enjoy the humour. There are 34 altogether." Even the colour of the houses was not left to chance. "I mean, here we are in Bath. Sinclair yellow was not good enough for Bath stone, so it had to be red." That attention to detail has also won New Generation an award, the French Grand Prix International Du Logiciel D'Adventure for best graphics animation.

In Trashman, the dustman has to collect a number of bins from a street at each level; hazards include cars, vicious dogs, and even your own dustcart driver. Malcolm is already planning a sequel, which will have an international flavour. At the end of Trashman you are awarded the diploma of the Academy of Trashmanship, winning the right to dispose of rubbish round the world. The sequel will build on that theme, as the dustman travels - paying his own way - to exotic locations with the sole intention of collecting rubbish. Malcolm promises plenty of inventive visual humour to suggest concepts of 'foreign rubbish' and says the game will be finished in September.

Other projects include a cartoon adventure with cartoon-style humour and moving pictures, and a Fireman game, where you have to rescue people and save buildings from destruction. "Not exactly rescuing Esmerelda," says Rod, "but..."

The company, is run from a converted coach house in Malcolm's back garden. Lest you think he lives in a manor house, he does not. The coach house is very small and the main house is situated in a leafy suburb of Bath. The company is finding its picturesque premises cramped and plans to move in the near future. Another indication of expansion is the hiring of two young programmers to write new games and convert existing software to new machines - "We do not buy programs; we prefer to hire good programmers".

Outside of work, Malcolm has no hobbies. He is a true workaholic who throws himself completely into any project on which he is engaged. Past enthusiasms include astronomy - six hours a night bent over a telescope - and guitar playing. Since starting New Generation, he claims not to have played the guitar at all - Rod has now borrowed it to learn music. Likewise, although Malcolm has few computer games in his house, businessman Rod is a great enthusiast for Jet-Pac from Ultimate.

Malcolm's wife Linda, also a director of the company, says her husband's single-minded determination can become irritating at times "but there is usually a slack period just after a game has been launched when I can get him to mow the lawn - although he suffers from hay fever."

Malcolm has no regrets about leaving the world of satellites and defence projects. "I found working for someone else very frustrating," he says. "I could not meet the deadlines and also do what I wanted to do. New Generation does not feel like work at all and it gives me more freedom."

Whether 14-hour days can be construed as freedom is a matter of conjecture but there is no doubt that Malcolm and his clan are delighted with the results.



---
Sinclair User
September 1984