---
How to go bust Imagine-style
IMAGINE SOFTWARE has finally collapsed, with estimated debts of at least £350,000. The Liverpool company had been in severe financial trouble for some months, culminating in a series of last ditch efforts to stave off bankruptcy.
One such attempt was to sell off 100,000 cassettes to a West German dealer at around 30p each in order to pay off immediate creditors. Those included VNU Business and Computing Publications, who obtained a court order compelling payment, following which other creditors came forward to press their claims.
Two directors of Imagine travelled to the USA in a final effort to drum up finance on the strength of the projected Mega-games, hardware-based products intended to retail at five times the price of ordinary cassettes. They returned from the States empty-handed and, in spite of the German deal, the company failed to satisfy creditors before the deadline for payment ran out. The company was then formally dissolved by court order.
The colourful style of the Imagine management has won the company few friends in the software industry. Although a number of good programs, coupled with strong advertising, ensured the company a prominent place among software houses in 1983, it seems as though Imagine has been heading for a spectacular crash for many months.
Most Imagine games have already been sold to distributor Beau-Jolly but directors Butler, Lawson and Hetherington are said to have set up a company, Finch Speed, to take over the mega-games. That was done the weekend before the court stepped in to close Imagine and it remains to be seen how they intend to produce the games with no obvious means of financing such an expensive product.
Such is the level of suspicion surrounding the final days at Imagine that Merseyside Fraud Squad is monitoring the situation, although a police officer emphasised that no formal investigation into the company or its directors has yet begun.
Another company to fall foul of the liquidator is Rabbit Software, based in Middlesex.
Both Rabbit and Imagine suffered burglaries recently in which thousands of pounds worth of stocks and equipment were stolen.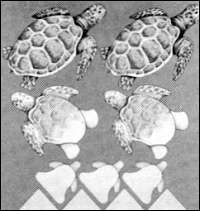 Sinclair Logo
THE LONG-AWAITED version of the educational language Logo has been released for the 48K Spectrum. The package comes as a cassette with two books, one for beginners and the other for experts.
ZX Sinclair Logo is of the original Logo designed by Seymour Papert and developed by Logo Computer Systems Inc.
The company hopes to promote the language in schools and colleges. With the addition of a floor turtle robot, the package will be, at £39.00, the least expensive version of Logo.
Sinclair hopes to make the language available for the QL and there is speculation that it might be a ROM-based package which will be released with a range of other languages including Micro-Prolog and Pascal.
Fast action on pirates
A NEW organisation has been launched with the specific purpose of fighting software piracy. The Federation Against Software Theft aims to secure an amendment to the existing copyright law.
Tory MP Nick Lyall has already tabled a ten-minute Bill for debate in Parliament to pave the way for the introduction of a Private Member's Bill next parliamentary session.
"The Government supports the Bill," he said. "But cannot include it in current legislation plans because it is so busy already."
Kenneth Baker, the minister for Information Technology, has already pledged his support for FAST.
"The software industry is a very important and quickly growing sector of the economy," he said. "It is essential that it should be in a position to protect itself against unlawful copying. I would like to assure FAST of my support and encouragement for their valuable efforts in this area."
The companies represented by FAST include such names as IBM, Apple, W H Smith, Microsoft, and DEC. A spokesman for Sinclair Research said Sinclair supported the aims and principles of FAST but had not yet decided whether to join.
Same paper, new owners
THE SINCLAIR group of publications, including Sinclair User and Sinclair Programs, has been acquired by East Midland Allied Press, the publisher of Computer and Video Games.
Clive across the channel
SINCLAIR RESEARCH has created a European marketing unit in Britain to launch its range of products from new premises in West Germany and France.
The move into Europe is the prelude to a major sales drive which, Sinclair claims, will take place during late 1984 and early 1985. The company anticipates continental sales half a million at the end of this year and, with the introduction of the QL, figures should double within the next year.
Charles Cotton, Sinclair's overseas business manager says: "Our strategy aims to consolidate our leading position in European markets and increase both sales and market share."
The company currently sells in European territories through exclusive local distributors. The new bases, in Frankfurt and Paris, will also concentrate on third-party support and service facilities which will include local language software in French and German.
Sinclair plans for QL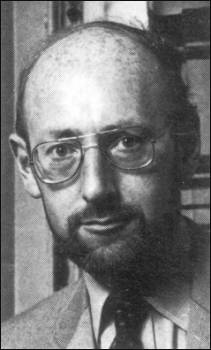 Sir Clive: complains of bricks.
SINCLAIR RESEARCH has defended the delays in QL deliveries and is confident that the same situation will not arise again.
Sir Clive Sinclair told journalists at the beginning of July: "The delays in delivery of the QL have not been as great as those experienced when other computers, such as the IBM PC and Acorn Electron, were launched yet we have tended to get all the bricks thrown at us."
At the time of going to press the machines were going out at a rate of approximately 2,000 a week and Sinclair expected that figure to have risen to 20,000 units a month by the end of the summer. Nigel Searle, managing director, claimed that any bugs which are pointed out by users will be rectified where possible and the corrected versions of the QL User Guide should have been released in August.
The company hopes that more than a quarter of a million QLs will be sold before the end of next year and has plans for several hardware and software launches during 1985 to support the growing user base.
Hardware expansion will include a 512K RAM board, Winchester disc interface, printer, and modem. None of those peripherals will be produced by Sinclair but they will be marketed under the company logo.
Big-league software companies have also been pulled into the QL market. Sinclair Research already has agreements with Digital Research, Sagesoft, MicroAPL, Scicon, Quicksilva, Lattice, Metacomco, Caxton, Psion, GST and Intelligent Software. Sinclair also aims to market the Unix operating system under license but, as with all the hardware products, will do none of the software development itself.
Criticisms of the QL keyboard and Quill wordprocessor have also been answered by Sinclair Research. Sir Clive denied that the keyboard was almost as bad as that of the Spectrum, saying: "I think that it is a superb keyboard."
David Potter, of Psion, defended the Quill wordprocessor, although he agreed it was slow when entering and displaying text. As a result of the criticisms Quill will be upgraded and its speed increased when the next version is released later this year.
Quicksilva develops games for the classroom
QUICKSILVA is planning an onslaught on the education market with a suite of programs combining educational content and games. They will be developed by Quicksilva Edutainment Division and marketed under the slogan: "QED The Brainlords".
The educational games will include 'edventures', combining the traditional elements of fantasy adventure games with historical information and questions, with projects aimed at both 0- and A-Level students.
"Most existing programs are totally passive," says Rod Cousens, managing director of Quicksilva. "They don't demand sufficient user involvement nor do they command attention. You have got to do something with the computer which is different from textbook education."
To ensure that the educational content will be of value, Quicksilva is combining with educational book publishers to develop the products and is also working with academics at the Education Department of Southampton University.
Cousens is also anxious that programs take advantage of the characteristics of individual computers, hoping to produce programs for the Spectrum, BBC and QL with the launch in September.
Yanks muscle in
AN INFLUX of software from the United States is being aided by CheetahSoft, the software subsidiary of Cheetah Marketing.
The company has made a deal with Imagic, which has previously dealt with Commodore and Atari, to convert games to the Spectrum in order to market them in Britain.
The first two titles for the computer have appeared already. Moonsweeper involves an attempt to rescue miners on one of four moons. Three dimensional graphics show the descent to the moon. The other game, Dragon Fire, bears a slight resemblance to Hunchback. The player must enter a castle while avoiding an angry dragon.
Peter Hardingham, marketing director of CheetahSoft, says: "The graphics are very good and will remind users more of the Commodore machines than the Spectrum. It is about time that the UK was allowed to see the best American software at prices that are not the rip-off that they always have been."
"Versions have been produced for the Atari machines and Colecovision and the Spectrum games use the sprite graphics which are a feature of those machines."
---

A RECORD FIELD of 2,400 runners took part in the third Cambridge half-marathon sponsored by Sinclair Research. Sir Clive ran the 13-mile course, but failed to do for athletics what he has done for computing. Victory went to Rob Treadwell in 1hr 5m 42s with Olympic hope Joyce Smith winning the women's section.

---
Carnell returns from the grave
THE DIRECTORS of Carnell Software, which was recently put into voluntary liquidation, are back in business again. Roy Carnell and Stuart Galloway have set up a partnership with senior members of Mastertronic to market the Third Continent series of games, including a long-awaited Wrath of Magra.
The new company, which, although financed by Mastertronic directors will be operated independently of that company, is to be called Innovisions. The Wrath of Magra will be released immediately at £12.50 and new projects are already planned.
One condition of the new deal is that the Mastertronic side will handle all financial and business details, leaving Carnell and Galloway to concentrate on the products together with Stephen Kirk, who was a programmer at Carnell and is now a partner in Innovisions.
"We are completely happy with the deal," said Stuart Galloway.
Professional database
A NEW DATABASE has been launched in the UK by Dialog, a subsidiary of the giant multi-national Lockheed Corporation.
Knowledge Index has attracted 5,000 subscribers in the U.S.A. since its launch in 1982, and a spokesman for Dialog said the company will be pleased to win 1,000 U.K. subscribers over the next few months.
The system can be accessed via modem by most home computers, including the Spectrum and QL. The service will cost £25 a year, including a manual and two free hours of use. Any further time will cost $24 an hour.
For their money, users will gain access to over 20 million items of information on a wide variety of subjects, mainly of a technical nature.
Daley goes to Hollywood
ANOTHER lunatic Automata competition has ended. Phil Daley of Stoke-on-Trent has won a trip to the U.S.A. for completing My Name is Uncle Groucho. Daley correctly named the mystery personality as Mickey Mouse and provided the winning slogan with: 'There's no blood in our games, it's all tomata sauce'.
Daley will fly to Hollywood on Concorde, cruising home on the QE2.
Cheap games from CCS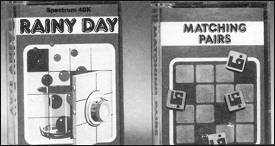 THE LOW-PRICED software market has expanded further with the introduction of games from Charlie Charlie Sugar, a division of Cases Computer Simulations.
The company has used the new name with its range of £2.99 games so that it will not be confused with its range of strategy, simulation and adventure games which retail at traditional market prices such as £5.95.
A spokesman for CCS says: "The Charlie Charlie Sugar range is designed to encourage impulse purchases and is accordingly priced within the average teenager's pocket money allowance. The games are excellent value for money and represent a straightforward marketing policy of offering a range of different quality, separately branded, products which are priced and packaged accordingly."
The range so far comprises four cassettes which include a whodunnit mystery, a French dice game and a version of Pelmanism.
Overseas promotion
THE GUILD of Software Houses is currently liaising with the Board of Overseas Trade to provide facilities for companies to promote their products abroad.
"We want to help companies sell overseas by representing people with joint projects," says Mike Johnston of GOSH. One possibility is to organise joint trade stands at overseas shows.
"We have also agreed, in principle, to create a list of reputable overseas dealers," says Johnston. "That would protect companies from falling victim to unscrupulous dealers in other countries."
Golden oldies ploy from Quicksilva
QUICKSILVA is planning to release a compilation tape consisting of a number of early games to retail at about £7.00.
The idea is a response to the growth of cheap 'pocket-money' software from companies such as Pulsonic or Mastertronic, and would be called The Best of Quicksilva.
Managing director Rod Cousens believes the move is a logical step for software companies and compares the strategy with similar products in the music industry.
Program
Last month
Company
Memory
1
Jet Set Willy
1
Software Projects
48K
2
Blue Thunder
7
Wilcox
48K
3
Trashman
-
New Generation
48K
4
Sabre Wulf
2
Ultimate
48K
5
Fighter Pilot
3
Digital Integration
48K
6
Psytron
5
Beyond
48K
7
Chequered Flag
-
Psion
48K
8
Zaxxan
9
Starzone
48K
10
Hunchback
-
Ocean
48K
Figures supplied by WH Smith
---
Sinclair User
September 1984