The Emperor Strikes Back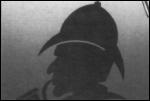 A Study in Software
SINCLAIR SIMON Our hero makes a costly mistake.
HARDWARE WORLD Poke around some of the latest add-ons.
SPECTRUM SOFTWARE SCENE Seven pages of reviews.
ZX-81 SOFTWARE SCENE Fun at the races and Bug-Byte dictates who should rule.
SINCLAIR SURGERY The hardware doctor is in.
HIT SQUAD Chris Bourne puts the heat on the Mugsy artist.
SINCLAIR BUSINESS USER Word processors compared and a shop window on specialist software.
HELPLINE Andrew Hewson avoids data loss.
MIND GAMES Quentin Heath creates intelligence.