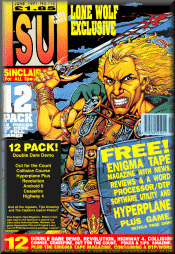 Issue 112
June 1991
Editor
Garth "Baseball" Sumpter
Design editor
Andrea "Diamond" Walker
Design
Yvette "Slide, slide!" Nichols
Staff writer
Steve "Pitcher" Keen
SU Crew
Tony "Home base" Naqvi
John "Home run" Cook
Pete "You're out!" Gerrard
Phillip "No ball" Fisch
Advertisement manager
Jerry "Fatboy" Hall
Ad production
Jo "I want a change" Gleissner
Marketing Dept
Sarah "New flat" Ewing
Sarah "Homeless" Hilliard
Publisher
Graham "Let's talk" Taylor
Managing Director
Terry "Umpire" Pratt
SOFTWARE
| | |
| --- | --- |
| DRAGON NINJA | Hit Squad |
| GREAT GURIANOS | Encore |
| HERO QUEST | Gremlin |
| IT'S TV SHOWTIME | Domark |
| JAHANGIR KHAN'S WORLD CHAMPIONSHIP SQUASH | Krisalis |
| JOCKY WILSON'S COMPENDIUM OF DARTS | Zeppelin |
| LONE WOLF | Audiogenic |
| MERCENARY - ESCAPE FROM TARG | Novagen |
| MERCS | US Gold |
| PANIC DIZZY | Code Masters |
| RBI 2 BASEBALL | Domark |
| SWIV | Storm |
| THE WINNING TEAM | Domark |
12 PACK
It's THE biggest Tape in the Cosmos! Others cost more and give so much less? This month play the FULL GAMES: REVOLUTION, HIGHWAY 4, COLLISION COURSE, ANDROID 2, OUT FOR THE COUNT, HYPERPLANE (on the Enigma tape) and a special SU prize game, CEASEFIRE (details of how to get it are on page 7.) There's also the good ol' Captain Poke's POKES, and 'load-in' cheats with Tips Amazing.
ENIGMA TAPE MAG
Special with this issue is a taster issue of ENIGMA TAPE MAGAZINE. Just load it in and sample a taster of what you're missing in the world of tape mags. There's news and views and ENIGMA's very own WORD PROCESSOR/DTP program and their arcade game HYPERLANE PLUS.
FEATURES
Readers Letters
Hacking Squad
The Hacking Squad - it's heavy with tips and cheats! SU's very own Heavy Metal Man, Steve Keen takes apart the latest games.
Sorceress
What's this! The old slapper has had a facelift! She's a lot older than she looks though as she takes your hand and guides you through the world of adventure games.
Coin Ops
John Cook, man or myth (don't you miss me!) checks out the latest on offer in the arcades.
Checkout
Our look at what's going down maaahn!
SU CREW
Andrea Walker
Our art editor has gone all farty this month. The culture vulture has been hanging out at posh cinemas that only screen subtitled films. "French is in!" she declared one Monday morning in what can only be described as "shattered" Franglais. Her desk is plastered with pin-ups of Hercule Poirot and Charles de Gaulle and she's programmed her Mac to play the Marseillaise at the touch of a button. (Any chance of an overseas transfer! Ed).
Fave game: SWIV.

Chris Jenkins
Mr Flash could be in danger of giving Spectrum games a good name this month. He's actually found some he likes! After the shocking news that, contrary to popular belief, he is conscious when he reviews a game, Chris has been approached by all manner of sponsors, desperate to lure the Hateful one into a deal. Not to promote their products, but to trash the oppositions! "Now was that one or two b's in rubbish?" - Chris.
Fave games: SWIV, Hero's Quest.

Tony Naqvi
The late Mr Naqvi, so-called because he'll be late, one day, is earning a reputation for punctuality. Never a second late, he shares a desk with Steve and the two have resorted to camping outside SU Towers in an early morning 9.29am race for the one chair that accompanies the workplace! At the moment Tony has the upper hand. Steve still can't tell the time!
Fave games: RBI Baseball, SWIV.

Garth Sumpter
Garth has been really fed up this month. Some wag has been addressing all his mail Garth 'Stumpy' Sumpter! "I am not short!" he screams "and if I find the joker they'll be eating through a straw!" This may be the case, but the mysterious appearance of tacky platform shoe add-ons and rubber wedges around the under belly of his desk descry 'Midget!'. "My mother warned me about leaving my greens" he mumbles darkly as he climbs down from his editorial Mothercare car seat ...
Fave games: SWIV, Jahangir Khan's Squash, Lone Wolf

Steve Keen
Wahey! Another month and our new writer is still with us. I don't want to say that we have a high staff turnover at SU, but they come and go more often than the Pope changes his undies! Still he must be doing something right, he's been given his very own half desk, half phone, half chair and half console. Garth says it fits in well with his half brain. Your key to the executive wash room is safe for now, just make sure you don't have to share it with Garth 'cos he's ALL man!
Fave games: Swiv, Hammerfist

Yvette Nichols
SU's very own answer to the baby wars. (see the latest copy of YS - but don't buy it, just try a few bins), Yvette has brought a whole new style to the page design of SU. She says that because she's from New Zealand, she understands how to use shape and colour to create a lasting impression but we believe her impressionistic use of colour is more to do with bringing baby Damien into the office. He may look cute, but when Yvette's not looking I'm sure he spits Gerber's Mashed Banana Dinner for small Demons onto all the artwork ...
Fave games: Fast Food, Jack the Nipper and Nappy Changing Simulator.
Typesetting by
Garthtype
Colour work by
Proprint
B&W filming by
PRS
Distribution
BBC Frontline
© Copyright 1991
Emap Images
If you want to reproduce this magazine you can try. Budgets are tight and quite frankly, you won't make any money unless you're as streetwise as the SU team.
© 1991 Emap - the same miserable sods that produce these healthy titles: C+VG, SU, CU, Ace, Mean Machines, PC Leisure, The One Amiga, The One ST, Smash Hits, Performance Bike, Just 17, Q, Empire, Motorcycle News, Radio and Music, Period Homes, Gas Bills Quarterly ...