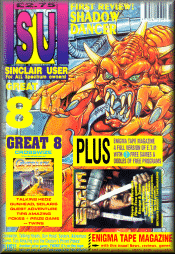 Issue 113
July 1991
Editor
Garth "Shell Suit" Sumpter
Design editor
Andrea "Old Levis" Walker
Staff writer
Steve "Biker Jacket" Keen
SU Crew
Alan "Donkey Jacket" Dykes
Tony "Black Knight" Naqvi
Chris "Parka" Jenkins
John "Sandals" Cook
Pete "Floppy Hat" Gerrard
Phillip "Leather Boots" Fisch
Graham "Lab Coat" Mason
Advertisement manager
Jerry "C&A" Hall
Ad production
Jo "Hotpants" Gleissner
Marketing Dept
Sarah "Cowboy Boots" Ewing
Sarah "Negligé" Hilliard
Publisher
Graham "Oxfam" Taylor
Managing Director
Terry "Sleeveless Shirt" Pratt
SOFTWARE
| | |
| --- | --- |
| APB | Domark |
| EUROPEAN SUPERLEAGUE | CDS |
| FISTS OF FURY EDITION 2 | Virgin |
| FROST BYTE | Micro Value |
| HYDRA | Domark |
| LICENCE TO KILL | Hit Squad |
| SDI | Hit Squad |
| SHADOW DANCER | US Gold |
| VIZ | Virgin |
GREAT EIGHT
Don't pay out £2.99 for a measly 8 games! SU gives you that every month!
FULL GAMES THIS MONTH:
CROSSWIZE, TALKING HEADS, SOLARIS, GUNHEAD, ADVENTURE QUEST and the prize game this month, the never seen before TWINZ. And don't forget TIPS AMAZING and the good ol' Captain's POKES!
ENIGMA TAPE MAG
Special with this issue is ENIGMA TAPE MAGAZINE issue 9. Yes, a full mag on its own tape - including News and Views, TWO FULL GAMES and a host of oh-so-useful UTILITY PROGRAMS.
FEATURES
Preview
Alien Storm - the mega game of the arcades is coming soon to a Spectrum near you!
Readers Letters
Suck Up
Your chance to blag a bit of freebie software by giving us a ridiculous reason why you should have some!
Hacking Squad
You said that you wanted more and so this month there's the complete solution to Fantasy Dizzy plus all the usual cheats, tips and hacks!
Sorceress
The new-look Sorceress takes the tired and weary adventurer by the hand and leads them through the adventure labyrinth.
Checkout
And pigs will fly! Books, vids and flying pigs - Chris Jenkins, our man in the High Street, window shops ...
Coin Ops
Get your sweaty little mitts into your pockets - it's arcade time again!
Money For Nothing?
Do you wonder where all the money goes when you buy a game? SU pushes back the boundaries of journalism and good taste in our look behind the scenes.
SU CREW
Garth Sumpter
Garth has been suffering from a slight personality disorder this month. Wavering somewhere between Jim Morrison and Paul "Hustler" Newman, Garth has been seen haunting the dark recesses of the pool halls singing old Doors tracks. With his dark glasses, simulated leather cowboy boots and black jacket it could be Roy Orbison spinning the black off the cushion into the top pocket. After all, he's got more chance of winning a game than Garth!
Fave Games: Viz, SWIV.

Alan Dykes
There's a new kid in town and his name's Alan. The big guy created quite a smash with the crew on a recent ten-pin bowling outing. Winning almost every game, Garth decided he had to be stopped and topped up the finger holes of Alan's ball with a bottle of baby oil that he just happened to have on his person. As Alan swung back for his shot the 20lb ball flew backwards copping Garth right in his smug mug. "Hurrah!" cried the crew."Oops!" mumbled Alan, "who put out the lights!"
Fave games: Viz, Frost Byte.

Yvette Nichols
Come 5.30 pm Friday night Yvette belts out of the door in Bermuda shorts screaming ""Can't stop dudes! Surf's up!" Beach Bunny Yvette doesn't get much chance to catch the waves or wax her stick in the Metropolis so she has to hang a tube at home with an old ironing board balanced on top of a biscuit tin. For added effect she places a high powered fan in front of her and covers the floor with wrinkled cling film. Now that's what I call improvisation!
Fave game: Shadow Dancer.

Tony Naqvi
Fresh face Tony's the office girlie's pin-up of the week. Turning heads and breaking hearts all over the building. Tone has, quote "No probs wiv da women" but he looks so young and innocent every girl he goes out with has to get his mum's permission first!
Fave game: Viz.

Steve Keen
Busier than a Shire horse with a Pit Bull Terrier in its underpants, Steve has moved house three times this month., been to four parties, five pub openings and fifty three official lager tastings and he has still managed to bang out almost a full page of copy for SU. How does he do it? Garth only knows - we think he's moonlighting for Brewers Annually, thus named because a years research goes into each and every issue. (Waszat supoz ta mean, hic! - Steve)
Fave game: Frost Byte.

Andrea Walker
In her quest for stardom Andrea has been doing the gig circuit this month. Hanging out with the stars at the bars and avoiding the paparazzi who can be seen following her around in droves as she tries to hide her head under her tattered security blanket. Well that's who she says they are, but a little bird tells me that this story's full of wind as the men actually work for the gas board and she hasn't paid her bill!
Fave game: SWIV.
Typesetting by
Garthtype
Colour work by
Proprint
Distribution
BBC Frontline
© Copyright 1991
Emap Images
Reproduction of any part of this magazine without the consent of Andrea will result in a whine so large as to render you impotent for the rest of your life so don't use any part of this magazine as a contraceptive - except perhaps the staples which if you stuck into your soulmate during a romantic moment, ought to do the trick of turning them off you for life! It's always difficult life - especially if you're a teenager. I mean, did you know that teenagers worry more about problems than any other part of society? To this end, we'll be introducing Andrea's Problem Spot next month, so if you've got any teenage problems then just drop her a line. See you next month dudes!