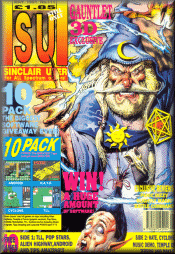 Issue 111
May 1991
Editor
Garth "Shaggy" Sumpter
Design editor
Andrea "Daphne" Walker
Design
Yvette "Wilma" Nichols
Staff writer
Steve "Scooby" Keen
SU Crew
Chris "Hateful" Jenkins
Tony "Scrappy" Naqvi
John Cook
Pete Gerrard
Phillip "Mein Gott" Fisch
Advertisement manager
Jim "Trivia" Owens
Ad production
Jo "Titters" Gleissner
Marketing Dept
Sarah "Blondie" Ewing
Sarah "Helpful" Hilliard
Publisher
Graham "Slasher" Taylor
Managing Director
Terry "Huggy" Pratt
Hiya hackers everywhere. I just thought that this would be a good time to explain what's going on with SU at the moment. You see, with the Spectrum software industry releasing very little new software at the time of writing, we thought we'd reduce the size of SU by a few pages and give you all the benefit in the form of super-packed tapes!
Here at SU Towers, the SU Crew think that full games, pokes, tips and utilities are better value than three or four demos and a couple of games, but just let us know if we're wrong. After all, at the end of the day, we have to answer to you, the readers. So if you have any views on the subject then write to me at Garth's Corner. I'd like to know what you think. Cheers!
SOFTWARE
| | |
| --- | --- |
| BATTLE COMMAND | Ocean |
| GAUNTLET 3D | US Gold |
| HENRIETTA'S BOOK OF SPELLS | Scetlander |
| HOORAY FOR HENRIETTA | Scetlander |
| MIX AND MATCH | Scetlander |
| PANIC DIZZY | Code Masters |
| PASSING SHOT | Encore |
| POPEYE 2 | Alternative |
| PREDATOR 2 | Mirrorsoft |
| QUATTRO FIREPOWER | Code Masters |
| SCOOBY & SCRAPPY DOO | Infogrames |
| SKULL AND CROSSBONES | Domark |
| SLIGHTLY MAGIC | Code Masters |
| SUPER SCRAMBLE SIMULATOR | Kixx |
| TECHNO COP | Kixx |
| TOYOTA CELICA GT RALLY | Gremlin |
TEN PACK
Britain's biggest tape with no less than 7 full games; TLL plus CYCLONE, HATE, TEMPLE OF TERROR (graphics version), POP STAR, ALIEN HIGHWAY and ANDROID. Plus a fab 36 minutes MUSIC DEMO, TIPS AMAZING and Captain Poke's 'load-in' cheats.
FEATURES
Readers Letters
Hacking Squad
The Hacking Squad - all the latest and greatest hints and tips for your Speccy, this month by that metal mosher Steve Keen.
Checkout
The latest in books, vids and small animals - chucked together by ol' Chris "Hateful" Jenkins. Check it out!
Coin Ops
Ol' John "Joystick" Cooke's back, taking a look at the latest video offerings.
Educational Software
This month SU goes back to school to take a look at three educational packages.
SU CREW
Andrea Walker
Returning fresh faced after a week skiing in France Andrea found her desk in better condition than she left 'La Planya', thanks to the Crew who got together and trod precariously through the piles of rubbish inhabiting her domain. Our thanks were short and sweet, "If I don't find that A4 picture of Mel Gibson you're all dead!"
Fave game: Paperboy.

Tony Naqvi
Tony "New Kid on the Block" Naqvi fits in well on the SU Crew bench. Our Tony is a closet Frasher and that's alright by us. It took Garth back to his hippy days when he was appearing in a Hellman's Mayonnaise advert set in medieval England and trying to get lead breaks out of a 12th century lute. Tony's now finished his stint on the SU Crew but we think we may be seeing more of him in the future (as long as he turns down the volume of Iron Maiden when the MD's about!)
Fave games: Extreme and 3D Gauntlet.

Chris Jenkins
Totally busy this month, Chris is now known as Mr Flash around the office. The only man, and I use that term very loosely, on the planet who can do a week's work before he wakes up and a month's work before he goes to sleep! This amazing lifestyle has enabled Chris to amass a huge personal fortune with which he plans to take over SU and buy a lot of shares in Bassett's Jelly Babies.
Fave games: Slightly Magic

Garth Sumpter
What a month it's been for our intrepid Ed. Working like a dog for issue 111 he's so shagged out now that he's beginning to bark. Although it could be something to do with the fact that last week (so he says) he was accidentally, so the story goes when he tells it, locked in the next door pub all night. Being a member of Alcoholics Ubiquitous, he thought it his duty to relieve the pub of all liquid beverages. Needless to say, when the pub was unlocked in the morning, Garth did not so much as walk, as spill out on to the pavement!
Fave games: Forgotten Worlds (forgotten his name too)

Steve Keen
Little is known of Steve - the man behind the hairstyle is only known for his extensive repertoire of horrific puns and gaudy habit of wearing petruli oil. Always the rocker, Steve arrives each day at SU Towers at 9.28 am - dropped off at the door by a gang of greasy, knuckle-dragging bikers on chrome-wheeled, fuel injected, silver dream machines. It's OK for some, eh?
Fave games: Extreme
Typesetting by
Garthtype (no wonder it's so crap)
Colour work by
Proprint
B&W filming by
PRS
Distribution
BBC Frontline
© Copyright 1991
Emap Images
This magazine must be in no way lent to anybody, not even yer best mate (although you wouldn't want anybody else to 'ave it cause it's so fab and groovy!) Don't by any means let the rabbit have a nibble at this mega mag or we'll get Glenys from upstairs to come round yer house and moan at you till you start crying (and believe me, she's good at it!) So be warned! Take care of your sacred issues of SU, or else! This nice message comes by ORDER of da management (tremble, quake, tremble).