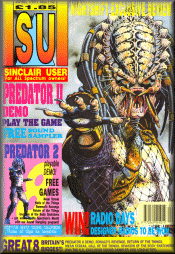 Issue 110
April 1991
Editor
Garth "Desert Rat" Sumpter
Design editor
Andrea "Franz Klammer" Walker
Design
Yvette "Kiwi" Nichols
Staff writer
Steve "60's" Keen
SU Crew
Chris "Hateful" Jenkins
John Cook
Pete Gerrard
Gary Liddon
Phillip "Mein Gott" Fisch
Ian "Indie" Watson
Advertisement manager
Jim "Trivia" Owens
Ad production
Jo "Titters" Gleissner
Marketing Dept
Sarah "Blondie" Ewing
Sarah "Helpful" Hilliard
Publisher
Graham "Slasher" Taylor
Managing Director
Terry "Huggy" Pratt
SOFTWARE
| | |
| --- | --- |
| BACK TO THE FUTURE 3 | Image Works |
| CJ'S ELEPHANT ANTICS | Code Masters |
| DOUBLE DRAGON | Mastertronic Plus |
| DRILLER | Hit Squad |
| NIGHTSHIFT | US Gold |
| NORTH & SOUTH | Infogrames |
| RAMBO III | Hit Squad |
| SILKWORM | Mastertronic Plus |
| THE REAL GHOSTBUSTERS | Hit Squad |
| WELLTRIS | Infogrames |
| XENON | Mastertronic Plus |
GREAT EIGHT
Britain's biggest tape with no less than 5 full games; Mirrorsoft's MEAN STREAK plus ROMMEL'S REVENGE, HALLS OF THE THINGS, RETURN OF THE THINGS, INVASION OF THE BODYSNATCHERS, plus the exclusive PREDATOR II demo, load-in cheats in TIPS AMAZING and Captain Poke's very own SU SOUND SAMPLER! Amazing!
FEATURES
Hacking Squad
To celebrate the victory over ol' Saddam, this month the General himself - El Garfo, back from a tour of the local Greenwich Nuclear Free zone - is in the driving seat.
Checkout
It's the Spooky Special this month hosted by SU's very own little horror - Chris 'Hateful' Jenkins.
Coin Ops
It's ol' John 'Joystick' Cooke taking a look at the latest video offerings and the fabulous Photo Star that takes your pictures with the stars!
Blueprint
Predator II - It's back and it's living in Wallsall courtesy of the Arc Developments team.
THE SU CREW
Garth Sumpter
Oh dearie me. Part man and part hangover, Garth gets most of his kicks using his R.S.A. II trained fingers to dance across the keyboard of his trusty Spectrum. He also gets some entertainment from cornering his M.D. 'Telboy' in dark pubs and telling him he's too square. It's known that Garth pays dearly for these occasional outbursts when the key to the SU executive toilet is confiscated and he has to share a poop bucket with the boys from C+VG. Agggghhhh!
Fave games: At the moment Garth's playing Light Corridor, North and South, CJ Elephant Antics and rediscovering the joys of Silkworm.

Andrea Walker
Miss Mayhem has actually broken a nail this month and has had to take a weeks all-expenses paid holiday. The expenses were for a weekend in Clacton but she's gone off skiing in France instead. Once the boss finds out, she'll have to share a poop bucket with Garth. Double Agggghhhh!
Fave games: Silkworm and the Predator II demo 'cos they deal in death. (And once you've met Andrea, you'll see that she does too!)

Steve Keen
Latest addition to the SU Crew, staff writer Steve cut his gambling teeth on an Amiga but has seen the error of his ways and is already completely cured. Steve's a headbanger at heart and is currently banging his head trying to tell his boss that he's got a spare key to the executive toilet but Garth, the old crapper, seems to prefer the poop bucket. Strange.
Fave games: Turtles, but is also severely impressed with Rommel's Revenge and Halls of the Things on The Great Eight. Good choice - we think Steve will go far.

Ian Watson
Not so much a man, more an explosion in a clothing factory. "I dress like I feel man!" he said. As you can see, he wasn't feeling at all well when we too this shot. Nice dress though! "Three quid from the market" he told us. Ian lists his hobbies as walking into walls and squinting a lot.
Fave games: Silkworm, Light Corridor and F16 Fighter Pilot.

Chris Jenkins
A know defiler of computer games and I/O ports, Mr Hateful has recently tried to soften his image using the same professional stylist as Maggie Thatcher. He now likes to be photographed in the kitchen and tries to cry a lot. It's not going to help Chris!
Fave games: Huxley Pig and Silkworm as it shows the advantages of strong, yet caring, leadership.
Typesetting by
Garthtype Laser hooked up to Richardson PR407 Iron Lung
Colour work by
Proprint
B&W filming by
PRS
Distribution
BBC Frontline
© Copyright 1991
Emap Images
No part of this magazine may be reproduced or stored in an electronic retrieval system or I'll make you wash your face in my sick (or sink).
Andrea's going on holiday next week and it's been unbearable. She's been strutting around the office, dressed in her ski suit and making Whooosh! noises as she jumps down the stairs. I wouldn't mind so much, but she's only going off to Clacton with her mum and her strange cousin Claude who wears Coke bottle glasses and has a respiratory problem - he's still breathing!