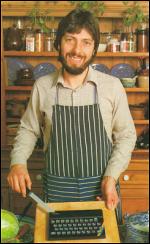 Food for thought
SINCLAIR SIMON Further adventures of our cartoon hero.
HARDWARE WORLD Reviews of the latest add-ons and peripherals.
SOFTWARE SCENE We look at what is on the market for the ZX-81 and Spectrum.
HIT SQUAD Nicole Segre talks to Bob Hamilton, author of The Pyramid.
USER OF THE MONTH What's cooking on the Spectrum? Liz Leckie reports on a computerised gourmet.
SINCLAIR BUSINESS USER Mike Wright assesses software for the serious user.
EDUCATION Theodora Wood examines programs for secondary school children.
HELPLINE Andrew Hewson explains how to convert programs from one machine to another.
MIND GAMES Quentin Heath battles with the Lords of Time.