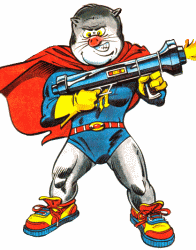 Win £500 Cash!
Yes. Yours for the winning. 500 earth spondos, to spend as you wish. And it's hardly difficult to enter. So get to it.
Connect
Our very own Bit in the Middle. Pull it out and make it work!
Smash Coupons
Tell It To Jim
I've Got This Problem
The Write Stuff
Monty Mole Cartoon
The Sorceress
SAM Exclusive
Learn from Simon Goodwin, our SAM guru, how he squeezes more out of the Coupe than anyone though possible.
Cartoon
More hilarity with everyone's subterranean star, Sir Montworth of Molington.
Check Out
Black Adder, Piano Phones, a book by Captain Kirk and a huge military helicopter. All on two pages!