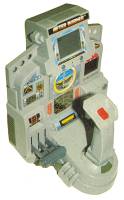 Check Out
More info from the world outside. Vids/music/books/oddities. All the stuff that you want to know about but won't fit in anywhere else.
Connect
Our new section combines all the bits of the magazine where YOU participate. Letters, Write Stuff, Coupons, Compos, Quiz. There's even a fab new Monty Mole cartoon. And since you can simply pull it out, you'll always know where to look for bargains (and you don't need to cut up the rest of the mag either).
Coin Ops
Our jet-setting masterplayer has been oop north gazing at the lights and sounds of one of the UK's biggest coin-op shows. And has he got news for you ...
Solutions Pull Out
Once you've lifted out the Connect section, a rather confusing set of pages will present themselves. Don't Panic! This is our first Solutions booklet. Simply pull out the two sets of pages, fold them in half and cut along the top. Hey Presto! 16 glorious colour pages of COMPLETE SOLUTIONS to MYTH/DIZZY III/OPERATION GUNSHIP. Phooar!
How To Make Your Booklet:
1. Lift out your Connection pages from the middle of the mag. Also pull out the next two sheets.
2. Fold these sheets in half.
3. Cut the edges of the pages.
4. Voila!