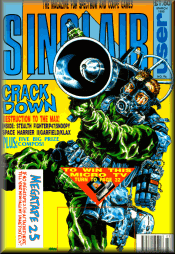 Issue 96
March 1990
TRAVEL SPECIAL
Jim "private jet" Douglas

Being a bloody stinking yuppie, our Jim just had to go on the piste, that's skiing to you. He's bought his dayglo green and purple salopettes, got some mirrored raybans and applied some of that gungy white zinc stuff to his kisser and now he's ready for a mega pose on the top of a snowy slope. God, what a poser, I hope he breaks both legs.
Garth "where's me backpack man" Sumpter

Garfy baby has decided it's time to find himself (maan), so he's booked into a Kibbutz in the Himalayas for the summer. He's bough himself some loon pants and a string of love beads and a pack of josticks, and is now practicing his spaced-out Hippie look (maaaaaaan).
Oz "a nice quiet break" Browne

Oz decided to go for a peaceful holiday so the team recommended an 18-30's trip to Benidorm. He's hoping to meet some interesting chums and a better class of girlie (fool). He's just heard he's sharing a room with his predecessor Tim 'lagered up' Noonan and 25 of his mates. Rather you than me, matey.
Al Skeat

Poor old Al. She did all the ringing round for the others and booked up their vacations and the rotten sods have spent all the cash in the holiday kitty and left her with nothing. She's currently on the blower to her Auntie Vi, who says she's welcome to stay at her 'smashing' caravan on Canvey Isle, with her and Uncle Eric, as long as she doesn't mind sleeping with their incontinent Wire-haired Terrier. Al can hardly wait.
Adventure
The Sorceress
I've Got This Problem
Rupert Goodwins
Advertisement manager
James Owens
Senior sales
Martha Moloughney
Ad production
Emma Ward
Marketing manager
Dean Barrett
Marketing assistant
Sarah Ewing
Publisher
Terry Pratt
Cover Illustration Jerry Paris
SOFTWARE
| | |
| --- | --- |
| ARCADE FRUIT MACHINE | Zeppelin |
| ARCADE TRIVIA QUIZ | Zeppelin |
| BUGGY BOY | Zeppelin |
| CRACKDOWN | US Gold |
| FRUIT MACHINE SIMULATOR 2 | Code Masters |
| GARFIELD'S WINTER'S TALE | The Edge |
| MOUNTAIN BIKE RACER | Zeppelin |
| P47 | Firebird |
| PUB TRIVIA SIMULATOR | Code Masters |
| SNOOPY | The Edge |
| SPACE HARRIER II | Grandslam |
| SPACE HARRIER | Encore |
| STEALTH FIGHTER | Microprose |
| WORLD SOCCER | Zeppelin |
MEGATAPE 25
We're so proud of the game we've got on Megatape 25 we can hardly contain ourselves. Deathzone, from Paul Breed, is a 3 dimensional extravaganza of mayhem and destruction. It's trif, and along with Space Harrier II, the playable demo from Grandslam, it's probably the best tape we've done ...
PREVIEWS
In a packed previews section we'll be looking at the latest from Domark with Klax, Castle Master and Escape from the Planet of the Robot Monsters, whilst The Edge and Darius provides space blastin' action.
FEATURES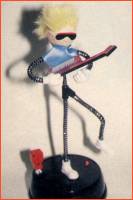 Dirty Tricks Dept
A cartographer's dream with the final Myth map, Chase HQ, and Maps and the complete solution to Dizzy II. Plus the Hacking Squad's latest tips 'n' cheats.
Checkout
Gadgets, gizmos, vids, toys and loads of lovely gear. All the new stuff in the shops, just for you, so Check it out (maaaaaaan!)
The Hit Factory
Ever wondered how new games come about? We're following games through from idea stage, through development and on to the time when the game actually appears on the shelf. Interesting stuff, don'tcha know
Absolute Beginners
If you've just bought a Speccy and you're all divvy and you don't know how to use it, we've got a guide to starting up for all new readers. If you're an old reader, have a look anyway and it'll make you feel all brainy and superior.
COMPETITIONS
GOSH, WHAT CAN I WIN THIS MONTH?
A Slimy Swamp Thing Video
Get out your crayons, it's time to be Rolf Harris and draw us a yucky monster.
The Weeniest Telly In The Whole World
Get on the phone now, don't delay, you may have won our brilliant colour telly.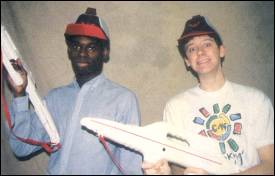 A Set Of Whooshy Laser Guns
Dan Dare popped in the office this month, so we gave him a kicking and nicked his laser guns and now we're going to give them to you.
A Portable CD Player
Just when you thought it was time for the prizes to get crappy, we chuck a CD player your way, you lucky bleeders.
Fluffy
Garfield and Snoopy are here (yaah) and you can snaffle a big squidgy Garfy and pretend it's for your little sister, you big girl's blouse.
REGULARS
Megatape 25
Dirty Tricks
The Hit Factory
The Write Stuff
Tell It To Jim
Charts
Smash Coupons
Poster
Checkout
Compo Winners
Coin-Ops
Dr Rupe
Sorceress
Precinct 19
Previews
End of the Line
Next Month
Printed by
Nene River Press.
© Copyright 1990
Sinclair User
No part of this magazine may be reproduced, transmitted, stored in a data retrieval system or transcribed without express written permission from the Publishers. (Who are all in a foul mood at the moment, so don't bother asking.)