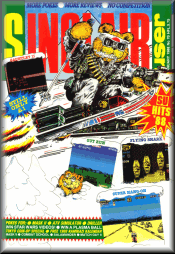 Issue 70
January 1988
Editor
David Kelly
Deputy editor
Graham Taylor
Staff writer
Jim Douglas
Staff writer
Tamara Howard
Art editor
Gareth Jones
Designer
Andrea Walker
Adventure help
Gordo Greatbelly
ZapChat
Jon Riglar
Helpline
Andrew Hewson
Contributors
Richard Price
Chris Jenkins
Tony Dillon
Gary Rook
Hardware correspondent
Rupert Goodwins
Advertisement manager
Mike Corr
Sales executive
Steve Prescott
Classified sales/production
Alison Morton
Publisher's secretary
Debbie Pearson
Subscriptions manager
Carl Dunne
Publisher
Terry Pratt
Sinclair User is published monthly by EMAP Business and Computer Publications
Cover illustration Richard Winnington
SOFTWARE
| | |
| --- | --- |
| ACE II | Cascade |
| ANARCHY | Rack-It |
| BEACH HEAD II | Americana |
| BLOCKBUSTERS | TV Games |
| COMBAT SCHOOL | Ocean |
| COMPUTER HITS 4 | Beau Jolly |
| CYBEX | Pirate |
| ERIK - PHANTOM OF THE OPERA | Crysys |
| EYE | Endurance Games |
| FIVE STAR GAMES | Beau Jolly |
| FLEXICALC | Bibby |
| FLYING SHARK | Firebird |
| FRUIT MACHINE SIMULATOR | Code Masters |
| GAME SET AND MATCH | Ocean |
| GARY LINEKER'S SUPERSTAR SOCCER | Gremlin |
| GAUNTLET II | US Gold |
| GNOME RANGER | Level 9 |
| IMPLOSION | Cascade |
| INVESTMENT MONITOR | Slatford |
| JACK THE RIPPER | CRL |
| KNIGHT LORE | Richochet |
| MASK II | Gremlin |
| MATCH DAY II | Ocean |
| MUSIC MACHINE SAMPLE EDITOR | Quasar |
| NIGHTSHADE | Richochet |
| OUT RUN | US Gold |
| POWER PLAYS | Power House |
| RIDING THE RAPIDS | Players |
| RONNIE GOES TO HOLLYWOOD | Eighth Day |
| SALAMANDER | Konami |
| SARACEN | Americana |
| SIDEWALK | Infogrames |
| SOLID GOLD | US Gold |
| SORCERY LORD | PSS |
| STAR WARS | Domark |
| SUPER HANG-ON | Electric Dreams |
| THE DOUBLE | Scanatron |
| THE LAST WORD 128 | Trojan |
| TIMETRAX | Bug Byte |
| UCM | M.A.D. |
PREVIEWS
Platoon screens, Madballs, Garfield, Side Arms, Winter Olympiad 88. All this and more, more, more
FEATURES
Christmas Quiz
Could you be a very rich programmer? Find out in the SU highly reliable* deeply serious big bumper Christmas Quiz
*Not entirely accurate
Kamikaze on Compilations
We persuaded Kamikaze Bear to review the latest compilations! Yes, this mega-star speaks exclusively to SU and gives you the low-down in his own inimitable style
Super Hang-On vs Out Run
SU has the two most significant Christmas releases. Both road games, both awesomely successful coin-ops. Both great games? Find out NOW!
Amazing Kamikaze calendar
A fantastic Kamikaze Bear poster/calendar for you to keep. Check out the centre pages
HARDWARE
Joysticks
We check out the joystick that not only goes yank-yank, but it also goes twiddle-twiddle
Mega Coin-Op Special
SU goes to Tokyo and looks at all the most fabulously secret new coin-ops. We tell you all about them! (We never could keep a secret)
SPECIAL OFFER
Red Fox Racer Offer
It's a completely great hot-rod with fat tyres - it'll do wheelies, spin around, crash backwards into walls - all under the control of your Spectrum! Check out our fantastic offer
COMPETITIONS
Mega Compo/Readers Poll
We've got over 3000 posters, games, T-shirts and small fluffy things to give away! We've thousands more brilliant money off coupon sheets worth at least £50 each. Everybody who enters our Megacompo will get something! All you have to do is fill in the fabulous 1987 SU Readers Poll. Vote for your favourite games!
Red October
Win a trip in a Submarine! Really! Go beneath the waves - llok through a periscope! We mean it!
Star Wars
Beam me up Luke! (Shome mishtake shurely?) We've got lots of fabulous Star Wars videos to give away!
Driller
Win an awesome magic orb sphere-type thing
REGULARS
Whodunwot
ZapChat
Poke City
Competition winners
Write Stuff
Charts
Letters
Code Talk
Surgery
Hewson
Outlands
Gordo
Background Noise
Smash coupons
Next Month
Gremlin