SOFTWARE
| | |
| --- | --- |
| ACE | Cascade |
| ACTION REFLEX | Mirrorsoft |
| BASICALLY SPEAKING | Computer Publications |
| BUBBLE SORT | Keith Norton |
| CON-QUEST | Mastertronic |
| DARK SCEPTRE | Beyond |
| EIDOLON | Activision |
| ELITE 128 | Firebird |
| ESPERANTO | Lez Peranto |
| GHOSTBUSTERS 128 | Activision |
| HUNCHBACK - THE ADVENTURE | Ocean |
| I.C.U.P.S. | Thor |
| IWO JIMA | PSS |
| JOHNNY REB II | Lothlorien |
| JOURNEY TO THE CENTER OF EDDIE'S HEAD | Players |
| KUNG FU MASTER | US Gold |
| LORRIGRAPH | Loriciels |
| MANDRAGORE | Infogrames |
| MASTER OF MAGIC | Mastertronic |
| MINDSTONE | The Edge |
| OLIVER'S MUSIC BOX | Cosmic Pop |
| PSI CHESS | The Edge |
| RAID ON FRACTALUS | Activision |
| STAINLESS STEEL | Mikro-Gen |
| STAR FIREBIRDS | Firebird |
| TIME TRAX | Mind Games |
| TRAPDOOR | Piranha |
| XARQ | Electric Dreams |
| ZX BIG SHOT | Buttercraft |
COVER SMASH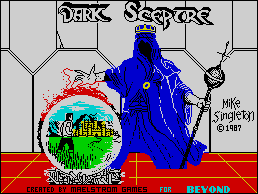 PREVIEWS
It's where you see the hottest titles first!
With Dan Dare, Miami Vice, Dempsey and Makepeace, He-Man and the Masters of the Universe and Vera Cruz ...
FEATURES
Background noise
First of a new feature in which we take a game apart to see what makes it tick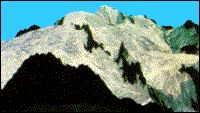 Fractals finest
Looking at Fractals. What are they? Why do two hot games Eidolon and Rescue on Fractalus use them?
MODEM MAGIC
Getting started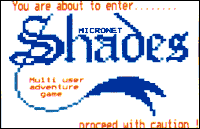 Link up and log on - modems on a budget. Could you save money?
HARDWARE
Miracle WS4000 modem
The latest in Miracle Technology's range of versatile multi-baud rate models
Tandata QMod
The QMod now for the Spectrum with sophisticated Spectre Communications software
Memodisc QL interface
Three-in-one interface for the QL - disc, printer, and extra RAM
Chromographica monitors
Low-cost monitor range - both colour and monochrome
ARCADE HITS
Future Shock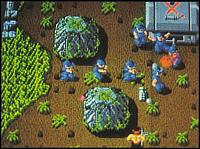 Ikari Warriors coin-op
Clare Edgeley reveals all the coin ops now in conversion. The Spectrum mega games of the future. In the arcades now. On your micro tomorrow!
QLINK
Mortville Manor
Mystery and suspense follow the anguished plea of an old friend. Pyramide's latest adventure
QL Mail List
Transform's latest utility
Touch Typist
Ever wanted to learn to type? Sector has the perfect solution
Pro Pascal
Aquanaut
Lost Pharoah
Together with Talent you can help find him
PRINTOUT
Megatron
Text Printer
Filer
COMPETITIONS
Lightforce
Lightforce is faster than light. It's also the first megagame from Gargoyle's arcade label Faster than Light. Fifty copies to win. It's terrific!
Trivial Pursuit Challenge
Your chance to represent Sinclair User in Domark's national Trivial Pursuit challenge
SPECIAL OFFER
Micronet
Incredible deal on a year's membership of 'The Net' plus a free modem
REGULARS
News
Charts
Letters
ZapChat
Competition Winners
Hewson's Helpline
Gordo's Adventure tips
Sinclair Surgery
Next Month
Gremlin