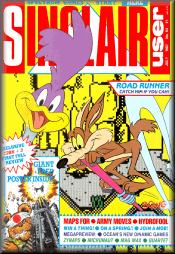 Issue 64
July 1987
Editor
David Kelly
Deputy editor
Graham Taylor
Staff writer
Jim Douglas
Staff writer
Tamara Howard
Art editor
Gareth Jones
Adventure help
Gordo Greatbelly
ZapChat
Jon Riglar
Helpline
Andrew Hewson
Contributors
Richard Price
Andy Moss
Gary Rook
Hardware correspondent
Rupert Goodwins
Advertisement manager
Louise Fanthorpe
Deputy advertisement manager
Mike Corr
Production assistant
Alison Morton
Publisher's secretary
Linda Everest
Subscriptions manager
Carl Dunne
Publisher
Terry Pratt
Sinclair User is published monthly by EMAP Business and Computer Publications
Cover illustration Warner Bros
SOFTWARE
| | |
| --- | --- |
| DEATHSCAPE | Starlight |
| EARTH SHOCK | Eighth Day |
| F-15 STRIKE EAGLE | Microprose |
| HOWARD THE DUCK | Activision |
| JACKLE AND WIDE | Mastertronic |
| KICK BOXING | Firebird |
| KILLED UNTIL DEAD | US Gold |
| LIVINGSTONE, I PRESUME! | Alligata |
| MAD NURSE | Firebird |
| MAG MAX | Ocean |
| METROCROSS | US Gold |
| MICRONAUT | Nexus |
| MILK RACE | Mastertronic |
| PARABOLA | Code Masters |
| QUARTET | Activision |
| ROADRUNNER | US Gold |
| SAS STRIKE FORCE | Mikro-Gen |
| TAI PAN | Ocean |
| TEMPLE OF TERROR | US Gold |
| THE WIZ | Melbourne House |
| THING BOUNCES BACK | Gremlin |
| ZYNAPS | Hewson |
COVER SMASH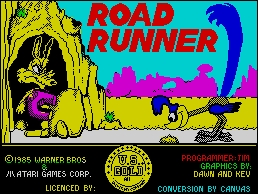 PREVIEWS
Flashing forward into the future
With stuff including The Final Matrix, Flash Point, and Star Fox. Not forgetting Attack of the Mutant Zombie Flesh-eating Chickens from Mars ...
MEGA-PREVIEW
Ocean goes Dinamic
Army Moves' author, Dinamic, has been working hard for Ocean. And SU's spies have got on exclusive preview of Freddy Hardest, After the War, Game Over and yet more
NEW FEATURE
Classic Moves
Don't be a loser! Tired of getting your face kicked in Barbarian? SU shows you exactly how to fight back
EXCLUSIVE FULL 128K+3 TEST
We take Amstrad's new Spectrum apart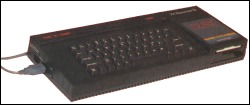 In just a few weeks now the first Spectrum with a built-in disc drive will be in the shops. What's it like? We give you the definitive low-down
POKE CARDS
Getting the ones you missed
Remember the ten Poke cards strapped to the front of last month's issue? Well here's how to complete your set
COMPETITIONS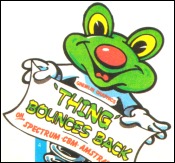 Thing Bounces Back
Win some pretty springy springs. They're jumpin' all over the place - even at you!
Inheritance shoots out
What we have here is a Thompson submachine gun. Really! Honest!
Nemesis the Warlock spits acid
And you would too, if you thought it would help you get yer mits on a real 2000AD strip
Road Runner just goes Beep Beep
And he'll rush you games, posters - all to win
REGULARS
Write Stuff
ZapChat
MapChat
5 Star Pokes
Compo winners
Whodunwot
Top Twenty
Letters
Poster No5
Outlands
Hewson's Helpline
Gordo Greatbelly
Surgery
Next Month
Code Talk
Gremlin