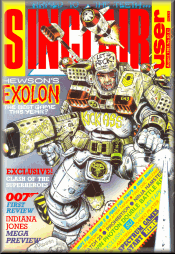 Issue 65
August 1987
Editor
David Kelly
Deputy editor
Graham Taylor
Staff writer
Jim Douglas
Staff writer
Tamara Howard
Art editor
Gareth Jones
Adventure help
Gordo Greatbelly
ZapChat
Jon Riglar
Helpline
Andrew Hewson
Contributors
Richard Price
Andy Moss
Gary Rook
Hardware correspondent
Rupert Goodwins
Advertisement manager
Louise Fanthorpe
Deputy advertisement manager
Mike Corr
Production assistant
Alison Morton
Publisher's secretary
Linda Everest
Subscriptions manager
Carl Dunne
Publisher
Terry Pratt
Sinclair User is published monthly by EMAP Business and Computer Publications
Cover illustration Jerry Paris
SOFTWARE
| | |
| --- | --- |
| 5-STAR GAMES II | Beau Jolly |
| BALL CRAZY | Mastertronic |
| BEST OF 3D | Vortex |
| BRIDE OF FRANKENSTEIN | 39 Steps |
| CATCH 23 | Martech |
| CHAMPIONSHIP BASEBALL | Gamestar |
| CURSE OF SHERWOOD | Mastertronic |
| EXOLON | Hewson |
| FINAL MATRIX | Gremlin |
| FIVE COMPUTER HITS | Beau Jolly |
| HADES NEBULA | Nexus |
| HIT 6-PAK | Elite |
| LEADERBOARD TOURNAMENT | US Gold |
| LETTER SET | Alpha Computer |
| MUTANTS | Ocean |
| MYSTERY AT ARKHAM MANOR | Melbourne House |
| NINJA HAMSTER | CRL |
| PROHIBITION | Infogrames |
| SLAPFIGHT | Ocean |
| STARFOX | Reaktor |
| STORMBRINGER 128 | Mastertronic |
| THE BIG SLEAZE | Piranha |
| THE LIVING DAYLIGHTS | Domark |
| TOMB OF SYRINX | Power House |
| TRIAXOS | 39 Steps |
| WONDER BOY | Activision |
COVER SMASH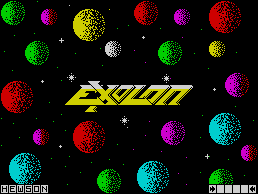 PREVIEWS
All the games winging your way - soon!
This month with The Tube, Game Over, Athena, Sidewize, Challenge of the Gobots and Richard Branson in a balloon ...
MEGA-PREVIEW #1
128K GAMES are go!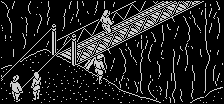 Spurred on by the announcement of the new 128K+3 machine SU has news of 128-only games and the first disc compilations
MEGA-PREVIEW #2
INDIANA JONES - the coin-op conversion
One of the hottest licences around - we whip out the details and show you what's what
HEARING WHAT?
Spectrum-a-Gogo
We check out some of the real def sounds currently making your Spectrum funky - includes a fabulous, if bizarre, SU megamix tape offer
FEATURES
Classic Moves
We take Sentinel apart and give you the keys to lots of levels
Twilight Zones
SU's new-style reviews in brief - making sure we tell you everything that's going on
Are you a twazzock?
Or maybe it's your machine? Find out why you should switch your machine on before trying to play
PAW Adventure
Great tips on adding extra commands to PAWed games
Five Star Pokes
This month we poke Zynaps, Auf Wiedersehen Monty, Barbarian, Quartet and Army Moves
COMPETITIONS
Win a Phasor Laser Gun Kit
Win a completely brilliant laser gun set to blow away your friends
Win an incredible all-in-one TV/Video
This all in one Amstrad TV and Video unit is up for grabs. Never argue over using the TV again
REGULARS
Write Stuff
MapChat
ZapChat
Code Talk
Whodunwot
Compo winners
Smash coupons
Background Noise
Charts
Letters
Classic Moves
Poster No6
Outlands
Hewson
Gordo
Surgery
Next Month
Gremlin