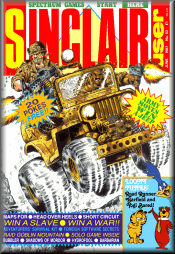 Issue 63
June 1987
Editor
David Kelly
Deputy editor
Graham Taylor
Staff writer
Jim Douglas
Staff writer
Tamara Howard
Art editor
Gareth Jones
Adventure help
Gordo Greatbelly
ZapChat
Jon Riglar
Helpline
Andrew Hewson
Contributors
Richard Price
Andy Moss
Gary Rook
Hardware correspondent
Rupert Goodwins
Advertisement manager
Louise Fanthorpe
Deputy advertisement manager
Mike Corr
Production assistant
Alison Morton
Advertisement secretary
Linda Everest
Subscriptions manager
Carl Dunne
Publisher
Terry Pratt
Sinclair User is published monthly by EMAP Business and Computer Publications
Cover illustration John Higgins
SOFTWARE
| | |
| --- | --- |
| APOCALYPSE | Command |
| ARMY MOVES | Imagine |
| AUF WIEDERSEHEN MONTY | Gremlin |
| BARBARIAN | Palace |
| BIG TROUBLE IN LITTLE CHINA | Electric Dreams |
| BISMARCK | PSS |
| BUBBLER | Ultimate |
| COSMIC SHOCK ABSORBER | Martech |
| CYROX | Powerhouse |
| DOGFIGHT 2187 | Starlight |
| ENTERPRISE | Melbourne House |
| EXPRESS RAIDER | US Gold |
| GAUNTLET: DEEPER DUNGEONS | US Gold |
| GHOSTHUNTERS | Code Masters |
| GUN RUNNER | Hewson |
| HYDROFOOL | Faster Than Light |
| INSPECTOR GADGET | Melbourne House |
| KRAKOUT | Gremlin |
| KRONOS | Mastertronic |
| MARIO BROTHERS | Ocean |
| MR WEAMES AND THE SHE VAMPIRES | Piranha |
| OCTAGON | Budgie |
| PRINCE OF TYNDAL | Tartansoft |
| PULSATOR | Martech |
| RED SCORPION | Quicksilva |
| SABOTEUR II | Durell |
| SHADOWS OF MORDOR | Melbourne House |
| SPACE DETECTIVE | Celerysoft |
| STAR RUNNER | Code Masters |
| STRIKE | Mastertronic |
| THINK! | Firebird |
| TOBRUK | PSS |
| TRANSMUTER | Code Masters |
| TUBARUBA | Firebird |
| YANKEE | CCS |
COVER SMASH
Army Moves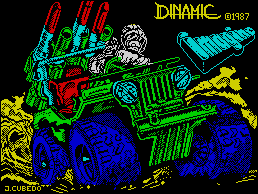 PREVIEWS
What on earth is going on?
Everything, and it's all in the new improved Previews section with added Zynapses and Hades Nebulas and specially formulated Ninja Hampsters and Road Runners ...
FEATURES
PLANET GAMES
Around the world in eighty plays
Chances could be the game you're about to load in wasn't written in this country. SU's world cruise shows you where it's all coming from
GOBLIN MOUNTAIN
Special SU solo quest game-in-a-mag
Hot on the heels of last month's Attack of the Ogroids, here's a full-blown solo quest game to type in. And we're talking serious D&D style combat in this one ...
HARDWARE
Cheetah Midi link
If you're a muso with £50 burning a hole in your back pocket you could do a lot worse than check out Cheetah's new Midi gizmo
20 POKES! FREE!!
All about The Incredible Poke Cards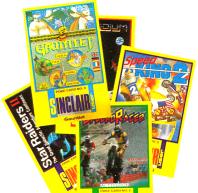 You've got ten (they were on the front of the magazine - count 'em) but what about those you haven't got? Find out how to get ya mitts on the other ten mystical Poke Cards
CARTOONS
Get yourself framed
A highly animated examination of the world of cartoon licences - with Garfield, Road Runner and Yogi among others
COMPETITIONS
Jeepers Creepers
In which you could win an amazing radio-controlled jeep just like the one in Ocean's Army Moves. And it's called Wild Willy too (it is, honest)!!!!
Fancy a Chatbot? Well we do
Actually it's a robot that's got a something to do with Doc the Destroyer and it looks pretty nifty
And what about some Pawn-ography
Rainbird's got lots of copies of the very wonderful 128-only adventure The Pawn plus SIX chess sets to win
Or some badge engineering
Firebird's giving away a heap of Sentinel badges (well, a few anyway) - they're all hand-painted and Firebird says they're pretty costly to make ...
REGULARS
Write Stuff
ZapChat
MapChat
Background Noise
Whodunwot
Code Talk
Top Twenty
Letters
Poster No4
Outlands
Hewson's Helpline
Gordo Greatbelly
Sinclair Surgery
Next Month
Gremlin