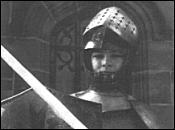 Knight-clubbing Urquhart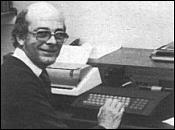 A Sinclair Business User
SINCLAIR SIMON Cartoon capers with our hacking hero.
HARDWARE WORLD Reviews of the latest peripherals.
SPECTRUM SOFTWARE SCENE Latest arcade action.
ZX-81 SOFTWARE SCENE High resolution in black and white.
HIT SQUAD Chris Bourne meets a young knight errant.
EDUCATION Theodora Wood explores the range of language tutor software available.
USER OF THE MONTH Three generations of the Maddocks family have a practical use for the ZX-81.
SINCLAIR BUSINESS USER Letters, reviews and a business user of the month.
MIND GAMES Quentin Heath looks at the spawn of the Quill.
HELPLINE Andrew Hewson paints the Spectrum screen.