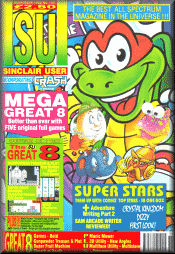 Issue 129
November 1992
Editor
Alan "Groucho" Dykes
Design
Yvette "Harpo" Nichols
SU Crew
Garth "Chico" Sumpter
Steve "Moe" Keen
Tom "Curly" Guise
Graham "Hardy" Mason
Pete "Laurel" Gerrard
Gaz "Harold Lloyd" Harrod
Ad manager
Tina "Congratulations, best wishes for your future happiness" Zanelli
Ad production
Tina "Oops, can't think of any B/W period female comedy greats" Gynn
Mr Marketing
Mark "Chaplin" Swallow
Marketing ladies
Sarah "Very funny" Hilliard
Sarah "Even funnier" Ewing
Publisher
Mike "Costello" Frey
Managing Director
Terry "Abbott" Pratt
SOFTWARE
OUTWRITE
Chezron Software
SAM Word Processor with a message!
POPEYE 3
Alternative
It is what it is SU Silver Award
PRINCE OF THE YOLKFOLK
Code Masters
Even more Dizzy Action SU Silver Award
SCADS
Glenco Software
SAM Arcade writing package - best so far
SUPER MEGA STARS
Code Masters
All star line up from Codies SU Gold Award
PREVIEWS
DIZZY VII
Code Masters
Looking good despite his age
INTERNATIONAL TENNIS
Zeppelin
Will Zeppelin burst the tennis bubble?
ROBIN HOOD
Code Masters
Old green sleeves is back
THE GREAT EIGHT
Blinking Nora! Five (count 'em) games on one cassette is too much to ask for. And that's exactly what you've got on this month's Great 8. Every possible taste has been catered for. Graphic adventure fans can get lost in Olde Londone playing the part of Guy Fawkes in Gunpowder, Treason And Plot. Arcade and pub gambling fanatics will get a genuine thrill on Super Fruit Machine, without doubt the best fruit machine simulator available on Speccy. Arcade fans will have fun with Boid and Mania Mower, while text adventure fans will enjoy Church Of Death a skull cracking tense game. Also on the tape are a screen manipulator program New Angles, ideal for use with Icon Graphics Fonts or any other WP, DTP program, a Multiface utility, for saving basic Multistore and of course SU's very own POKE fest Pokemania.
FEATURES
Hacking Squad
Garth Sumpter, truly one of the grandfathers of the Spectrum is back with his very own brand of Tips and POKEs. Included this month are in depth revelations on Ghouls and Ghosts and the recently re-released Klax.
Icon Graphics Tutorial Part 2
The second and final pull out tutorial for Icon Graphics. Shows you how to use the cutting options and draw graphs using your fave art program.
First Look


Software House Feature : Kixx
Kixx have been re-releasing quality games from a multitude of companies for nigh on four years now. How? Why? And what's going to happen in the future?
Adventure Writing
Larry Horsfield continues his adventure writing column.
SAM Ahoy!
New SAM Gear from Chezron and Glenco Software.
REGULARS
Tell It To Al/Suck Up
Sorceress
Coin-ops
Checkout
Specman
Previews
SU CREW
The guys have definitely flipped it this month. A combination of hard partying, too much sun and offices in SU Towers which are hotter and stuffier than a sauna with its temperature gauge broken has conspired to make the entire SU Crew think they're characters from Codie's new Super All Stars Compilation. Sad, I know, but that's what happens when a coupla groovy guys and gals go overboard through sheer hard work.
Alan Dykes
Alan thinks he's Dizzy despite the fact that he hates eggs with a vengeance. "OK I know he's an egg, but he's a cheerful, bouncy sort of chap and a real hero". Commented the big, boisterous Irishman. "And", he added, "the world is short of heroes these days so I'm offering myself up as one, any girlies interested in a spot of hero worshipping, just give me a call". Sad. Very sad.

Garth Sumpter
Garth actually thinks that he's still Garth, but the rest of the crew have noticed some Captain Dynamo traits sneaking into his persona in recent weeks. Like for instance the red cape, the Long Johns and the bouncy boots. Not to mention him nattering on about jewels and the moon. Even sadder.

Steve Keen
Steve has definitely been crawling around recently. Just one of the traits which indicates that he is in fact fast becoming Steg. He's also been talking about "feeding his young" and buying enormous amounts of bubble gum "for trapping maggots". A city University scientist claimed that Steve was the first long haired slug he'd ever seen.

Yvette Nichols
Yvette has been sorting out SU's pages faster than a rocket powered cheetah these days. This could have something to do with the fact that she has taken on the personality of Turbo The Tortoise, and with it his incredible speed. Mike Frey our delighted (and revered) publisher is now paying her in lettuce leaves.

Tina Zanelli
Tina, the most sensible member of the crew, isn't really any different but for the purposes of this exercise has become CJ Elephant 'cos we promised we'd say nice things about her. CJ is a cute, cuddly, very nice elephant with a beautiful face arid a shapely, hourglass body. NOT! Ha, ha Tina, I bet you're off to make a few 'trunk calls'!
Colour by Colourtech
Printed by Kingfisher
Typeset by Altyp Inc
© Copyright 1992
Emap Images
Absolutely no part of this publication may be reproduced, stored in an electronic retrieval system or copied without the express written permission of the publisher. Illustrations for Popeye review © King Features Syndicate. Thanks to those chaps at Electro Coin for the Coin Ops stuff.