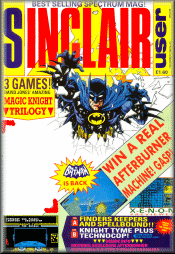 Issue 81
December 1988
Editor
Graham "Oh Yeah?" Taylor
Deputy Editor
Jim "Any colour will do for me" Douglas
Production editor
Alison "Demarcation" Skeat
Art editor
Tim "Lager Lout"Noonan
Adventure
The Sorceress
ZapChat
Jon Riglar
Technical
Andrew Hewson, Rupert Goodwins
Contributors
Tony "I Haven't Done It" Dillon
Chris "I'm Keeping It" Jenkins
Advertisement manager
Katherine Lee
Senior sales
Shane Hussien
Ad production
Emma Ward
Publisher's assistant
Debbie Pearson
Publisher
Terry "I'm not I'm not your boss - as such" Pratt
Marketing
Clive "Zzzz" Pembridge
This month's cover Jerry 'Ninja' Paris
SOFTWARE
| | |
| --- | --- |
| ADVANCED PINBALL | Code Masters |
| AFTERBURNER | Activision |
| AIRBORNE RANGER | Microprose |
| ARTURA | Gremlin Graphics |
| BARBARIAN II | Palace |
| BATMAN | Ocean |
| BY FAIR MEANS OR FOUL | Superior |
| ESPIONAGE | Grandslam |
| GUERILLA WARS | Imagine |
| JET SET WILLY II | Mastertronic |
| LANCELOT | Mandarin |
| MOTORBIKE MADNESS | Mastertronic |
| NETHERWORLD | Hewson |
| PACMANIA | Grandslam |
| PETER BEARDSLEY'S INTERNATIONAL FOOTBALL | Grandslam |
| POOLS | Basic Software |
| POWER PYRAMIDS | Grandslam |
| POWERPLAY | Players |
| REX | Martech |
| R-TYPE | Activision |
| TRIVIAL PURSUIT - A NEW BEGINNING | Domark |
| TYPHOON | Imagine |
COVER GAME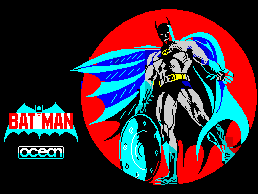 Batman looks like being one of the best comic book spin off games ever and we've got the awesome cover artwork (thank you Jerry Paris), we've got it all in fact.
MEGATAPE 10
Two tapes pah! We've got three tapes worth material on one tape. The entire Magic Knight Trilogy. Let's say that again. The entire Magic Knight Trilogy; the game that Crash put in it's '50 best ever' games, that got Classic awards and giant scores left right and centre. Other people rate them highly and tell you about them - we put them on a megatape and GIVE THEM TO YOU! Plus a length playable demo of Technocop plus the Chewits game plus pokes ... jeees what else do you want from us? Days - even weeks of entertainment for virtually nothing. Though if you knew the trouble we had ...
PREVIEWS
They just keep coming, more up to the minute news on the very hottest games with the latest pictures. This month we've got some mouthwatering pictures of Xenon which looks amazingly like the ST original! And some early preview material on Eliminator from Hewson. Also Return of the Jedi and loads more ...
FEATURES
Dean The Barbarian
Why don't you do one of those boring choose the paragraph you read next adventure book type things someone said. "Leave it out guvnor" we said. Still, never one not to rip off a bad idea when we hear it we bring you ... Dean the Barbarian. It's very er ... you know ... thing.
Poster
Wouldn't ordinarily mention it except that it's completely brilliant this month. Just thought we'd mention it ...
Blueprint
Carrier Command is one of the most sophisticated and action packed strategy games ever. We show you lots of pictures, look at the game in development and generally get enthusiastic about 'the game they said could not be converted.'
COMPETITIONS
Win An Afterburner Machine!
Gasp! Is this the best competition ever in the entire history of competitions? Probably.
Power Pyramids
Win some peculiar mystical clock type things. Ooooooweeeeeoooooo.
Compo On Tape Thingy
The awesomely brilliant Gremlin bring you 'compos on tape!' Unique! A boon! Mysterious! Nothing like any other game!
Win A Motorbike
Neeeeeeeowwwwwwwww. To celebrate the imminent release of Motorbike Madness we've got a fabulous Motorbike kit for you.
REGULARS
Tell It To The Bear
True Stories
Smash Coupons
Charts
Outlands
Write Stuff
Compo Winners
Sorceress
Play By Mail
CoinOps
I've Got This Problem
How The Hell
Gremlin
Next Month