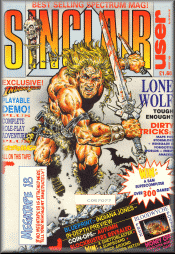 Issue 89
August 1989
Meet the "Team"
JIM "Pedal Car" Douglas

To see Jim hurtling along the by-pass towards EMAP each morning, you'd never believe that he was pedal-powered. But it's true, brightly-coloured, high-impact polyurethane Jim has no motorised parts whatsoever. Safe for children above the age of 6, Jim comes in a variety of colours with optional go-faster stripes, rear-view mirrors and a big knob on the gear stick.
ALISON "Sindy" Skeat

Supercool Sindy Skeet features a super Mediterranean tan, extra long hair, brilliant T-shirt and bikini, super trendy sunglasses and hair twists. She's ready for fun on the beach, in a boat back at the hotel, in fact anywhere you fancy - and you can bend her into the most incredible positions. Optional accessories extra.
TIM "Play Skool" Noonan

Just the thing for boys and girls with enquiring minds. Non-toxic, shatterproof Tim is perfect for ages 4 and upwards. Tim teaches shape recognition and hand-to-eye co-ordination, and no matter how much the little terrors kick him around the room he'll come up clean and sparkling with a wipe of a damp cloth.
Tony "Fluffy Pig" Dillon

Soft and cuddly on the outside, and soft and cuddly on the inside too, Piggy Chris is everyone's favourite toy. He might have some disgusting habits, but with his little piggy eyes, big piggy nose and curly tail he's hard to resist. Completely fireproof and with locking safety eyes, Piggy Chris is the toy you'll want to take home and fondle.
Special thanks this month:
John "If not tomorrow, the day after" Cook
Tony "I've had her" Dillon
Gary "Ner-ner-ner-ner-ner, Baat-man" Whitta
Adventure
The Sorceress
Dirty Tricks
Jon Riglar
Technical
Andrew Hewson, Rupert Goodwins
Advertisement manager
Katherine "It's a bit orange" Lee
Advertising executive
Martha "Is he not?" Moloughney
Ad production
Emma "Jaffa Cakes" Ward
Promotions
Debbie "I must be going" Pearson
Publisher
Terry "Body Language" Pratt
Marketing
Clive "Hopkins" Pembridge
This month's cover: Lone Wolf from Audiogenic
Cover Artist: Jerry Paris
SOFTWARE
| | |
| --- | --- |
| CAPTAIN FIZZ MEETS THE BLASTERTRONS | Psyclapse |
| JAWS | Screen 7 |
| LONE WOLF | ASL |
| MIND TRAP | Mastertronic |
| MR HELI | Firebird |
| SUPER KID | Atlantis |
COVER GAME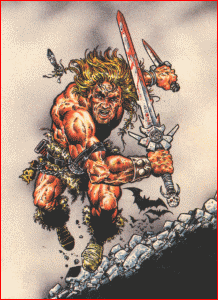 Lone Wolf. More than just a boring old game, it's part of a huge concept; role-playing books, boardgames, phone-ins, tea-towels and the like. But we'll start with the game 'cos this is a computer magazine, despite what Mrs A. Hateful of Camberley claims about us being the tools of Satan.
MEGATAPE 18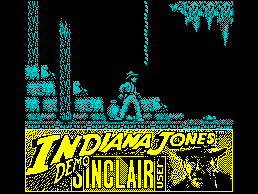 I don't know, how do we get all this wonderfulness on to the Megatapes without them melting. Apart from a playable demo of part of the very marvellous Indiana Jones and His Old Dad game, there's another adventurey game from the man behind Portals of P'Thall, Martin Page. Actually he wasn't behind it, he was standing slightly to one side. Anyhow, The Seven Parchments is one of his, and it's full of role-playing pixieness.
NOT TO MENTION (But we will anyway) the third installment of our unique Electrobingo game. Another chance to win fab software and hardware prizes, and you don't need to answer questions about the life and times of Mary Queen of Scots AT ALL!
PREVIEWS

Black Tiger, Muties Stole My Truck, Batman, New Zealand Story - the games in Previews get stranger and stranger. Mind you, the people doing the previews do as well, so it doesn't make any diff. If you want to keep up with what's going to be on the shelves NEXT month, read Previews THIS month. Preferably in the next two minutes.
FEATURES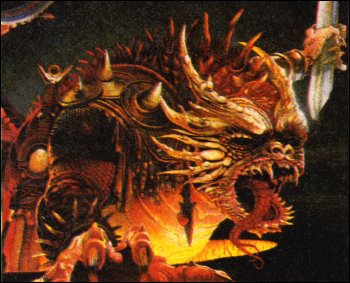 Poster
Mirrorsoft's Bloodwyche is the eagerly awaited role-playing adventure featuring huge slimy demons like this Chris Achilleos creation. We thought you'd like to pin it on the wall and give your puppies nightmares.
Outlands
All the usual nonsense; squashy toys, mad machines, gloopy games, the sort of things you want to play with when you're fed up with your Spectrum. Have you noticed how all the other magazines have started pinching ideas from Outlands? We have!
Dirty Tricks Dept
Every day, in every way, Dirty Tricks Dept is getting better and better. This month we've got ginormous maps of Storm Lord and Renegade III (Yes, and who took all the photos, that's what I want to know, shut up Jenkins you're getting paid for it). Yes and there are more of those spiffy Bronze Stars (IE complete show-offs) boasting about their high scores.
Blueprint
Indiana Jones and The Last Crusade, a demo of which appears on this month's Megatape, looks SOOO wonderful and SOOO playable that we knew you'd want to know more about how it was put together. So here it is. The whole poop. Well, some poop, but most of it is really good stuff.
Light Gun Special
It's here - Sinclair's flipping wonderful lightgun for the Spectrum. Apart from this lethal bit of kit, the package comes with six games, some old, some new, so you can spend hours in darkened rooms ruining your eyesight (but not really). Is it worth the dosh? Only Tony Dillon, the meanest man south of Carlisle, is qualified to comment - so we asked him, and he told us.
COMPETITIONS
Win A Surfboard!
When we told Tim "Toobin" Noonan about this one he went blue with envy. Loads of summery gear up for grabs from Hewson, including surfboards, buckets and spades, t-shirts, Heatwave games compilations - let's hope we get this one judged before Christmas, eh readers?
Win A Race!
In our rather fast-moving Crazy Cars 2 contest you can win, wait for it, not a crummy plastic model car, but a real car! Except that you don't get to keep it. But you DO get to drive it around Brands Hatch, the most famous track in Brands Hatch! You'll get a video briefing session, a zoom around the course under the skilled eyes of an instructor, then the chance to go it alone! What makes these Entertainment International guys so generous?
Win A Lightgun!
They're brand new, they're rather good and we've got three of them to give away. What could they be? Electrically-operated bagpipes? Self-inflating foodmixers? No, silly, Light Phaser guns for the Spectrum. We've got three gun-'n'-game packs to give away through the unparalleled generosity of Virgin Mastertronic, so hurry up and enter or else they'll blub.
REGULARS
Megatape 18
Dirty Tricks
SU News
Tell It To Wayne
Write Stuff
Charts
Poster
Compo Winners
I've Got This Problem
Blueprint
Sorceress
Precinct 19
Coin-Ops
SuperCoupons
How the Hell?
Outlands
Next Month