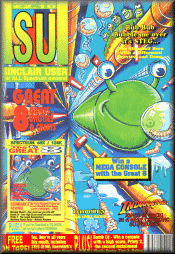 Issue 122
April 1992
Editor
Alan 'Jaws' Dykes
Design
Yvette 'wish I was in Africa' Nichols
SU Crew
Garth 'Ancient beard' Sumpter
Pete 'Tartar Sorce' Gerrard
Phillip 'Killer Whale' Fisch
Graham 'I was upstairs, honest' Mason
Ad manager
Tina 'I'm not a Goth' Zanelli
Ad production
Matthew 'What film?' Walker
Marketing Man
Mark 'Speech, speech' Swallow
Marketing women
Sarah 'Pink room' Ewing
Sarah 'Where is it Al?' Hilliard
Publisher
Graham 'Dad' Taylor
Managing Director
Terry 'Good morning ...' Pratt
SOFTWARE
BOOTS, BALLS AND BRAINS
4 Most
Four games but unfortunately very little in the way of real entertainment.
DEVASTATING BLOW
Beyond Belief
Buff, crack, whack, sort out all your opponents for the World Title.
F16 COMBAT PILOT
Action Sixteen
Here it is, the flight sim you've all been dreaming about.
FUN SCHOOL 4
Europress
Three educational packages for the up to 11's, good fun, good learning.
INTERNATIONAL SPEEDWAY
Code Masters
Fast but repetitive as you ride your way through the championships.
JETSONS
Hi Tec Premiere
That fab family from the future are back. See if you can figure them out!
JONNY QUEST
Hi-Tec
Find the keys, collect the objects. Formula stuff, but graphically right.
LAST NINJA 2
Hit Squad
Graphically beautiful ninja beat 'em up.
PICTURE BOOK
Triple R Education
Learning takes place from a young age with Picture Book.
SHADOW OF THE BEAST
GBH
The goatee bearded hero returns and kicks butt.
ST. DRAGON
Kixx
A gigantic metal dragon scares off a few aliens. What a hit!
STRIDER
Kixx
Striding along on a wing and a prayer, all action, all conquering.
TOYOTA CELICA GT
GBH
Cross country racing fun. Try not to smash the windscreen.
TUSKER
Kixx
Chasing elephant graveyards in the sun!
VENDETTA
Kixx
Fightin' the bad guys in a good old grudge match.
WORLD CUP
Cult
Really worthwhile football management sim - a genuine rarity!
GREAT EIGHT
Crikey, how do we do it? The very tasty looking STEG is this month's exclusive cover demo. Check It out, you won't be sorry! Doomdark's Revenge and Monster Munch are fully playable masterpieces and the prize game has been replaced by the most bodacious competition ever! Win a Nintendo with the Super SU Competition game Bomb Ed. Also on tape, the Madness Remix Demo, over fifteen minutes of mad music and whacky graphics, Printy 2, the second printy utility and of course TIPS AMAZING, 18 useful hints and Graham Mason's very own load-in pokes with POKEMANIA!
FEATURES
Hacking Squad
More furry suicideoids than ever in this month's finale to the Lemmings hacking bonanza. Plus tons of Tips, pokes and Hannah Smith's ever so funny jokes!
Joystick Mania
A chance to win one of Spectravideo's latest superb joy-stick offerings. There are over £250 worth of well hard 'sticks to be won and only two questions to answer, so hurry!!!
Steg ... The Preview
You're gonna see a lot more of this little lad over the next year or so, why not catch up with the latest in this Mega SU Preview?!!
Indiana Jones 4 'The Fate Of Atlantis' Preview
Garthy's scoop on the one that got away - from the movie that is. Five mega levels of frantic action!
SU CREW
Alan Dykes
Al', a former wandering wellington wearer and turbo charged monopoly player of some note, has been having a tough time this month. No-one has yet replied to his pen-pal plea in last month's Pendemonium section, so he still has no friends. His girlfriend has also just left him in a fit of jealousy after he refused to marry her on the grounds that she "couldn't pack a decent bagel". To make things worse Garth has suddenly disappeared, frothing at the mouth, thus creating a vacuum otherwise known as the Editor's chair, which the big guy has been sucked into. Unfortunately Alan is a lot larger than Garth so not all of him fits into this vacuum. He is currently missing his head and right arm.

Garth Sumpter
Erstwhile SU editor and pigeon fancier, Garth Sumpter cannot be found anywhere this month. Rumour has it that he has gone completely berserk and is now wandering around the Australian outback uttering phrases like 'G'day mate, 'ave yer seen Yvette Nichols anywhere', and 'giv' us a tinnie sport, me job's just been nicked by a mad Paddy.' Other sources have claimed that he turned up at Hannah Smith's house about three weeks ago with a wooden horse and a colt 45 water pistol, claiming to be Billy the Kid and demanding some tips for WWF Wrestlemania. To be honest we don't know where he is, so you'll just have to wait until next month's 'Sumpter Update' to find out!

Yvette Nichols
Cheery Art Editor Yvette has been having really bad nightmares this month. She keeps dreaming of being chased around Australia by a mad, frothing Cat Weasel with a pot belly - who answers to the name of Bruce Garthsumpter. However she is now finally recovering from this nasty experience thanks to Tina's special weightwiglet therapy which involves lifting weights twice a week and eating fifteen packets of twiglets every day. "You spend a lot of time thinking about the toilet", Yvette was quoted as saying.

Tina Zanelli
The best known ex-Goth in north London has been causing earthquakes in the software industry this month. Famous for her sharp wit, sharp knives and blunt sales pitch Tina has been cutting strips off software giants who are refusing to produce Spectrum software. Most of her threats are unprintable and at least one MD has been reported as leaving the country in fear. "It's about time software houses realised that the Spectrum is still a very viable machine, all it takes is a little effort and foresight in producing the right software." Tina has also recently started weightlifting and has been attending 'Billy Chang's how to become an incredibly dangerous ninja in five easy lessons' classes.
Colour by
Proprint
Printed by
Kingfisher
Typeset by
Altyp Inc
© Copyright 1992
Emap Images
Absolutely no part of this publication may be reproduced, stored in an electronic retrieval system or used to pad out wet or undersized footwear without the express permission of the publisher. On a lighter note I really hope that Garth can be found again. I hate to think of the poor chap wandering aimlessly around the world, searching for Spectrum user groups. I hope Puff Is feeling much better too! Incidentally, anyone writing to Suck Up For Software had better be nice to Al from now on 'cos otherwise they won't get any software.