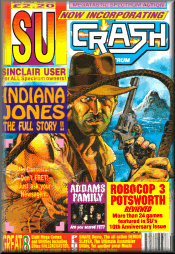 Issue 123
May 1992
Editor
Alan Dykes
Design
Yvette Nichols
SU Crew
Garth Sumpter
Steve Keen
Ed Laurence
Pete Gerrard
Graham Mason
Philip Fisch
Ad manager
Tina Zanelli
Ad production
Matthew Walker
Mr Marketing
Mark Swallow
Marketing women
Sarah Ewing
Sarah Hilliard
Publisher
Mike Frey
Managing Director
Terry Pratt
SOFTWARE
ACTION FIGHTER
Kixx
Another able aerial shoot'em up.
ADDAMS FAMILY
Ocean
Spooky platform action ... an SU Gold award winner.
AIRBORNE RANGER
Kixx
Rambo stand back, it's time for the super Spectrum sprite to do the job.
BIFF
Beyond Belief
Monkey business of the highest order.
HIT PACK #1
Zeppelin
Zeppelin's new budget compilation takes a bow.
LOTUS ESPRIT TURBO CHALLENGE
GBH
A real turbo challenging road racing sim.
MIDNIGHT RESISTANCE
Hit Squad
Resistance is futile - this is a darn good game.
MULTIMIXX 5
Kixx
The latest, and possibly greatest Multimixx?
MURRAY MOUSE IN MOUSE MANIA
Code Masters
You shouldn't get cheesed off with this game!
NAVY MOVES
Hit Squad
Difficult action reigns in the follow up to Army Moves.
POTSWORTH & CO
Hi Tec
Cartoon capers with the amazing dog and his amazing friends.
Q10 TANKBUSTER
Zeppelin
Zeppelin's version of the A10 Thunderbolt takes off to cause some havoc ...
RICK DANGEROUS
Kixx
The man Indiana Jones learned everything from!
ROBOCOP 3
Ocean
The tin terror is back in his latest graphically violent game ... an SU Silver award.
SOCCER PINBALL
Code Masters
The game that combines two of the nation's favourite pastimes.
TITANIC BLINKY
Zeppelin
Ghostly fun on the raised decks of the Titanic.
TURRICAN 2
Kixx
More metal japes from the saviour of several planets.
GREAT EIGHT
Well we've got it all this month: An ultra playable demo, SNARE, two platform games including the password prize game, Elite's ROLLERCOASTER and DEMON SLAYER. Part one of a superb three part text adventure, MAGNETIC MOONS, an ASSEMBLER UTILITY, MUSIC DEMO, POKEMANIA and of course TIPS AMAZING. That's 18 games cheats! What a corker!
FEATURES
Hacking Squad
Hacking Hannah is back with her Tons of Tips, Piles of Pokes (ooh that sounds painful) and Solution City. There is a map for Rick Dangerous, levels three and four, solutions for Dizzy V, Saga of a Mad Barbarian and Lop Ears and much, much more!
Preview City
Including: Grell and Fella, American 3D Pool, Super League, Captain Dynamo, Snare and Match of the Day.
Indiana Jones: The Full Story
A whole rundown of the history of the famous Lucasfilm character, past and present, including: A super video and merchandising competition.
SU CREW
Alan Dykes
The Big Guy has been out and about in the countryside this month - "There's nothing better than breath of fresh country air", he was quoted as saying from his cow pat in Somerset. Besieged by election campaigners earlier on in the month he decided to make a quick escape and leave editing the magazine to a large robot hand he's spent the last six months developing. It seems to work really well and most of the girlies in the office are pleased too because it doesn't try to chat them up as much as Alan or Garth did.

Yvette Nicholls
Yvette, now known as the jet setting designer because of the fact that She has been all around the world while designing this month's SU, has been having a really good time. First she went to Africa, and sampled some of the local dance routines and food, then she went to France and sampled some culture and wine and finally she made her way back to New Zealand where she sampled some sheep and some rain. She's had a brilliant time and she wishes you all could have come with her but unfortunately her surf board wouldn't have been big enough for everyone. Pity.

Tina Zanelli
By the time you read this Tina will either still be. an SU Crew member, a Labour MP for north London, or else an MP in the Italian parliament, such are her wide ranging talents. "If I get made an MP I will immediately reduce VAT on Spectrum games to zero and put up VAT on all other games to 600 per cent!" This is the main part of her manifesto but she also intends to enforce a law requiring all cars to have at least one furry animal on their dashboard. Tina has been canvassing extensively, both in London and in Rome, and she hopes that the life of a minister will be easier than the life of an SU Crew member, with everything that entails!

Cyril Herelle
Limelight seeking Cyril is a new member of the SU crew, we got him from a second hand shop in west London and man does he have a second hand. In fact he has a first hand too and both of them are so big that ostriches have been seen nesting in them. Although we didn't actually see the ostriches there were a few suspicious feathers stuck around Cyril's lips. Cyril wants everyone to know (especially all the girlies) that although he looks like Mike Tyson, he fights like Mike Tyson and eats dinner like Mike Tyson he is in fact a big old softie who loves his dog and his Spectrum dearly.
Colour by
Colourtech
Printed by
Kingfisher
Typeset by
Altyp Inc
© Copyright 1992
Emap Images
Absolutely no part of this magazine may be reproduced, stored in an electronic retrieval system or used to prop up televisions or other electronic equipment without the express permission of the publisher. Summer is almost here again folks so it's nearly time to start going down to the beach for some mega fun. Remember though, don't get sand in your Spectrum! It doesn't work very well if you do. Oh yes, sorry about Mother's Day mum, hope you enjoyed your holiday! Pictures from the Addams Family the movie were supplied by Columbia Tri-Star Films (UK). © COLUMBIA TRI-STAR.